New Products
Jan 1st, 2003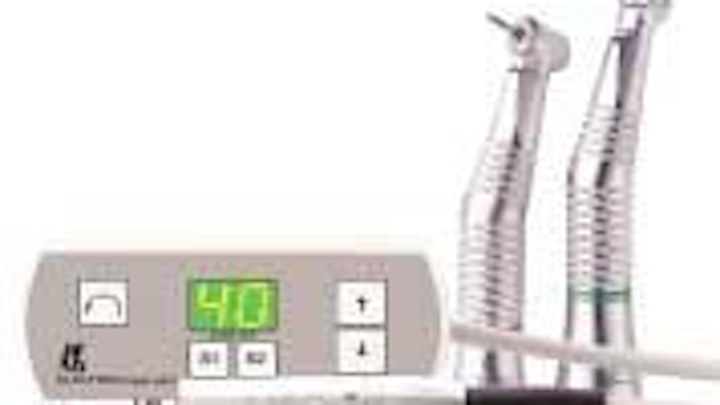 New Product Hightlight: KaVo Electrotorque Plus
KaVo America introduces the new ELECTROtorque Plus, featuring a unique brushless motor that does not require brush changes, reducing downtime and maintenance headaches. The powerful motor provides constant, no-stall speed and torque, runs absolutely vibration-free, and is quieter than conventional brush-type motors.
Together with KaVo's durable cellular optic attachments, the system features a speed range from 27 to 200,000 rpm. The control box offers two programmable speed settings, which can be individually set by the user. Users appreciate the fact that the water spray can be conveniently adjusted at the motor. The system can be easily retrofitted in virtually any existing delivery system and uses the existing rheostat. The unit can be calibrated to the existing air pressure of the dental unit for optimized performance. The motor, tubing, and control box are backed by a three-year warranty.
For more information, call (800) 323-8029 or visit www.kavousa.com.
New Web site addresses patients' fear
It is estimated that 50 percent of the population avoids dental visits primarily because of fear. A new Web site, www.dentalfear.com, is dedicated to the elimination of dental fear. A multifaceted site, www.dentalfear.com provides patients with information on dental fear and phobias, offers on-line courses to doctors, and certifies them to be recommended to fearful patients. Patients will be able to find certified dentists in their geographical area on-site.
Treating dental phobics is the new growth area in dentistry. It offers the advantages of becoming independent of insurance companies, great marketing potential, deep patient loyalty and enthusiastic referrals, and tremendous practice growth.
For more information, call (860) 742-5206 or visit www.dentalfear.com.
Zenith/DMG introduces MagicFil™
Zenith/DMG has announced the release of new MagicFil™, a colorful compomer material that is ideal for filling cavities in deciduous teeth.
MagicFil allows dentists to give their pediatric patients a choice of four sparkling shades, helping to ease patient anxiety by actively involving children in their treatment. Kids can choose from Ocean Blue, Wild Berry, Sunny Yellow, and cool white Universal.
Despite its youthful appeal, MagicFil is a serious filling material that features all the benefits of Zenith/DMG's patented compomer chemistry, including superior biocompatibility, insolubility, and strength. MagicFil is an easy-to-use, dual-cured filling material with a low viscosity for easy placement. The material also releases fluoride to help prevent recurrent decay, and zinc to reduce bacterial activity.
Zenith/DMG supplies MagicFil exclusively in the smart and small 9g double-barreled Smartmix™ handheld automix syringe. Smartmix is a convenient and compact dispensing tool that won't intimidate young patients.
To order, contact your local dental dealer. For more information, visit www.zenithdmg.com or call (800) 662-6383.
New gloves eliminate powder worries
Dental professionals who prefer to avoid natural-rubber latex exam gloves will welcome yet another new choice from the glove experts at SmartPractice®.
Flextec™ powder-free, non-latex exam gloves offer wearers a new alternative to traditional powdered latex exam gloves. The glove's completely synthetic material is virtually free of powder, latex processing chemicals, and natural rubber latex. Wearers will appreciate the surface of this new glove which is soft and velvety to the touch while combining comfort, excellent barrier protection, and superb tactility.
The unique PVC formulation of Flextec renders the glove material resistant to decomposition by oxidative hazards such as ozone and ultraviolet light. These qualities serve to make the material an excellent defense against bacterial and viral penetration.
Flextec gloves also feature beaded cuffs to help avoid unexpected "roll-downs," are medical-grade, and available in an extra-long, 11-inch cuff in sizes extra-small through large.
For more information on product selection and introductory pricing, call (800) 522-0595, Ext. 555.
Hu-Friedy announces its "Five Star" promotion
Hu-Friedy's "Five Star" promotion runs from January 1 through April 30.
The promotion is available through all authorized Hu-Friedy dealers. Featured products are diagnostic instruments including dressing pliers, explorers, probes, Expros, mirrors, and mirror handles; restorative and endodontic instruments including burnishers, pluggers, amalgam carriers, excavators, hatchets, chisels, angle formers, hoes, spatulas, gingival cord packers, articulating paper forceps, carving knives, gingival retractors, carvers, rubber dam products, etc.
This promotion also features the new Satin Steel XTS explorers, made from Duraspond™ to be flexible and resilient. The black aluminum titanium nitride (AlTiN) coating offers enhanced contrast between the instrument and tooth structure. The non-stick coating is perfect for carving anatomy in composite restorations. These explorers are available with the Satin Steel handle.
Buy any five instruments and get one instrument free! Receive a free sample pack of Enzymax® ultrasonic detergent with instrument(s).
For more information, call your authorized Hu-Friedy dealer or (800) 483-7433.
New Dental Insurance Coding Handbook
The completely updated Dental Insurance Coding Handbook — 4th Edition contains the required HIPAA current version CDT-4 codes needed by all dental offices and insurance carriers (effective January 2003).
More than just a listing of codes, this comprehensive manual details payment guidelines, information on writing narratives, attachments, common terms, and charting and documentation essentials.
Easy to use and understand, it can help speed up insurance reimbursement and protect offices against adverse utilization review. Written by Carol Tekavec, RDH, insurance columnist for Dental Economics magazine and speaker on recordkeeping and insurance for the ADA Seminar Series.
The manual is available for $97 plus $6.50 shipping. For orders and information, call (800) 548-2164 or visit www.steppingstonestosuccess.com.
Free samples of Kodak SureSoft packets
Dentists interested in trying Kodak's innovative SureSoft packets can now receive and sample the product in free trial packs.
SureSoft packets feature a soft, cushioned edge that feels more comfortable in patients' mouths. The new sample size includes six SureSoft Packets featuring Kodak InSight intraoral dental film, enabling dentists to realize up to 60 percent less radiation exposure time than D-speed film along with improved patient comfort.
For more information about SureSoft packets, or to order a SureSoft packet sample pack, call (800) 933-8031 or visit www.kodak.com/go/dental.
Light-curing temporary restorative material
Temrex Corporation has just developed Interval LC, a new light-curing temporary material. Easy to apply, it cures quickly and is easily removed with a sharp instrument or bur.
Interval LC is ideal for use in cosmetic dentistry. It can be used as a temporary filling, especially on anterior teeth where aesthetics are critical. It also can act as a direct-placement temporary for inlay and/or onlay preparations, as well as temporarily restoring teeth during porcelain veneer fabrication. Still another use for this versatile product is as a seal for endodontic access cavities.
Interval LC has a unique elastic consistency that ensures a good seal against the prepared tooth. In most cases, Interval LC can be removed without even using a bur, yet it will set hard enough to be polished smooth with a silicone polisher.
Interval LC provides the discerning clinician with an economical means of temporarily restoring teeth during all phases of cosmetic and restorative dentistry. The material is biologically inert and is compatible with all current permanent cements. It cures to a depth of 2mm in 20 seconds and to a depth of 5mm in 40 seconds. It is characterized by solid mechanical strength, excellent wear resistance, and superior biocompatibility. Interval LC comes in a convenient 4.5g syringe.
For more information, call (800) 645-1226, (516) 868-6221, or visit www.temrex.com.
Ultra-Access™ — high power, small size
Lares Research announces Ultra-Access™, a high-speed handpiece with a head size smaller than any other handpiece currently available. At just 9.7 mm in length and 8.5 mm in diameter, the head is more than 25 percent smaller than the average "small" head high-speed, yet delivers cutting power equivalent to many larger-head handpieces. Ultra-Access provides increased visibility and superior access, making it ideal for precision cavity preparations in difficult locations, on children, or on patients who have difficulty opening wide enough.
It is constructed of stainless steel that withstands current sterilization protocol, and uses the same full-sized bearings as other Lares handpieces to provide smooth power and long life. The Ultra-Access comes standard with the Lares SuperChuck™ push-button for quick bur changes.
The handpiece carries a one-year warranty and a 30-day money-back guarantee. Options include dual-beam fiberoptics to further enhance visibility, and 360°-swivel quick-disconnect.
For more information, call (800) 347-3289, Ext. 1, or visit www.laresdental.com.
Easy and convenient tooth disinfection
Premier Dental Products Company is introducing Chlorhexi-Prep MicroDose™, a 2 percent chlorhexidine gluconate solution in a convenient single-dose system to economically disinfect teeth, without concerns of cross-contamination.
Chlorhexi-Prep is ideal for routine application during crown and bridge procedures, prior to placement of composites or amalgams, for the treatment of gingivitis and pericoronitis or during root-canal procedures.
It is designed to work synergistically with conventional cements and bonding agents so as not to interfere with bond strengths.
The MicroDose single-patient 0.2cc pipette is easy to use — place the pipette into the autoclavable syringe, open the tip, and syringe to the desired site. The empty pipette is discarded and the syringe can be conveniently autoclaved. Per patient cost is very economical, and, it can be an effective practice builder when dispensed for patient home use to treat mild gingivitis.
For more information, call (888) 773-6872. Contact your dealer for introductory kits, containing 50 pipettes with 2 autoclavable syringes, and a limited time special offer for free RC-Prep™ MicroDose ($80.00 value).
RGP's new multi-plane adjusting mechanism
RGP's new mechanism provides height control, seat tilt, and back tilt in an all-in-one design. Adjustment can be made to accommodate required changes while operator is seated.
The Swedish Seating System is an ergonomically designed dental operatory stool combining unparalleled support with elegant design.
The hydraulic mechanism is the core of the stool's ability to adjust to each person's seating requirements. When set in "free motion," the back and seat follow one's movement. The stool adjusts to accommodate a large range of heights and sizes. Available shoulder supports relieve arm weight from the back, neck, and shoulder muscles.
RGP, Inc. manufactures and distributes the Swedish Seating System.
For more information, call (800) 522-9695, email at orders@rgpErgo.com, or visit www.rgpErgo.com.