New Product [Highlight]
Pharmaden perio supplement
May 1st, 2005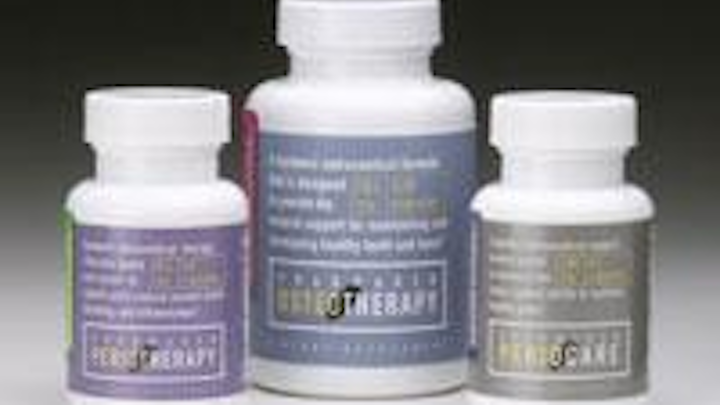 Pharmaden perio supplement
Pharmaden dietary perio supplement
Recently purchased by Dr. Ron Schefdore, Pharmaden is offered exclusively to dentists and is currently used by more than 500 dental offices. Periotherapy is a systemic non-antibiotic perio adjunct specifically designed to deal with gum disease from the inside to complement and enhance treatment protocol and results from the outside. While strengthening patients' immune system, it also improves pocket depth, bleeding index, and gingival index. The Loma Linda double-blind study is available upon request.
For more information, call Pharmaden at (800) 910-5523.
First ever digital dental mirror
Miras Imaging Inc. introduces the MirroScope™, the first operative instrument that enables dental practitioners to work from a monitor, viewing magnified and illuminated real-time images. It incorporates elements of a loupe and a microscope in a familiar and easy-to-use (digital) dental mirror. The system also captures video or still images for download to most image-archiving software tools via a video capture card.
While working from a monitor is new to many practices, the MirroScope is designed with familiar ergonomics and flexibility of the dental mirror. As a result, clinicians can choose to work directly from the mirror or indirectly viewing high-resolution images magnified up to 30x, providing better patient care while improving clinicians' posture and reducing back and neck strain. MirroScope received FDA approval in October 2004.
For more information, visit www.miras-imaging .com (888) 399-1473.
SDX - the latest high-tech X-ray source
Schick now offers a highly advanced X-ray source designed specifically to work with Schick Wireless sensors, CDR Standard sensors, all other digital sensors, and even film. Its integrated design places the CDR Wireless antenna directly inside the collimator, ensuring optimal signal transmission for every image. If a CDR Standard sensor is used, it simply plugs directly into an available port on the X-ray head. The SDX intuitively detects the type of CDR sensor being used and automatically configures itself to that technology. The operator uses a remote keypad to select the user-programmable exposure mode or the preset exposures for digital sensors or film.
SDX and Schick CDR and CDR Wireless digital radiography systems are sold, installed, and serviced exclusively by Patterson Dental Supply. For more information or a free, in-office demonstration, call (800) 873-7683.
ShouldersBack™ delivers relief to back pain sufferers
Nothing improves moods more than the approach of longer days and warmer weather - unless you are tormented by back pain. ShouldersBack to the rescue. It is an affordable, vest-like device designed to gently coax and guide the shoulders back to a more upright position. ShouldersBack encourages muscle memory to take over. Just slipping it on and wearing it for comfortable intervals encourages proper spinal alignment and accompanying pain relief.
Made from breathable, washable fabric and adjustable Velcro® straps, ShouldersBack was developed by a team of orthopedists to safely encourage correct posture while remaining flexible and comfortable during everyday activities.
To order or to find out more, visit www.ShouldersBack.net or call (800) 225-2610, ext. 128.
New "Debridement" brochure for patients
"What is Debridement? Can't I just have my teeth cleaned?" is the name of a new brochure for patients. Patients who have oral conditions requiring more than "just a cleaning" often do not understand the concept of a full-mouth debridement. Clinicians and staff also find it difficult to explain the differences. This patient-friendly, easy-to-understand, positive-language brochure provides a back-up to verbal descriptions. It defines a prophy vs. a debridement, tactfully explains how a patient may have developed a need for a debridement, and even addresses the limited nature of insurance payment for this service. It was written by Carol Tekavec, RDH, an insurance columnist for Dental Economics® and speaker for the ADA Seminar Series. Cost is $35 for 50, plus UPS shipping.
For more information or to read the brochure, visit www.steppingstonestosuccess.com or call (800) 548-2164.
DentalEZ® Group introduces NextGen
DentalEZ Group officially launched its new ergonom-ically designed NextGen Work Station Cabinets at the 2005 California Dental Association Meeting in Anaheim. NextGen Work Stations are specifically designed to put the most commonly used tools within easy reach of the dental professional from a seated position. In addition, the cabinets are constructed with the highest quality materials and craftsmanship to withstand many years of constant use.
NextGen Work Stations can be purchased individually or in a variety of package options to fit any dental office. All three packages incorporate the design philosophy "a place for everything and everything in its place."
For more information, call 1-866-DTE-INFO and press "2" for DentalEZ Customer Service or visit www.dentalez.com.
microSystem™ MKII dispenser
Coltène/Whaledent Inc. introduces the microSystem MKII ("Mark 2") dispenser. It is the newest addition to the patented, widely used 25 ml microSystem line offering many improvements and advantages over current dispenser/cartridge systems.
The microSystem MKII is made of autoclavable polyurethane, which is 35 percent lighter than current 50 ml dispensers. The extremely low extrusion force and slim, ergonomic design allow for easy and accurate application of AFFINIS™ wash material and JET BITE bite registration material without restricting the field of view. The low-volume mixing tips and oral tips reduce waste by up to 30 percent compared to conventional tips. Low initial cost plus material savings make the microSystem MKII the most economical dispenser available.
For more details, call your dental dealer, (800) 221-3046, or visit www.coltenewhaledent.com.
C8+ - comfort and convenience from every angle
The C8+ dental treatment center from Sirona offers the most flexible solution for any office configuration. From the convenient right- or left-hand-accessible delivery head to the swiveling chair base, the C8+ enables perfect positioning for both the patient and clinician.
The Turn option allows for quick and easy conversion from right- to left-hand operation, allowing any practitioner to operate the treatment center according to personal preference, and without compromise. By rotating the water unit behind the back of the chair, conversion takes only seconds and can be performed by one person. The space-saving design allows for streamlined conversions in tight settings. Additionally, the flexibility enables greater resale opportunities when changing equipment.
The C8+ also swivels 35 degrees, making it even easier for the dentist or hygienist to place each patient in the most efficient position for performing procedures and making the most effective use of available floor space. The result is greater comfort and accessibility for both the patient and the practitioner.
For more information, call (800) 659-5977 or visit www.sirona.com.
MicroTouch® ErgoGrip™ hand-specific exam gloves
Ansell Healthcare Products LLC launches its newly developed hand-specific (left/right fitted) Micro-Touch ErgoGrip, a powder-free latex examination glove with a smooth, anti-slip finish that provides excellent tactile sensitivity similar to that of surgical gloves. Its polymer coating provides easy donning for dry or damp hands. Hand-specific gloves also may lower the risk of carpal tunnel syndrome. Their economical price benefits users who change gloves continuously as well as those who perform procedures not requiring sterile surgical gloves. Micro-Touch ErgoGrip exam gloves are available in sizes 6.5 to 8.5 and are packaged 50 pairs per box; 10 boxes per case.
For more information on Ansell's complete line of exam gloves, visit www.ansell.com.
New Vitique esthetic cementation kit
Zenith Dental and DMG announce the introduction of Vitique - the most esthetically complete cementation kit on the market. Its flexibility and shade variety offers a pallet of options with Vitique's cement and matching try-in pastes. Vitique takes the guesswork out of esthetic restorations with its Color Command™ technology. Vitique's eight try-in and permanent cement shades are perfectly matched. Its application for light-cure use is precise. It features a specially designed "ribbon" tip for fast, precise, and complete placement on veneers. Vitique's dual-cure version for inlays/onlays and full coverage can be applied with Zenith/DMG's innovative Cata-Lock™ syringe. It is available in high and low viscosities, attaches to any of the light-cure cement pastes, and creates an automix syringe allowing for ultimate control and placement. For more information, call (800) 662-6383 or visit www.zenithdental.com.
CD-ROM of Dental Insurance Handbook-2005
Much more than just codes and definitions, this CD-ROM and the handbook that may be purchased with it helps offices speed up insurance reimbursement, reduce requests for "more information," and decrease payment delays. It is full of details. All dental offices and insurance carriers that transmit health information electronically must use the current version of procedure codes found in the CD-ROM. It contains all ADA codes, code-specific, "by report" narrative wording, industry guidelines and tip to get claims paid, and much more. It was written by Carol Tekavec, RDH, an insurance columnist for Dental Economics® and speaker for the ADA Seminar Series. The CD and Handbook-2005 may be purchased together or separately.
For more details or to read an excerpt, visit www.steppingstonestosuccess.com or call (800) 548-2164. Cost is $97 plus $8 UPS shipping.
Premier's new CompCore AF SyringeMix
CompCore yields significantly less shrinkage - up to 33 percent less than other brands - plus high compressive and tensile strengths for tough, durable, fracture-resistant cores. Its patented hyperbranch technology promotes a dense cross-linking of monomers and more complete curing. SyringeMix is a complement to the original CompCore AF, available in economical 50 gm cartridges for use in automix gun dispensers. CompCore stacks without slumping, sets extremely hard, and easily trims like dentin. It is available in three shades - A3, white, or blue - to offer either esthetics or contrast.
Introductory risk-free trial: Each kit of CompCore AF SyringeMix has available a free 4.5 gm trial A3 shade and five tips attached to the package. Order through your authorized dealer. For technical information, call (888) 670-6100 or visit www.premusa.com/dental.
First Windows.NET-based practice software
The latest release of Practice-Web Dental 3.1, the first Windows.NET-based practice-management software, is the first one to generate E-claims in X12 (HIPAA 837) format. The X12 formatted e-claims are accepted by all clearinghouses and directly processed by some insurance carriers. Practice-Web Dental has bridges to six major digital radiography systems with the addition of Sirona Sidexis imaging bridge. Other new features include locking procedure note creating a legally tight patient record, customizable recall cards, and appointment labels. It is a multi-user application, which also can be accessed from multiple locations.
For more details, call (800) 293-7939 or visit www.practice-web.com.
Sable ClearView™ handpiece lubricator
The new Sable ClearView ensures a fast, simple, and economical method to lubricate all your air-driven high-speed handpieces and slow-speed motors. It operates from any existing air supply - no electrical power required. After attaching the handpiece, push the button and a measured amount of ClearView lubricant is delivered from its built-in reservoir to the head of the handpiece. This foolproof operation allows for accurate lubrication in 10 seconds at a cost of less than 10 cents. Its filtering system captures exhaust oil and debris for cleanliness. The ClearView saves time and money by reducing handpiece repairs and maintaining torque.
For more details, call (800) 368-8106 or visit www.sableindustriesinc.com.