Dr. StrangeProfits, or how I learned to stop worrying and love marketing on Facebook
Facebook is not as intimidating as dentists think it is. It's a great and inexpensive way to gain new patients. Here is a step-by-step method for getting your practice engaged on Facebook, and even tracking your results!

Jun 5th, 2015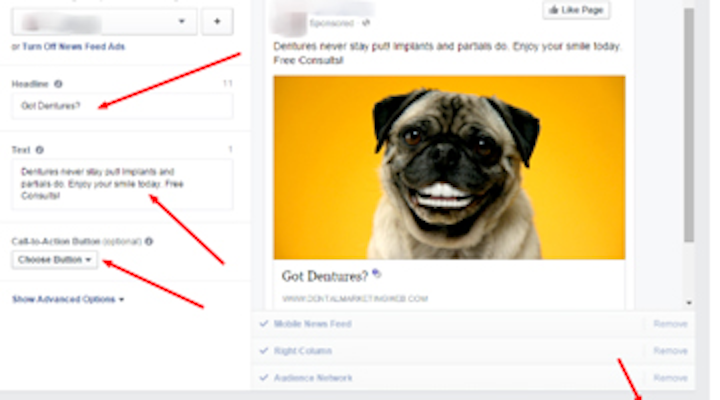 As Dale Carnegie once said, "The person who goes farthest is generally the one who is willing to do and dare. The sure-thing boat never gets far from shore." The same goes for marketing your practice. Go farther. Let me explain.
As an online marketer and dental patient, I've noticed I get an icky feeling when I see a TV or billboard ad that isn't targeted to me at all. But when I hop on Facebook, I have to lock my wallet in the computer desk because there are so many offers that I think are great.
Most people get upset about how Facebook is invading people's privacy. But here's what they don't get. Facebook is trying to show you things you'll like, that will likely improve your quality of life.
As a dentist, let alone a businessperson, let alone someone who is selling something, you should love it too! I wish Facebook was paying me to write this, but if you take even just one bit of advice from this article, you'll be paying yourself in no time with a license to print money.
Don't get me wrong. Plenty of businesses don't get it right. That's how most people feel, because most advertisers target the wrong crowd. Even when people get it wrong, Facebook ads are one of the lowest cost areas to spend your marketing dollars.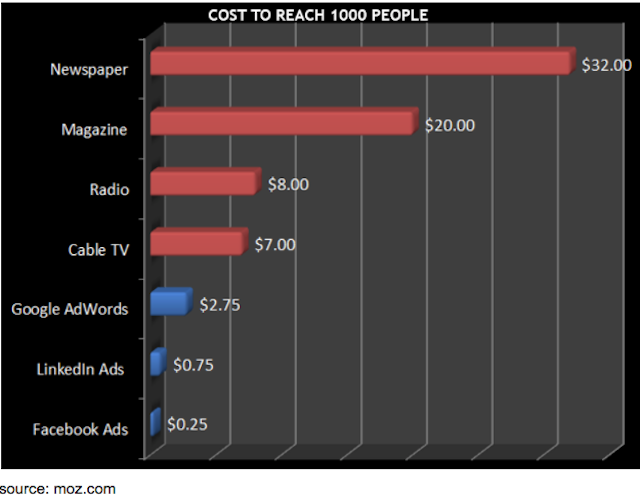 So how do we go farther?
Targeting – This message is for you
How do you not give people that icky feeling when they see your ad? You target them! I'm not just talking about people in your area. I'm talking their interests, their age, their gender, and more.
Let's say we want to help out older people who are tired of dentures. They want to be able to eat things and not worry about their teeth and really enjoy life. Within Facebook, you can drill down into the Audience Insights tool. You can literally drill down to "40+ women who live in Dallas, bring home over $75k, and who are interested in basset hounds."
Hopefully you're starting to see the power of this. If not, don't worry and keep reading. What if you were able to show a billboard only to the eyes of people who wanted and/or needed your product or service? That's what we're getting closer to doing. Once you have an audience in mind, it's time to figure out what you want to show them.
Ad creation – Show me something shiny
Now that you have an audience, make them the right offer. The days of marketing your practice in general with a profitable ROI are gone. When creating an ad, you really need to get someone's attention.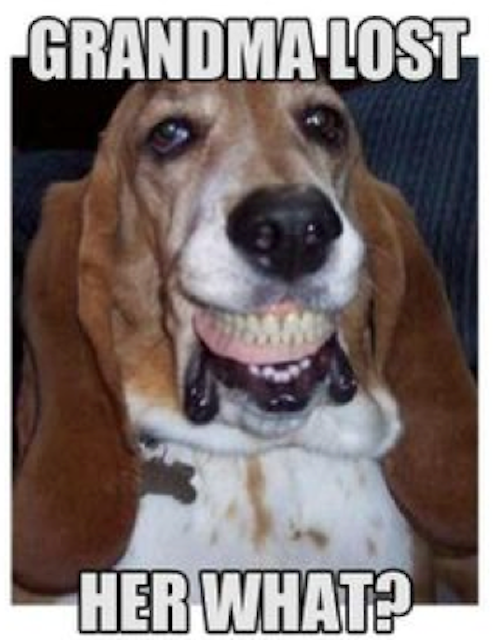 My dentist told me a story about a lady who time and time again refused to discuss implants and insisted on keeping her dentures. One day she came up to him and said, "I'm ready, let's get my teeth implants!" He was shocked, "Whoa! We stopped talking about that. I thought you were done hearing me tell you about it." She shook her head. "My friend turned 55 and when she blew out the candles on her cake her dentures fell into her birthday cake. I won't let that happen to me."
Her story was both entertaining and educational. It highlights something that as a dentist you should pick up on. People aren't sold on the logic, they're sold on the emotion. So, thinking like this: One of the many true benefits of dental implants is eliminating the risk of embarrassing social situations. Let's make an ad that stands out and doesn't mind being itself. (see photo on right)

I would legitimately use this ad to further target the audience mentioned here. Create something that's direct and appeals to someone's fear of embarrassment. (That sounds meaner than it is.) "Dentures never stay put! Implants and partials do. Enjoy your smile today. Free consults!" I'd probably insert a phone number here too.
The name of the game with creating ads is all in testing. You need to see which ads are resulting in clicks and conversions. So, what are conversions?

Conversions – Turning visitors into patients
When you go to the grocery store, what's the final thing you do before you leave? You check out. On your practice's website, what's the last thing you ultimately want your prospective patients to do before leaving your site? Probably book an appointment, or you thank them for booking an appointment. A conversion, simply put, is a sale or a goal that is met. When dentists say, "I want more traffic to my site," they usually mean, "I want more appointments booked," or I want more conversions.
OK. So how can Facebook help us with conversions? There's a little piece of code called a "conversion pixel" that you can put on the "thank you" page of your final sales step process. This code can count or tally up who makes it to that page, which helps you find out which ad is creating the most conversions.
And that's where the magic happens – when you can find out which ads are not just getting more clicks, but which ads are getting the most appointments booked, or conversions. That's your golden ticket! So what happens when you send off a visitor to sail on over to your website from a Facebook ad?

Landing pages – Land ho!
One thing I need to warn you about is that sending people to your main page is a big nope. You don't promise them land and then make them swim to shore. Send the people to what they want and don't make them work for it.
If you run an ad for implants, take them where they can learn more about implants from your practice. There's a lot to say about the design of a landing page, but here are a few big ones.
Let's use the example of implants.
Headline – What the heck are implants? Why are they better than dentures? How can they help me?
Eliminate risk – Take care of me. Don't scare me. Don't make me commit. Give me a small slice to know I know it's not poison. Guarantee it. Show me I can trust you.
Call to action – OK, so what do I do next? (Yes, you need to tell your customers what to do.) Make this obvious and preferably in a contrasting color from the rest of your page.
Having these three things can make a big improvement and put you way past your competition. I guarantee it.
A real example
Let's hop on Facebook and actually set this up. First, go to the Ads Manager.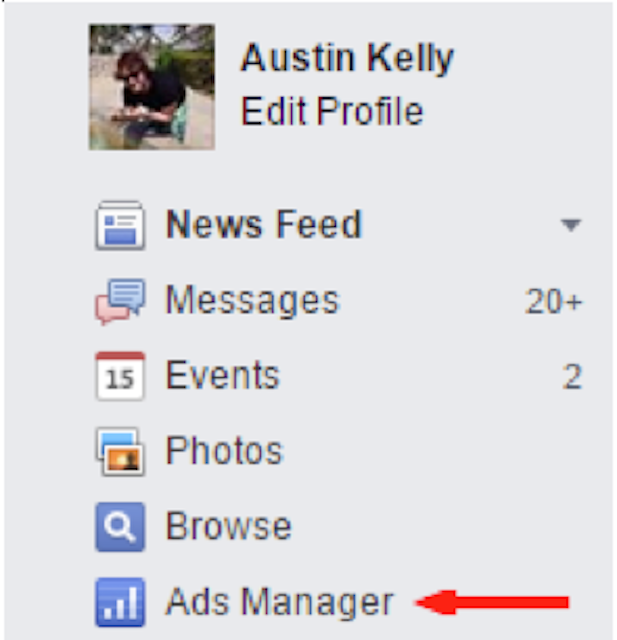 Then, click "create an ad."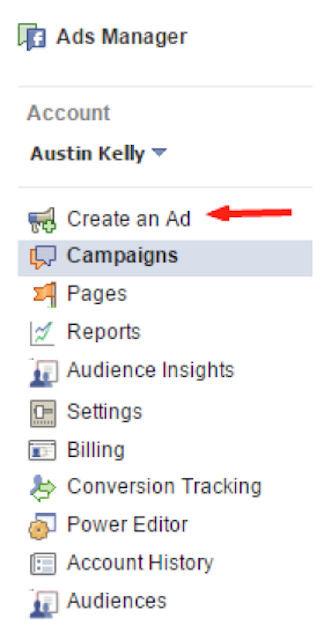 Next, you want to click "increase conversions on your website." I'll come back to why this is important versus "send people to your website."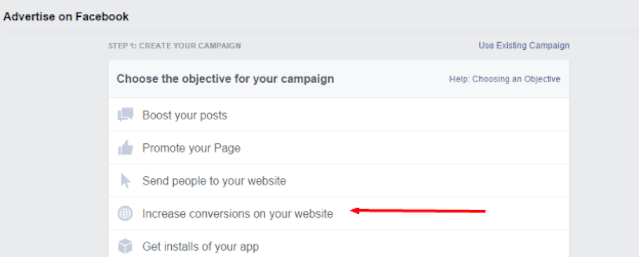 Now, type in the page you want prospective patients to go to. Remember, it's important that this is a specific page on your site, a "landing page." Send them to the page about dental implants.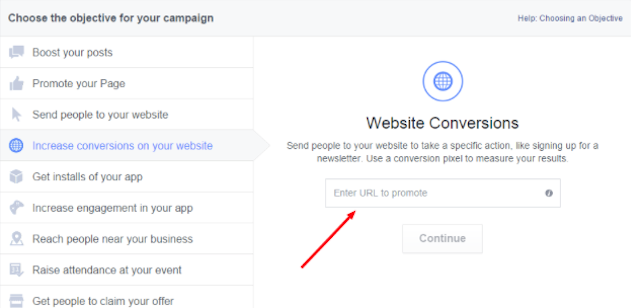 Now you're making your little piece of code to put on your site. Choose "Leads" or "Registrations" and call it "Appointments made." Then click the little "I agree" checkbox and click "Create Pixel."
This should present you with a small section of code with instructions on how to add it to your site. Your setup may vary wildly from mine so I won't go into that part, but any web person worth their salt will know how to add it.
Note: It's important to remember to put this on the page of the FINAL step of making an appointment on your site. Example: A thank you page. It can't go on the appointment page itself or the code will think someone simply visiting the appointment page is a conversion.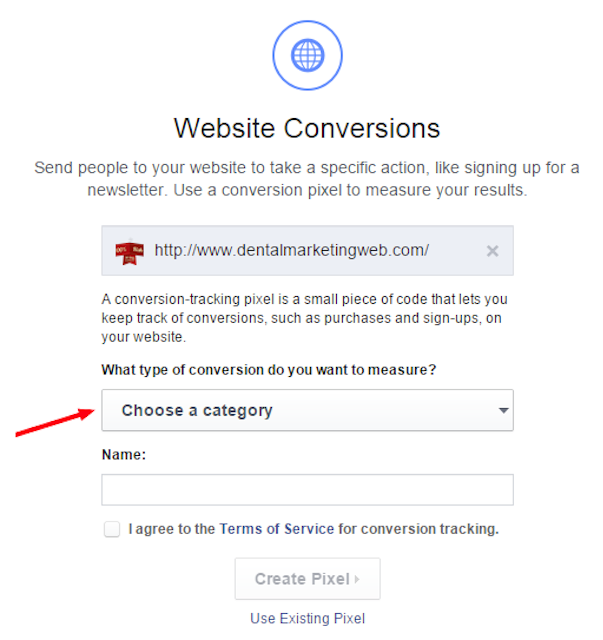 Now that you have the conversion pixel set up, start making the ad. First however, you have to figure out who you are targeting. Let's go with the earlier example. I enter first the Dallas area.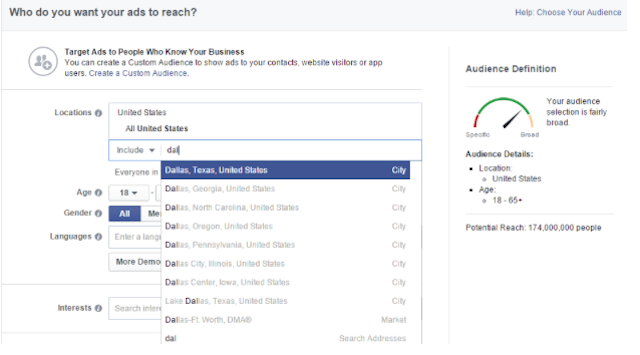 Now I'll enter 40+ and select women.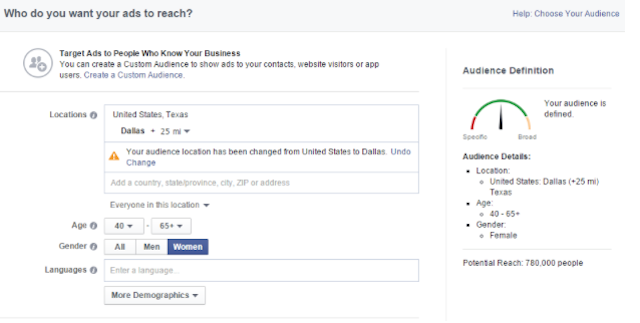 Getting closer... hit More Demographics and use the Income section.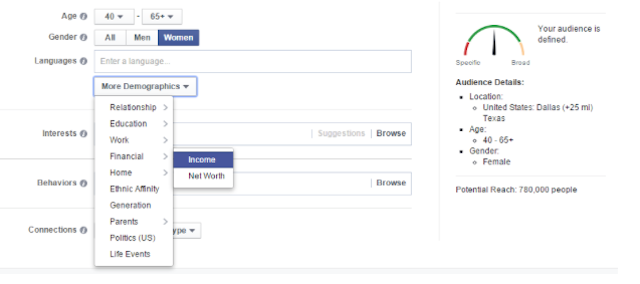 Now I've selected every category $75k and above.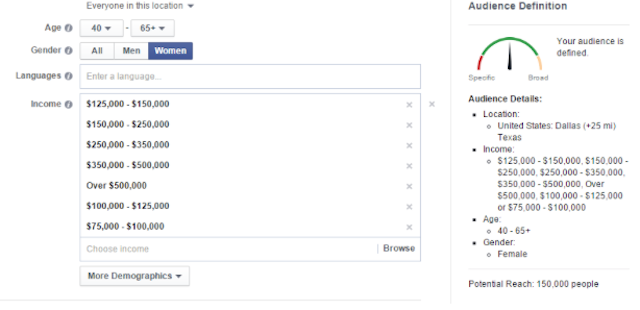 Pro tip: Let's scroll down a bit and find someone who has an interest in pugs to make it a bit personal, and now you've locked in your audience.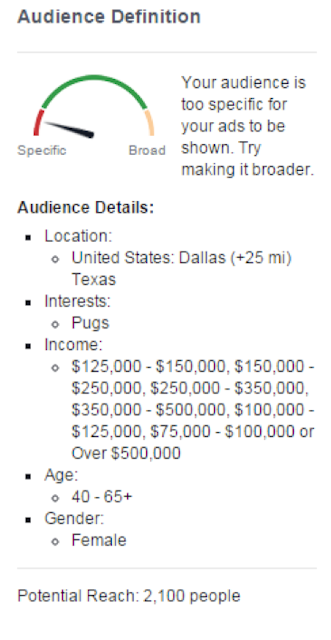 Let's set a budget for the ad. I like to spend about $10 a day. Now scroll down and make your ad the way you want it. I use a single image per ad. Upload your own picture versus stock photography, which people are blasted with constantly.
Pro tip: I usually have three images per ad and rotate the image every 24 hours to see which performs best. Make sure each image is very different so you get an idea of what works best and fine tune from there.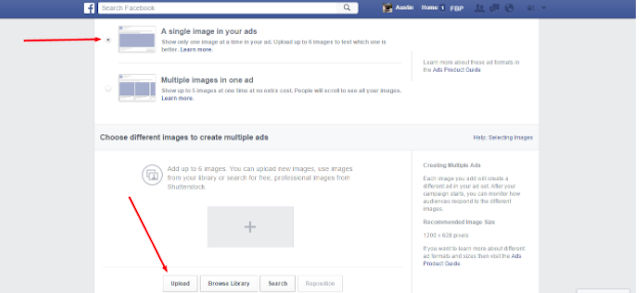 Now that the image is uploaded, you'll want to scroll down and enter the text ad. You also have the opportunity to add a Call-to-Action button. Test out and see what gets you the best results. Then you'll place your order!
Over the next 24 hours you can check to see how your ad is doing, and try a different image and test out different things. The key is in testing different offers and ad elements. Check your Campaigns page to view and track your metrics.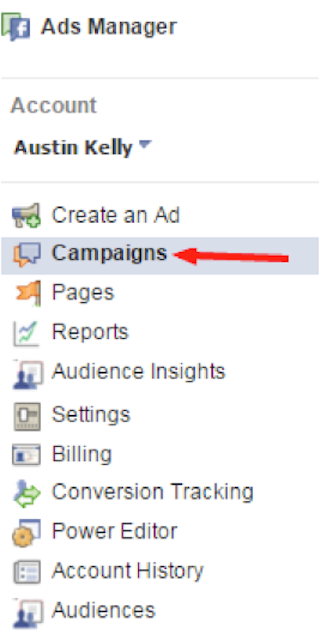 Also, the reports section gives you an in depth explanation and overview of your ad's performance.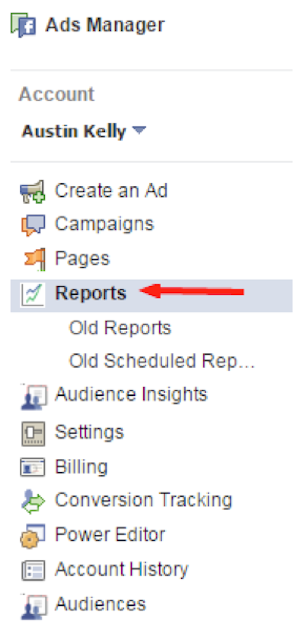 Conclusion
Dental marketers and practice management companies love to talk about higher ROI, greater patient retention, quicker patient acquisition, and higher case fees. If you're like a lot of dentists, those things don't sound half bad. They're probably things you really want. But ultimately, how do you get those things? Can you guess? It's so simple you'll probably kick yourself for not guessing right.
Here it is: Increase your Profit per Patient while decreasing your Cost per Acquisition. If you take the steps to build a system that does this, you're on the winning track.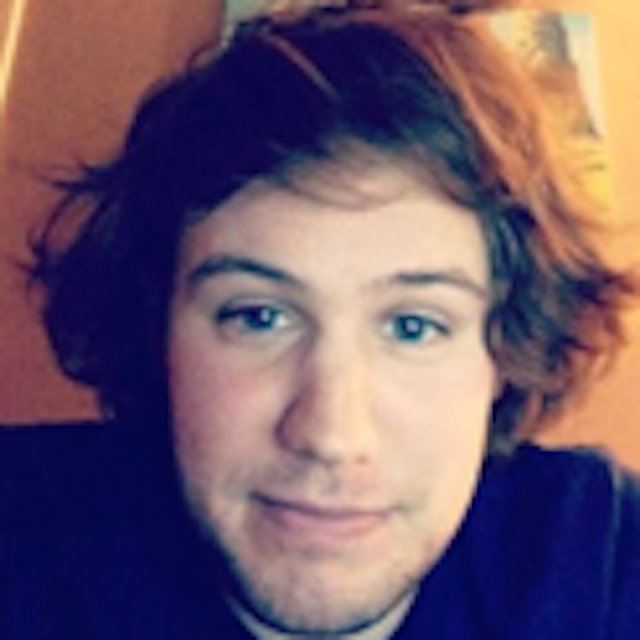 Austin Kelly is a passionate entrepreneur from woodsy-western Arkansas that has loved marketing for over six years and enjoys helping countless businesses and dentists build their business online.