Do you make these 4 marketing mistakes? How to avoid them
Inefficient marketing efforts for your dental practice can actually cost you money, not make you money like marketing is supposed to. It's important to know how to direct your marketing dollars. And don't give up: follow up.

Sep 13th, 2016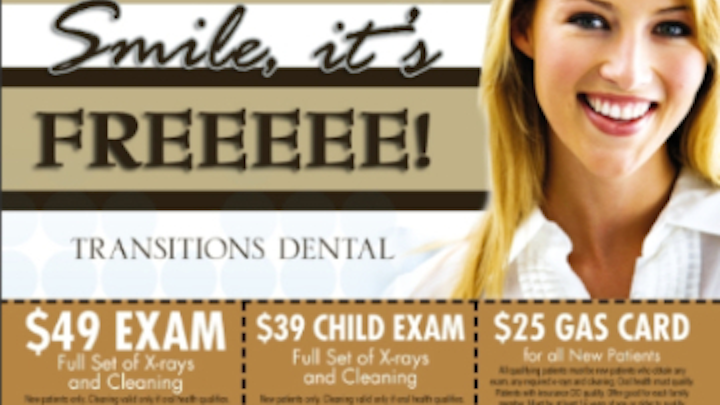 Inefficient marketing efforts for your dental practice can actually cost you money, not make you money like marketing is supposed to. It's important to know how to direct your marketing dollars. And don't give up: follow up.
As a dentist, your No. 1 priority is to take care of your patients, and this is as it should be. But as a business owner, you also need to take care of your practice. This means marketing, managing your staff, maintaining your equipment, keeping up with your continuing education credits—the list goes on and on.
So I want to make one of those tasks a little easier on you, or at the very least, I want to help you do it more efficiently. What is it? Marketing your practice. My company, PostcardMania, has helped more than 4,600 dental professionals with their marketing, and I see many of you making mistakes that are costing you money.
So here's a quick lesson on the four most common marketing mistakes I see dentists make day after day, and how to avoid them.
1. You're among the 24% of dentists who are inconsistent with their marketing.
You know how you see the same commercials over and over again? Why do you think that is? Because repetition is a key component, maybe even the most important component, of any successful marketing campaign.
Think about election season, for example. How many yard signs do you see for your local candidates? That's because politicians know that repetition breeds familiarity, and familiarity breeds trust. (As much as you can trust a politician, anyway! As dentists, you're already much more trustworthy.)
Most of us need to hear a message multiple times before it really registers, let alone before we act on it. Studies have shown that 80% of sales occur on or after the fifth contact.1 If you want to grow your practice, you have to put out your marketing message to the same audience again and again.
I've watched so many dentists send out one direct mailing, and when they only get a handful of new patients, they throw up their hands and declare that it didn't work. One of my clients, Dr. Jason Monroe of Village Green Dental Center, says that's because many dentists don't look at their marketing from a business perspective. "If they send 5,000 cards, they can't process that if 20 people come in, it was still a reasonable investment. They go, 'Well, there's 4,880 people who didn't come in,'" Dr. Monroe said.
I'm sorry to say that just one of anything isn't going to bring in millions of new patients. But when you market consistently, through multiple channels (direct mail, social media, pay per click), your name is fresh in your prospective patients' minds when they need a dentist, which is why 76% of our successful dental clients send out repeat mailings. So if that isn't you, you're definitely in the 24% making this mistake.
2. You risk losing out on a potential 44% of internet users by neglecting your website.
Having a high-quality and responsive dental practice website is no longer optional. It's a must.
Look at these statistics:
• 80% of US internet users search online for health-related information2
• 44% of internet users are looking for health-care providers2
And here's why it absolutely has to be mobile-friendly:
• 51% of digital media time is consumed on mobile devices3
• 88% of people who search for a local business on a mobile device call or go to that business within 24 hours4
Your website doesn't need a ton of bells and whistles, but it does need to represent you and your practice well. The purpose of your website is to tell prospective patients about you and get them to call. It should include:
• Your location, hours, and phone number
• Information and pictures about you and your staff
• A form they can fill out to request an appointment or ask a question. This helps you collect leads that you can follow up with and turn into patients.
Your website needs to function properly because 40% of visitors will abandon a website if it takes more than three seconds to load.5
3. You miss up to 88% of prospective patients by not asking for online reviews.
You know how powerful word-of-mouth is. But did you know that 88% of consumers say they trust online reviews as much as a personal recommendation?6 A vast majority of consumers take online reviews into consideration:
• 92% of consumers say they read online reviews7
• 68% say a positive review makes them trust a business more7
One of my clients, a Westminster, Colorado dentist who just opened his practice, made it a point to ask every patient for an online review. Within six months, he had 57 five-star reviews online and his practice was booming. Many of you are already using software that will do this for you.
Think about it: I'm sure you've searched for a local business online at some point. Which one are you likely to visit first—the one with 57 five-star reviews or the one with zero?
4. You waste marketing dollars by not tracking your leads.
I can't think of one dentist, or anyone at all, I've met who likes wasting money. Yet so many of you don't track your marketing results! It's the same thing! Tracking your leads is important so that you know what marketing efforts are working and which ones aren't, so you can put your marketing budget into the most effective channels and stop throwing money away on things that aren't working.
It's not hard. You just need to train your staff to ask every new caller how they heard about you. Actually, there's a little more to it than that. Inevitably, a lot of callers will say they found you "online." That's not enough information. Your front office team should then ask, Was it an ad? Or did you find us through search? And if so, what were you searching for?
People call PostcardMania all the time and say they found us on Google. That may be true, but I can't tell you how often we find those people in our database and see that we've actually been sending them postcards for years!
A little research reveals that about 2,400 people Google "PostcardMania" each month. If they're searching for my company's name, they've already heard about us somewhere. So track those leads, and don't take "online" for an answer.
If you can keep from making these four common mistakes, you'll see a big difference in your bottom line!
Visit our website to see examples of dental postcards that are currently working for our clients, and have free samples delivered to your home or office.

---
For the most current dental headlines, click here.

---
Joy Gendusa is the Founder and CEO of PostcardMania, a marketing firm in Clearwater, Florida, that specializes in lead generation. She can be reached at Joy.Gendusa@PostcardMania.com or by calling (855) 549-1313.
References
1. http://www.marketingdonut.co.uk/marketing/sales/sales-techniques-and-negotiations/why-8-of-sales-people-get-80-of-the-sales
2. http://www.pewinternet.org/three-technology-revolutions/
3. http://www.smartinsights.com/mobile-marketing/mobile-marketing-analytics/mobile-marketing-statistics/
4. http://nectafy.com/mobile-marketing-trends-mash-up/
5. https://blog.kissmetrics.com/loading-time/
6. http://searchengineland.com/88-consumers-trust-online-reviews-much-personal-recommendations-195803
7. https://www.brightlocal.com/2015/08/20/92-of-consumers-now-read-online-reviews-for-local-businesses/