10 reasons why you should consider becoming a certified dental marketing assistant
No more worn out dental marketing ideas. Become a dental marketing assistant and help the practice thrive

Jun 17th, 2014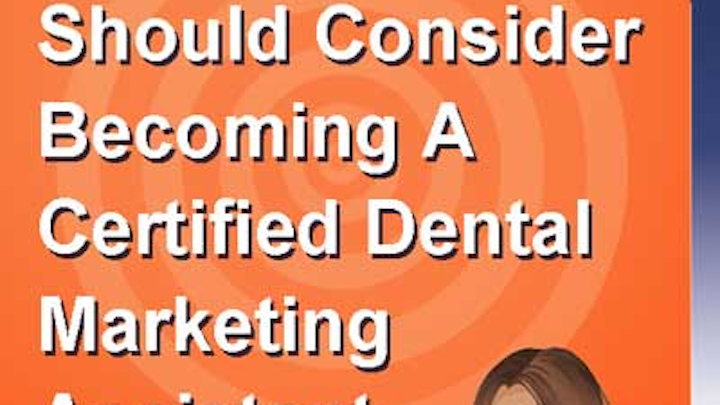 More and more dentists are beginning to understand that one of the most significant aspects in running a profitable dental practice is their ability to successfully promote and market their practice. The problem is that promoting a dental practice is a full time job in itself. Because most dentists are not marketing experts, and they do not understand the vast array of marketing options available, they can end up wasting a tremendous amount of time, energy, and money trying to choose their best option.
Until recently, dentists didn't have what I consider a "best option." Their options consisted of dental marketers and practice management companies that offered the same worn-out strategies that have been used for decades.
The good news is that a better solution exists today – the Dental Marketing Assistant (CDMA) University Certification Program. Dentists no longer have to worry about wasting time, money, and effort searching for the right solution.
Instead, they can hire a certified dental marketingassistant to handle every aspect of practice marketing and promotion. That's right! They can hand over the marketing tasks to a highly trained, highly capable dental marketing assistant, which frees dentists to run their practice. Are you a candidate for pursuing a career as a dental marketing assistant?
Here are the first five of the top 10 reasons why you may want to become a certified dental marketing assistant (CDMA):
1. Certified dental marketing assistants are experts in the field
Most dentists do not understand how to bring targeted new patient traffic into their practice. Promoting a dental practice and generating the quality new patient traffic needed to create sustainable growth takes someone with a unique set of skills, and certified dental marketing assistants have those skills. They know about the most advanced aspects of Internet marketing, such as inbound marketing, content marketing/blogging, search-engine optimization (SEO), social media marketing, social media optimization (SMO), pay-per-click advertising, article marketing, press releases, and more. They also have substantial skills sets related to copywriting, referral marketing, communication skills, and direct response marketing, and they know how to implement these strategies to get results.
2. A certified dental marketing assistant will free the dentist's time
A certified dental marketing assistant does not have to be micromanaged. The dentist will have direct access to their results, which gives the dentist control over the flow of new patient traffic.
3. Adding a certified dental marketing assistant is an economical and effective alternative to expensive practice management programs and dental marketers
Practice management company fees or the cost of hiring a dental marketer can be expensive, with little to show. A certified dental marketing assistant eliminates those costs. The trained marketing expert works directly for the dentist, which gives the dentist control over the new patients that come into the practice month in and month out.
4. The marketing assistant can be part time or full time, or per project
If a dentist wants a trial run before committing to hiring a dental marketing assistant, the dentist can opt for "as needed only" services. If a dentist is swamped, a marketing assistant can be brought into the practice on a full-time basis.
5. Hiring a certified dental marketing assistant will allow the dentist to cut expenses There's no need to shell out hard-earned money on outdated practice management strategies or on dental marketing experts when there is a certified dental marketing assistant on the team. The CDMA will possess advanced skill sets and practical know-how for generating new patient traffic, as well as possess superior communication and writing skills to create profitable patient retention programs and ually improve the dentist's professional reputation.
6. Having a CDMA on the team is extremely convenient
The dentist will no longer waste time trying to contact a dental marketing person. He or she will simply touch base with the CDMA, and tell the person what to achieve and in what time frame. How easy is that?
7. A CDMA can provide the dentist with a dominant web presence
By using a combination of traditional and creative marketing strategies, a certified dental marketing assistant will significantly increase a practice's web presence, as well as new patient and referral traffic. All of these are paramount to achieving sustainable growth in a practice.
8. A CDMA will generate MORE quality new patients
By improving the online and offline presence, the dentist will enjoy a consistent supply of quality "target specific" new patient traffic. Not only will this increase production and help the dentist earn more money, it will inevitably lower stress.
9. A CDMA can help a practice become more
profitable and increase its service offerings
When the schedule is full with quality patients, the dentist will be able to increase fees for services such as cosmetic dentistry, as well as add services such as treatment for sleep apnea, snoring, and dental sleep medicine. When production and profits reach a maximum output, the dentist will be able to expand the size of the practice.
10. A CDMA is worth every dollar
When evaluating the viability and cost effectiveness of hiring a certified dental marketing assistant full-time, it's easy to see what a great investment the right individual can be. The dentist will be saving an average of $1,500 to $2,500 per month in fees paid to practice management and/or dental marketing companies.
New graduates of the Dental Marketing Assistant University (i.e., certified dental marketing assistants) earn about $20 to $25 an hour, and more experienced CDMAs earn about $30 to $35 an hour when bonuses calculated from the increased production they generate is factored in.
For more information about how you can become a certified dental marketing assistant, visit the Dental Marketing Assistant University website or call 800-875-9066 and request your FREE information toolkit.
You can also take the Dental Marketing Assistant University Module #1: Social Media Marketing Success for Dentists (and the associated test) for credit FREE of charge now through Aug. 15, 2014.Simply visit the link, register, and you'll be on your way to becoming a Certified Dental Marketing Assistant!
Ken Newhouse, DDS, is the Founder of Growth Hacker Central, the fastest-growing provider of dentist SEO and dental web marketing strategies, systems, and tools with 2,800+ dentists worldwide. Ken also serves as CEO of Practice Doctor Management, an organization that provides a variety of offline dental marketing systems and coaching. Ken is a certified LinkedIn expert, reaching his first 1,000 connections in less-than 30 days. You can connect with Dr. Newhouse on LinkedIn here.