5 dental marketing and advertising trends for 2019
Here are some ways dentists can keep their New Year's resolutions by upgrading their dental marketing and advertising efforts for 2019.

Jan 14th, 2019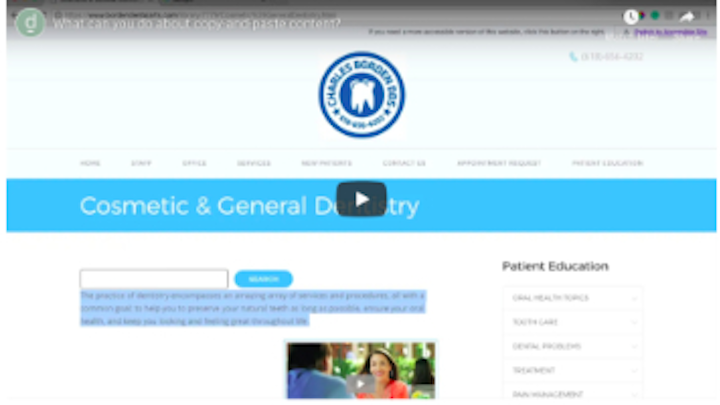 Here at Delmain, we're always keeping an eye out for what's next when it comes to dental marketing and advertising. In 2018 we noticed a few trends that are going to pay off big for dentists in 2019. Let's take a look.
1. Original photography and videography
Patients are sick and tired of stock photography on dental practice websites. Our research has shown that dentist websites with high-quality photos convert more website visitors into new patients.
Videos are essential. They can show your practice in a way that still photos cannot, they allow you to communicate directly with website visitors, and they can be used for strong dental marketing and dental advertising content, especially on social media. Find a professional photographer who can take high-quality photos of your office, make videos of patient testimonials, and more.
2. Mobile design
It's crazy that we have to keep saying this in 2019 but we'll say it again—if your site isn't responsive and mobile-friendly, you are likely costing yourself dozens of new-patient opportunities every month.
Nearly 60% of traffic comes from mobile and that number just keeps growing. If your site doesn't look great on mobile, that should be first on your dental marketing to-do list for 2019. Start by using the Google Mobile Friendly Tool to check your practice's website. It won't take even five minutes and will show you actionable next steps for improving your site's mobile experience.
3. No more duplicate content
Duplicate content is text that's copied and pasted from other websites. Google penalizes sites that are filled with duplicate content. The only way to fix the problem is to create new and original content.
I've been doing SEO and dental marketing for over a decade. In 2009 most people knew that duplicate content hurt SEO and search rankings. So why in 2019 are so many dental sites still riddled with copy-and-paste content? It's not only boring for visitors and does not help them learn about your practice, Google hates duplicate content. If you're getting information or articles from a "content library," it's costing you big time and you're wasting your dental marketing and dental advertising budget. Original content delivers a better user experience, higher search rankings, and more new patients.
4. Online booking and scheduling
Most patients today don't want to make a phone call or talk to a person to schedule appointments. That's why online booking and scheduling apps are one of the fasting growing dental marketing trends. Tools such as LocalMed and NexHealth make it easy for website visitors to find an open appointment that fits their schedules. This also benefits your practice since you can set blocks of time for each provider, allowing for more predictable scheduling and more efficient work.
5. Online reviews
Maybe the best-kept secret in dental marketing is the power of patient reviews. Five-star reviews give confidence to prospective patients and are a key ranking factor for Google and other search engines. To put it another way, the more reviews you have, the higher your practice website will rank and the more new patients your office will see.
In order of importance, these are the review sites you should focus your dental advertising and marketing efforts on: Google, Yelp, Facebook, and Healthgrades. A review management platform can make it easy to track your progress, manage reviews, and connect with patients to get more new reviews.
What are your dental marketing and advertising plans for 2019?
What are your practice's marketing and advertising goals for 2019 and how do you plan to achieve them? If you ignore the trends we discussed here, you'll be fighting an uphill battle.
Dan DelMain founded Delmain, a full-service digital marketing agency, in 2008. Located in Portland, Oregon, he and his team help dentists, lawyers, and other business owners attract an online audience, drive website traffic, and convert visitors into sales. Contact him at dan@delmain.co.