A-DEC LED Adds SafeShield Option For Routine Lens Protection
Sep 13th, 2013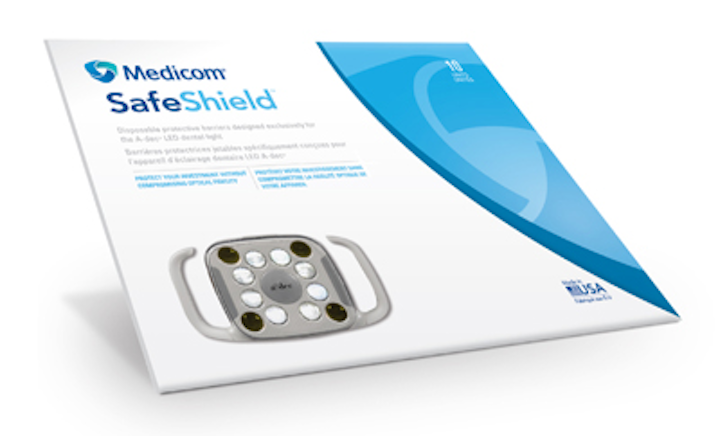 NEWBERG, Ore. – A-dec has partnered with Medicom® for the SafeShield™, a disposable barrier to give A-dec LED dental light owners added convenience and ease to protect and preserve the light head's shield.
Exclusively designed for the A-dec LED, SafeShield gives dental teams a quick "on and off" application for a clean and scratch-free lens.
As a disposable barrier, replacement is recommended once per week, or whenever the light may need cleaning. Consistent, routine applications help protect the light shield from debris and scratches — including those caused by sharps. The SafeShield's durable transparent material adheres securely without compromising the light's optical fidelity.
"The Medicom SafeShield not only supports treatment room asepsis; it also protects the doctor's investment," says A-dec Clinical Product Manager Alan Grobey. "SafeShield offers a routine, cost-effective way to preserve and extend the life of the A-dec LED."
Every A-dec LED dental light and LED upgrade kit gets shipped with a starter pack of two SafeShield barriers. Doctors can order packs of 10 via an authorized Medicom distributor. Retail price is around $19.95 (MSRP). SafeShield packs are not available for purchase through A-dec or Medicom directly.
The A-dec LED dental light was introduced in 2012 to widespread favor, touted for its illumination, shadow reduction, ergonomic control, low-heat emission, and sleek unencumbered design. The light is the recipient of distinguished honors such as The Dental Advisor's Editors' Choice Award, IDEA Silver from the International Designers Society of America, the international Red Dot design award, and 2012 Best New Product for Women voted by the American Association of Women Dentists (AAWD).
Like A-dec, A.R. Medicom Inc. is a global leader. The manufacturer and distributor of high-quality infection control and barrier products is based in Montreal, Quebec.