Thursday Troubleshooter: Dentist won't confront patients who refuse x-rays
This staff member is very concerned about the sub-par care this dental practice provides for patients who refuse x-rays. She knows they can't be treated properly without a proper diagnosis. But the dentist doesn't seem to care.
Jul 20th, 2017
Do you have a tough issue in your dental office that you would like addressed? Each week the experts on Team Troubleshooter will tackle those issues and provide you with answers. Send questions to megk@pennwell.com.

QUESTION: I work for a dentist who allows patients to refuse x-rays. I have a patient coming in soon for a prophy who hasn't been into our office in two years and has never allowed x-rays. I also have a patient who has refused x-rays for 15 years, only comes in annually for a prophy, and has obvious signs of periodontal disease. I'm new to the office and I honestly love the staff and job, but the dentist won't back me up about patients needing x-rays. I've never been in an office where this is the norm and I'm very concerned. Can gum disease even be diagnosed with probes alone? Even if I told the patient my recommendations for scaling and root planing, I wouldn't do treatment without x-rays unless there was a medical reason. For what it's worth, we are a digital office and the patient who has refused for 15 years has insurance! He simply doesn't like x-rays. He told me himself that he doesn't care about the radiation, he's simply non-compliant. I'm beginning to see quite a few patients like this because no one else will put up with them at other offices. The dentist is a sweetheart, but I'm worried to give such a below standard level of care. I worry about liability too. Help!
ANSWER FROMAMBER AUGER, RDH, MPH, owner of Millennial Mentor:
According to The Dentalaw Group, a dental malpractice resource center, failure to diagnose periodontal disease is one of the leading causes of dental malpractice litigation.1 To properly diagnosis a patient's periodontal health, radiographs and comprehensive six-site periodontal charting is needed. Typically, hygienists are responsible for completing the periodontal charting and collaborating with the dentist to provide recommendations for scaling and root planing.
Radiographic evidence of bone loss is best determined with adequate and current radiographs,1 most typically a full-mouth periapical survey, including horizontal or vertical bitewings. Radiographic evaluation of the distribution and severity of bone loss, bone density, root anatomy, and approximation to other teeth provides specific information that will help in determining a proper diagnosis of the patient.1 The ADA recommendations for providing radiographs can be found in the table below.
The current situation of the office is unethical, below the standard of care, and putting the licenses of each clinician at risk for lawsuits. The dentist may not fully comprehend the risks of practicing dentistry in this manner. Therefore, it is important that you express your concerns to him about the patients, provide personal and scientific rationale for the proper films, and not operate below clinical and ethical standards.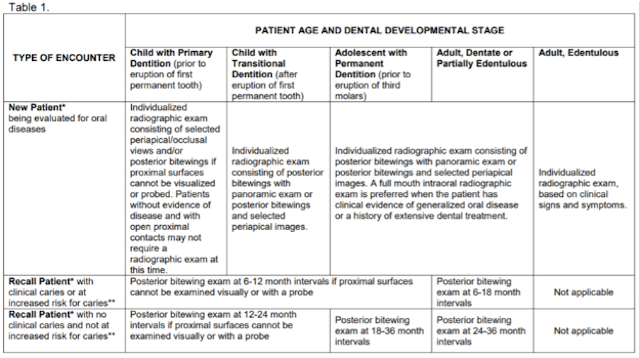 Table 1: ADA. Dental Radiographic Examinations: Recommendations for Patient Selection and Limiting Radiation Exposure. Available at ada.org/~/media/ADA/Member%20Center/FIles/Dental_Radiographic_Examinations_2012.pdf. Accessed July 3, 2017.
1. The DentaLaw Group. Dental Malpractice Resource Center. Available at www.dentalaw.com. Accessed July 3, 2017.
RECENT THURSDAY TROUBLESHOOTERS
Dental assistants should not be performing some functions
Disappointment in new dental code D4346
'Toxic' coworker drags down whole dental office
Do YOU have a tough issue in your dental office that you would like addressed?

Send your questions to megk@pennwell.com for the experts to answer. Responses will come from various dental consultants, as well as other experts in the areas of human resources, coding, front office management, and more. These folks will assist dental professionals with their various issues on DentistryIQ because they're very familiar with the tough challenges day-to-day practice can bring.

All inquiries will be answered anonymously each Thursday here on DIQ.
---
For the most current practice management headlines, click here.

---
---
For the most current dental headlines, click here.

---