Spear Practice Solutions is groundbreaking program for dental practitioners
Spear Education releases comprehensive business and clinical solutions platform designed to accelerate practice success.

Aug 28th, 2017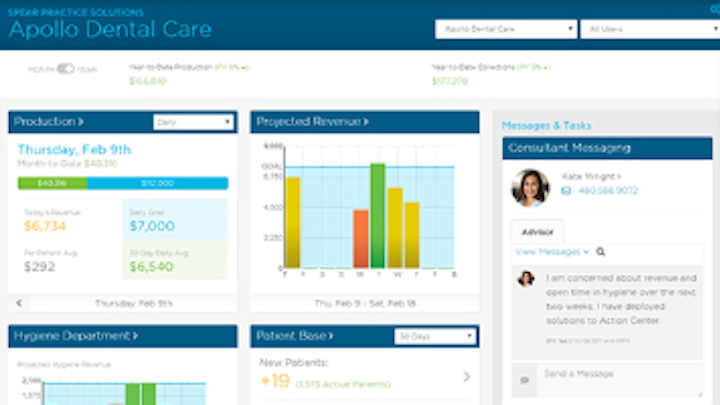 Spear Education recently announced the launch of SPEAR PRACTICE SOLUTIONS (SPS). This comprehensive practice management platform blends dedicated consulting, tailored education, and real-time analytics to help dental practices reach their full potential.
"Dentists work hard to deliver exceptional patient care," said Spear founder and director Dr. Frank Spear. "But running a successful, efficient practice while staying focused on clinical excellence can be extremely challenging. Whether dentists want to expand, work more efficiently, earn higher and more consistent revenues, or build a stable patient base, Spear Practice Solutions is designed to help them to achieve their personal vision of success. We take care of their business, so they can take care of patients."
SPS was first unveiled to the Spear Faculty Club and visiting faculty members on in September 2016. The response was overwhelming, which reinforced the need for this innovative platform. Now that SPS is fully launched, Spear is leading the industry with a personalized solution that provides dedicated business and clinical support for every part of the practice.
"Every element of Spear Practice Solutions works together to help dentists achieve their goals," said Dr. Gary DeWood, Spear executive vice president of curriculum and clinical education. "Spear is already known for delivering world-class continuing education. Now SPS members will receive personalized, multi-channel content prescribed specifically to address their unique challenges and drive continuous improvement. Combine that with dedicated consulting and real-time analytics, and you have a powerful formula for success."
Three core pillars
The first core pillar is made up of practice solutions consultants. Dentists receive one-on-one coaching from a dedicated Practice Solutions Consultant who has business, financial, clinical, dental, human resources and marketing experience. Consultants provide planning and implementation support for every part of the practice. They are empowered by the analytics platform to continually monitor practice performance and create targeted solutions, advice, and educational plans based on real-time data.
The second pillar is custom education.The expert consultant prescribes detailed, customized learning plans for every member of the team, from clinical skill upgrades to relevant business strategies. All SPS members will also attend the multi-day "Practice of Excellence" workshop, which gathers the entire team to create a shared vision for the practice and promote an open and supportive culture of growth. Smaller breakout sessions will focus on harnessing individual strengths, strengthening patient engagement skills, and enhancing personal accountability and empowerment.
The final pillar is analytics application. Secure analytics produce real-time performance reports that reflect the current health of a dental practice. The native application works across any mobile device and features customizable goal setting and progress tracking to help dentists make sound business decisions.
To learn more about Spear Practice Solutions, visit speareducation.com/practicesolutions.
---
For the most current practice management headlines, click here.

---
---
For the most current dental headlines, click here.

---