Dreams really do come true
Although I grew up in the United States, my life direction was set when I was a young girl in Thailand.
Nov 1st, 2005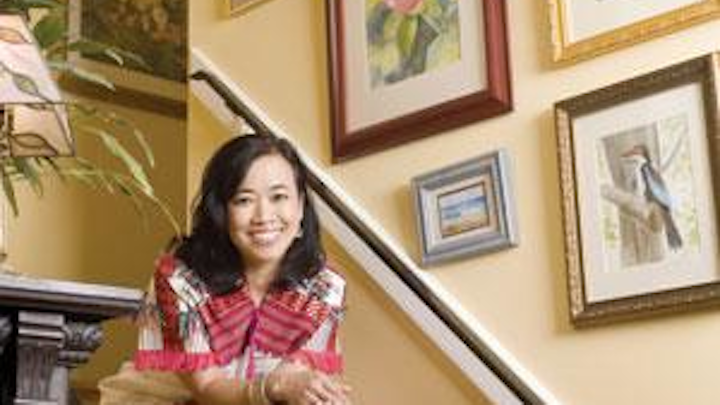 WRITTEN BY Usa Bunnag, DDS
Although I grew up in the United States, my life direction was set when I was a young girl in Thailand. My aunt, a nurse, took me with her on a medical mission. Seeing the smiles she brought to so many faces was an immediate connection for me, and somehow I knew what I wanted to do when I grew up. I wanted to be a doctor - a healer - especially for less fortunate people.
Finding my profession
At 14, I came to the United States to live with my father. We did not get along well, so after high school I launched out on my own. Finding a job as a dental assistant, I got the exposure to dentistry that confirmed it to be my dream profession. At 21, I was married and had gained a stepson. Two years later, my first son was born. Three months later, I started predentistry study at Montgomery College. Then, after five years that included another baby, full-time work, and part-time study at night, came dental school at Howard University. Eager to start my profession, and with my dental experience, I breezed through lab and clinical work and finished a semester ahead of my classmates.
After graduating from Howard and working two years as an associate, I decided to take a chance. With funds borrowed on my mother-in-law's credit card and a base of 50 patients, I opened a sparsely decorated office with one operatory. Now, nine years later, my fee-for-service practice has four operatories with up-to-date technologies; a warm, welcoming setting; and a team that consists of an associate general dentist, three specialists, one hygienist, two dental assistants, and two receptionists.
To supplement my income in the early years, I worked at a public health clinic. It was there I got firsthand experience of what lack of access to care means for young and seniors alike. Then in 2001, in exchange for student loan repayment, I signed up to provide dental care for children under Maryland's Medicaid program. This program further underscored for me the widespread lack of access to care, and made me aware of problems in the system. As a result, when my three-year commitment was done, I continued providing for these patients so their dental care would not be interrupted. Before Medicaid increased its fees, my office was the only one in Montgomery County serving Medicaid children.
Reconnecting to Thailand
My mother died while I was in dental school and sadly I could not afford a trip to Thailand. But in 2002, after being away for 26 years, my desire to reconnect with my birth country and my husband, Noi's, desire to retire in Thailand prompted us to return home. I had no idea that the trip would be another major step toward my childhood dream.
In Thailand it was impossible not to notice the poor children who had no dental care. In different villages, I saw children enduring rampant caries and abscesses, often without complaint. (Later I realized this situation exists among the poor in the United States as well.) So when I came back to the States, I brought with me a passionate desire to return to Thailand to care for these children.
Founding Smile on Wings
When my husband and I started talking about helping Thai children, we were fortunate to meet Arry Barrigan, a retired advisor to the Ministry of Public Health of Thailand. Arry shared our concern, and soon we had jointly planned a project and formed a nonprofit organization to carry it out: Smile on Wings.
After that meeting, things began to happen fast. Arry's many connections to Thai organizations led me to people who could pull strings and cut tape. By early 2003, I was back in Thailand with a proposal. By that October, with the blessing of the Princess Mother Foundation of Thailand and the Ministry of Public Health of Thailand, Noi and I conducted our inaugural dental mission in Maesariang, a rural town of Mae-hongsorn Province in Northwestern Thailand bordering on Myanmar. By February 2004, we were back again, treating 150 children in three villages with a team of three dentists (myself, Dr. Norma Fox, and Dr. Karen Dunnegan) and an assistant. Later in July, I returned with my assistant to work in three more villages.
Tsunami
As I was preparing a fourth mission for February 2005, the Tsunami struck Asia. Because Thailand had been hit hard, I naturally felt especially connected to the tragedy. Learning of the mass casualties of Westerners and locals in resort areas and large villages, I knew that my dental skills could help in forensic dentistry. But I wanted to do more - to help survivors too. After days of late-night, long-distance calls to Thailand, I finally got the Ministry of Public Health's approval to bring a medical team to the Tsunami area.
The week before the mission, I was full of self-doubt. How could I, a dentist, get some doctors to accompany me halfway around the world on a vaguely defined mission? I did everything I could think of ... I called my patients who are doctors themselves. One wanted to go but couldn't, so he sponsored a pediatrician to go in his place. I called hospitals to tell them about the mission. Since people were out of town for the year-end holidays, I decided to ask local TV stations for help. WJLA, the local ABC affiliate, was interested. That afternoon, they broadcast my appeal for volunteers. (Later they sent a team to Thailand to record our work.) Within three days, we had our group ready to go - four doctors, a dentist (me), two nurses, an IT specialist (my patient), and an outreach worker - with two translators and a coordinator waiting for us in Thailand. Almost all of us were strangers to one another, yet we were ready to travel halfway around the world to help people we'd never met. We left on Jan. 9.
A drop in a large bucket
In Khaolak, the team found itself in a refugee camp of 4,000. In nine days, we treated every form of survivor suffering: wounds from the Tsunami itself, headaches, fever, diarrhea, insomnia, depression ... and toothaches. Along with extracting teeth, I had to act as a grief counselor. Listening to the losses and the desperation overwhelmed me. My thoughts of doing forensic dentistry got lost in the enormous task of helping the survivors and taking care of the team. We gave money to victims; we gave money to the camp to buy food for victims; we gave money to the Thai Army to buy building supplies for the village; we bought 18 bicycles for children who'd survived. But it was all a drop in the bucket.
Our team returned to our regular lives and practices, but with heavy hearts. The team had seen so much destruction, so much loss suffered by so many, that well before we left we had already decided to return with more help. Ten days after our return, Noi and I were on our way again, this time with three dentists (Dr. Norma Fox, Dr. Susan Pearson, and Dr. Nancy Tilkins), a dental hygienist, two doctors, and a carpenter. The dental team spent a week in Northern Thai villages; the second week I joined the medical team in Khoalak. The carpenter helped build houses. We spent donated funds on dental equipment for the local health center, shoes for village children, scholarships and school lunch programs, and fishing boats and fishing equipment for fishermen who had lost their livelihood.
Three weeks of nonstop work, then back to Washington, and a classic dilemma: As desperately as I needed to get back to my practice and my personal life, I also needed to help the Tsunami victims until they could be independent again. So in June of this year, with help from dedicated volunteers, we held a fundraising auction that garnered over $15,000. Two weeks later we were back in Thailand treating patients in remote villages in Northern Thailand and later the Tsunami victims again. We spent money on another boat, more fishing equipment, and supplies to build a large fish farm for 15 families. Young volunteers from local schools came with us, spending time distributing dolls and athletic equipment to children in villages and shelters.
The last Smile on Wings mission was less than six months ago and yet so much has happened. Katrina. Rita. Earthquake in Kashmir. How much can a project like Smile on Wings do in the face of such tragedy?
Much more, I think. My dream, far from being realized, is only beginning. We are scheduled to return to Thailand in December, and current plans are for at least two such trips a year. While team members have so far paid all their own expenses, we have received unexpected help at every turn: more than $30,000 donated by friends, families, and strangers as far away as Hawaii and Washington; more than $10,000 in medical supplies donated by local hospitals; more than $30,000 worth of dental supplies from Patterson Dental; offers from strangers to collect dolls for the children. When I needed someone to get the project off the ground, I found Arry Barrigan (now our secretary). When I needed people to share team and mission responsibilities, I was able to call on my friends, Dr. Norma Fox (our vice president) and Dr. Susan Pearson (our treasurer). Just when I needed someone I could trust with my practice while I was traveling, I found my associate, Dr. Joyce Thomas.
There is not enough space here to list everyone who has helped make Smile on Wings a reality; the list of large and small miracles seems to get longer by the week. When we offered to help with victims of Hurricanes Katrina and Rita and neither government nor private organizations could use us, thousands of displaced victims in need of help turned up in the Washington area - giving us a perfect way to help those most in need while continuing to build our local practice.
Obviously, managing both a growing practice and Smile on Wings - while maintaining a sane personal life - is a challenge. But the dress in the photograph on the first page of this article, made for and given to me by the tribal children, along with their smiles and thank you letters, touches me in a way nothing else can. If anything makes the challenge worthwhile, it's the knowledge that so many desperately need help, so many are willing to help, and, as I somehow knew when I was a little girl, this is what I want to do. ■
Usa Bunnag, DDS
Dr. Bunnag graduated from Howard University School of Dentistry in 1994. She has a multidisciplined private practice in Bethesda, Md. You may contact her at (301) 896-0633, ub.toothmd@verizon.net, or usa@smileonwings.org. If you or anyone you know is interested: Smile on Wings travels to Thailand twice a year for missions. Each mission is an experience of a lifetime, sharing with your friends, your medical and dental colleagues, and your loved ones. Learn more at www.smileonwings.org.