Just how important are dental employee benefits? Very!
If you're seeking a new dental assisting position, do not hesitate to ask about benefits. Dental employees will find the best candidates for their positions by offering competitive benefits packages.
Nov 28th, 2016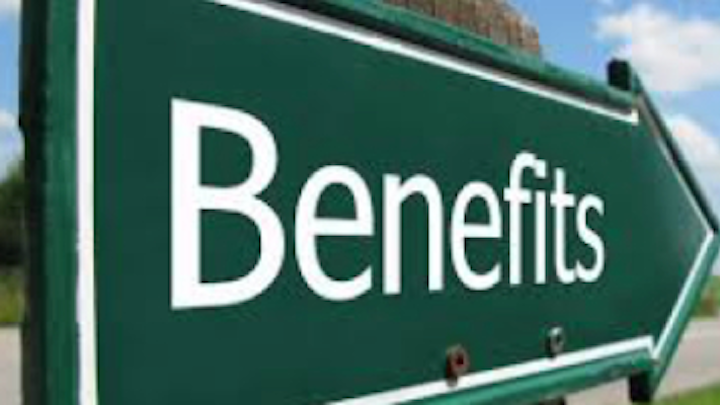 Many dental assistants, especially new, inexperienced interviewers and nervous job seekers, often fail to negotiate or request benefits when interviewing for a new job. Although not all dental practices offer benefits outside of some dental perks, a high percentage do have access to benefits and offer them to employees. For example, an article in RDH magazine provided the following statistics for hygienists working an average if five days a week:
• 47% are covered by employer's health insurance plan
• 57% receive an employer contribution to retirement
• 84% receive at least one paid week of vacation a year(1)

If you're looking for a dental assisting jobs, you should be looking for a solid base salary or hourly wage with added benefits. While the salary and hourly wages are important, the extras that may form part of your job can be as lucrative as the salary, especially if you have a family or dependents.
If you're well qualified or experienced, you'll have more leverage when asking for benefits, as you may have numerous job offers. Many studies in this area prove that employers with better overall benefits packages get the great employees almost every time, sometimes even when their hourly wage is lower.
According to the Dental Assisting National Board (DANB) 2014 Salary Survey, full-time DANB Certified Dental Assistant (CDA) certificants earn a median salary of $19 an hour, nearly $2 more per hour than non-certified dental assistants. According to the same survey, CDA certificants receive numerous other benefits, including paid holidays, paid vacation, 401(k) or pension plans, free dental care, and paid sick leave. So becoming a DANB CDA certificant will help you get the benefits you deserve.
Added benefits show that an employer cares about staff members, which makes it a more attractive place to work. So, if you're a dental employer, a slightly lower pay rate topped with excellent benefits could be the way to tempt the best candidates to your positions.
Anahy Pompa, a certified EDDA at the Comfort Dental office in Vail Valley, Colorado, says, "In my experience, dental assistants are the backbone of any dental office. They exemplify the kind of care the average patient is seeking. The overwhelming majority of dental patients have some measure of dental anxiety. A skilled and confident dental assistant can significantly reduce this anxiety. Further, skilled dental assistants not only have the technical abilities to perform on-the-job complicated procedures, they facilitate the production in a dental setting that supports the practice financially. In my opinion, dental assistants increase productivity, and compensation should run parallel with this productivity. Wages and other benefits should be considered in a productive office."
Benefits are becoming more costly
While some dental offices are now offering benefits in conjunction with their wages, check out the dental salary wage calculator on DentReps. The cost of offering such benefits has been steadily increasing, meaning that many dental offices' added benefits are not as strong as they used to be. The cost of benefits was laid bare in a recent study by the US Chamber of Commerce, which found that benefits have grown to around 40% of the salary of an individual, a staggering average of around $18k per employee per year.(2) When these premiums are combined with holiday and sick pay, this can have an adverse effect on the profitability of the practice.
Because of this, dental practices have been carefully looking at this area to ensure that what they offer their employees is tempting, while also being financially affordable for the practice. If benefits were removed entirely, other practices would attract good candidates with their packages. In turn, the competition becomes stronger.
Limiting or neglecting employee benefits has proven to reduce morale in the workplace and staff retention rates fall through the floor, leading to the higher costs of trying to hire new people to take these employees' places.
Recent research and information on health benefits suggests that around 50% of employees of small businesses are happy with their benefits. This is in contrast to large practices or organizations, where an average of 75% of employees are happy with their benefits package. So, if you're job seeking, don't be afraid to ask about a benefits plan.
ALSO BY PETER CARGILL:Dental assistants have the caring and passion to help
Employment trends in dentistry lead to a bright future for dental assistants
Employment site benefits dental assistants
Negotiating and what to negotiate
The long of the short it, dental assistants need to have access to benefits since wages are not increasing at the rates some may expect or require, and dental recruiters understand that. As part of your job search, you should be cognizant of a practice's entire compensation package. You may learn that new employees might not be able to receive benefits immediately upon their start date. There may be a probationary period where empllyees build up to receiving numerous levels of benefits. If so, be sure you receive that information in writing before committing to a new job.
Most importantly, do not feel as though you're burdening an office or that you might lose a job opportunity because you ask about benefits. All employees deserve some benefits in their compensation package, even if it takes a strategic plan and period of time to get there.
Suggestions for getting more benefits and the job
• Prove how qualified and passionate you are to being a dental assistant.
• Experience and recommendations are always a plus.
• Make yourself available for more hours per week.
• Suggest you are available for hours outside of the normal work day, including weekends, nights, and early mornings.
• Start off in a part-time position, but have a written plan where you work up to a full-time position and receive benefits.
• ASK! Asking questions of every employer is a benefit in your favor during any interview. Inquiring about benefits shows you care about your well-being and family, and this separates you from other candidates.
Possible benefit requests
• Employer's health insurance plan
• Employer's malpractice insurance (if applicable)
• Employer contribution to retirement
• Paid holidays
• Paid vacation
• Paid sick time
• Paid time off (PTO), which includes holidays, sick, vacation, personal, etc.
• Reimbursement for continuing education and professional development training
• Uniform expenses
• Supplemental expenses such as parking, public transportation, etc.
Good luck finding your dream position!
---
For the most current dental assistant headlines, click here.

---
---
For the most current dental headlines, click here.

---
Peter Cargill is an entrepreneurial executive leader and founder of DentReps.com—The Dental Jobs Site, and DR Recruiting.com—Dentistry's Recruiting Solution. Pete has spent the past decade and half primarily in the dental industry, both domestically and internationally. Pete has a MBA from Boston College and Loyola University Chicago and BA in Business from Stonehill College, as a well as an Executive Certificate from the University of Notre Dame's Mendoza School of Business. Visit DentReps.com, DRRecruiting.com, email info@DentReps.com, or call (781) 987-1365.
REFERENCES
(1) http://www.rdhmag.com/articles/print/volume-34/issue-1/features/2013-salaries-and-benefits.html
(2) http://www.danb.org/The-Dental-Community/Dental-Assistants/Salary-and-Benefits.aspx