Good dental health races into K.C. elementary school during NASCAR week
Some 750 students at J.A. Rogers School join the event to help put good dental health on the fast track

Apr 22nd, 2013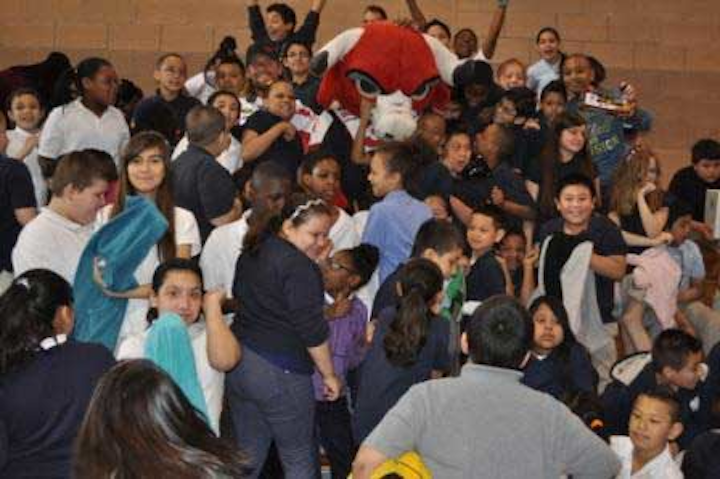 ST. PAUL, Minn. — As part of the NASCAR race week at Kansas Speedway, the American Dental Association's (ADA) Give Kids A Smile program and 3M Racing visited J.A. Rogers Elementary School for a special high-speed oral health education event. Each child received a special dental health kit, including an ARM & HAMMER Spinbrush battery powered toothbrush from Church & Dwight Co., a 3M Racing key chain, toothpaste, floss, Trident sugarfree gum, and good dental health tips.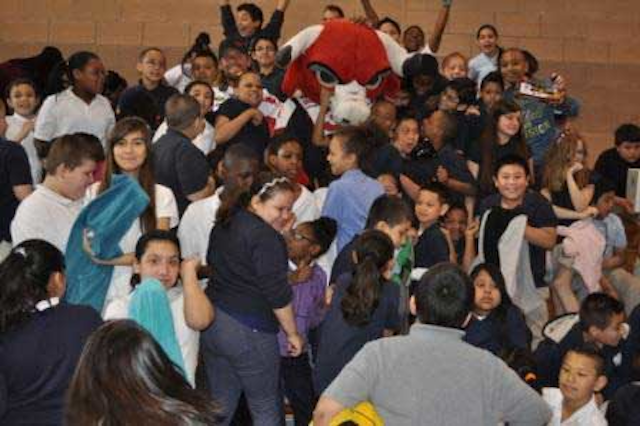 "We are committed to helping children achieve good dental health, and events such as the Give Kids A Smile program make health education fun and memorable," said Wendy McNitt, principal of J.A. Rogers School. "We're proud to work with partners from the ADA and Oral Health America to make this happen. We're also thrilled to work with Samuel U. Rodgers Health Center to deliver health services to our students."

The event featured No. 16 3M Ford Fusion race team members, the No. 16 3M race car, Mike Jurkovich, DDS, dental director of Samuel U. Rodgers Health Center, and Wendy McNitt, principal, to help deliver the message to children about healthy habits like brushing for two minutes twice a day, flossing, visiting the dentist, and making smart food choices.
RELATED ARTICLE:A race car and a smile: A winning combination
RELATED ARTICLE:Aspen Dental patient's smile featured on NASCAR car

"The Give Kids A Smile program helps the dental staff at Samuel U. Rodgers Health Center reinforce the health information and treatment we provide our students with a fun and exciting event that puts their dental education into high gear," said Dr. Jurkovich. "The students loved to see and hear the race car, meet the team from 3M Racing, and pose for photos with Dee-Bo the team mascot (pictured here). It was a great day that will have a positive impact on these kids' oral health for years to come."

3M ESPE revs up the engines forgGood dental health at NASCAR events

No. 16 3M Ford Fusion driver Greg Biffle and 3M ESPE are taking this important oral health message to 11 NASCAR tracks throughout the 2013 season with family activities and education about healthy dental habits as part of the 3M display in the track midway areas. They expect to reach more than 600,000 people at tracks during the season.

"We're excited to rev up the race for kids' good dental health around the country," said John Stefanick, director, Industry and Professional Relations, 3M ESPE Dental Division. "By partnering with Greg Biffle and the No. 16 3M race team, we're making it fun to learn smart dental health habits such as brushing twice a day for two minutes and extending the Give Kids A Smile program to the most popular spectator sport in America."

During four NASCAR weekends such as the one at Kansas Speedway, the No. 16 3M race team is joining with 3M ESPE, the ADA, Henry Schein, Care Credit, and Oral Health America to hold Give Kids A Smile dental health screening programs at selected dental schools, and educational events at selected elementary schools. Volunteer dentists, dental students, and other dental team members will provide underserved children free dental evaluations, fluoride treatments and, if needed, dental sealants. At the education events, young fans participate in fun activities centered around healthy dental habits.

Race fans of all ages can get more smart dental tips by visiting www.2min2x.org, www.MouthHealthy.org, and www.Facebook.com/GiveKidsASmile.