Faster working and setting times focus of new crown and bridge material
Cosmedent's new temporary crown and bridge material features faster working and setting times and better handling
Aug 8th, 2014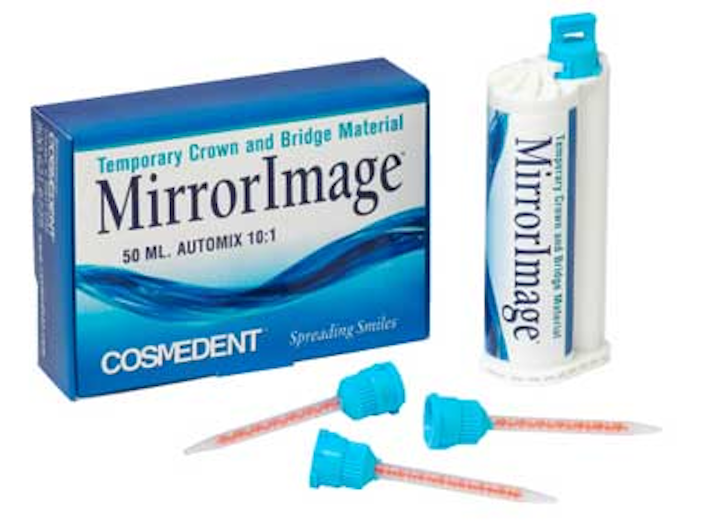 MirrorImage is part of an exciting new product line that creates beautiful temporary crown and bridge restorations with special features for both dentists and patients. MirrorImage trims easily, has faster working and setting times, superior handling, strength and durability, and a pleasant vanilla scent. Patients love that MirrorImage has a low exothermic reaction, excellent esthetics, and a natural fluorescence.
Right now Cosmedent is offering a "Buy 1 Get 1 Free" special at cosmedent.com. Use promotion code MI-11.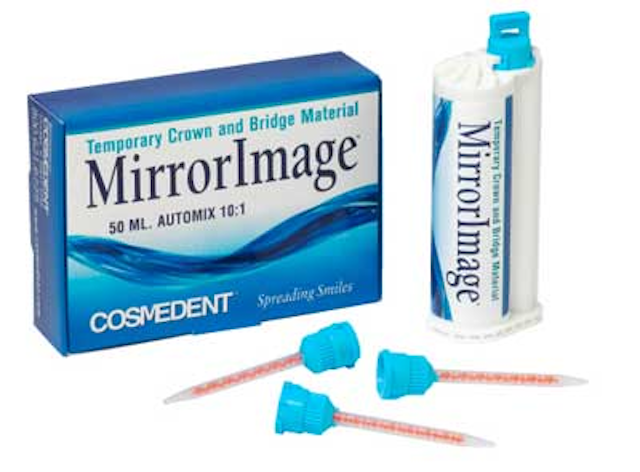 The award-winning MirrorImage will help dentists create temporaries that look and feel like real teeth. Cosmedent collaborated with dentists to develop MirrorImage. Feedback from customers has been positive. Bob Margeas, DDS, said, "MirrorImage flows well, sets hard and fast, trims easily, and requires minimal occlusal adjustment. It's very accurate and polishes to a high shine. It's a great addition to the other fine products Cosmedent sells."
This product is available in a 50ml, 10:1 automix cartridge in five VITA shades – A1, A2, A3, B1, and Bleach (OM2).
More customer feedSome early customer feedback includes: "I love the esthetics and my assistant loves the shorter set time," "My patient loves it, and mentioned that it felt natural like his own teeth," "It's smooth, very esthetic, and easy to polish," "Great combination of esthetics, strength and durability," "This is the best product for temporaries and provisionals," and "The strength was superb. No breakage, andno coming loose."

For more information contact a Cosmedent customer care representative at 800-621-6729 or visit cosmedent.com. Try MirrorImagerisk-free with Cosmedent's 30-day free-trial guarantee.