LED Dental's Wes Newsom discusses new intraoral cameras, the IC100 and IC200
During a recent interview, LED Dental's product line manager, Wes Newsom, discussed the new intraoral cameras, the IC100 and IC200.

Sep 22nd, 2014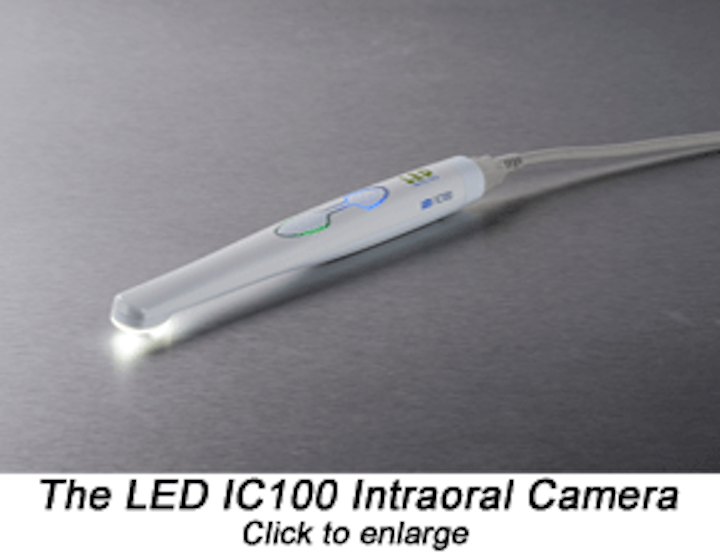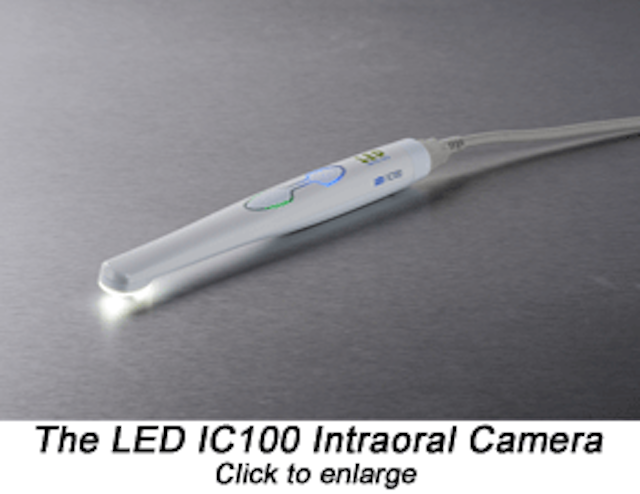 LED Dental's expanding product line is getting bigger! If you didn't attend the CDA Presents meeting in San Francisco earlier this month, you may have missed out on seeing the two new digital intraoral cameras launched by LED Dental, a subsidiary of LED Medical Diagnostics Inc.
I recently had the chance to speak with LED Dental's product line manager, Wes Newsom, about the two new cameras, the LED IC100 and the LED IC200 — either of which may help you to enhance patient education and increase case acceptance in your office.
The IC100 and IC200 are LED Dental's first and second intraoral cameras to hit the market, respectively. With high-resolution imaging at 768 x 494 pixels; aspheric lenses and auto-focus technology to maximize image clarity; direct USB 2.0 plug-in capabilities; an ergonomic design, featuring a slim head and a lightweight body; and an open architecture workflow for compatibility with third-party software, the IC100 and IC200 are similar in many ways.
Neither camera requires the user to change lenses, and both allow for live video display. "The video can be used to capture still images, which can then be saved into a patient's account," said Newsom. "Many imaging programs allow for video capture and both of these cameras can accommodate that."
The auto-focus features of each camera allow for a variety of focal ranges typically used for dental imaging — including portrait images, although, as Newsom acknowledged, "they are specially designed for intraoral use."
The IC100 and IC200 stand out from other intraoral cameras on the market because of their ease-of-use, high resolution, and compatibility with a broad range of software programs. "Most other cameras on the market require complex software setups, IT-related modifications on the computer being used, or have too many buttons and switches that make the unit too complex to easily use in a dental practice," said Newsom.
The cameras also stand out from each other in a few distinct ways, and Newsom commented on their differences: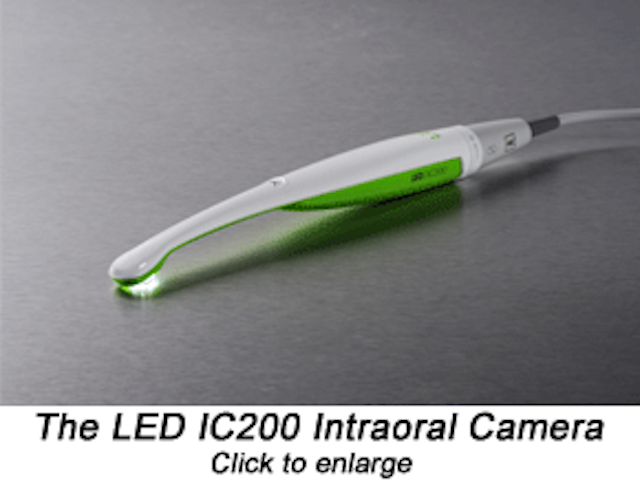 "The IC100 is designed as a very simple unit that allows for the capture button to be programmed for nearly any software program. It uses a standard A-B USB cable, so the user can have the exact cable length that works for their operatory layout. It is also designed with a tactile capture button for users that prefer that firm confirmation when acquiring images.
About the IC200, he added, "The IC200 is built on a proven platform that has been used in the dental industry for years. The no-movement capture button is loved by everyone that uses it. It allows the user to get the exact image they want with the live video and then capture that image without moving the hand piece. There is nothing more frustrating than seeing the image displayed and then bumping it out of position by pressing a capture button. The IC200 also comes with a proprietary cable that allows for an auxiliary to press the capture button while the user can keep the hand piece steady in the patient's mouth."
RELATED | LED Imaging partners with University of Tennessee Health Science Center College of Dentistry ...
RELATED | New digital radiography intraoral sensor unveiled

In sum, the biggest distinction between the two models is the image-capture functionality. If you're interested in testing or purchasing either model, both the IC100 and IC200 will be available at upcoming regional tradeshows throughout 2014, as well as at the American Dental Association Annual Session and the Greater New York Dental Meeting.
"It is important to purchase an intraoral camera that works with your existing environment," said Newsom. "High-quality intraoral cameras can generate revenue to your practice and build a great relationship between dentist and patient. The IC100 and IC200 are the perfect fit for any dental practice, and both come with a technical support team that has decades of experience in the dental digital imaging industry."
To learn more, call 844-952-7327 or visit leddental.com.