Measuring caries quantitatively: A product review and case report
In search of a more effective way to diagnose caries and monitor efforts at recalcification, Kenyon Glor, DDS, FICOI, decided to try the Canary System, a laser-based caries detection tool.
Jan 19th, 2017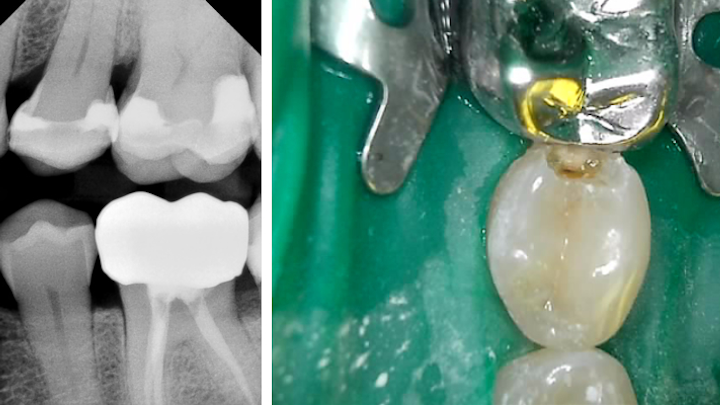 In search of a more effective way to diagnose caries and monitor efforts at recalcification, Kenyon Glor, DDS, FICOI, decided to try the Canary System, a laser-based caries detection tool.

While doing an exam recently, I realized something: After 30 years in practice, I was doing things the same way my childhood dentist did. That frustrated me. I knew there had to be a better way. I was also getting frustrated by the size of the caries when it was finally detected through either an x-ray or a tactile exam. Hoping to increase the sensitivity of my caries diagnosis in order to keep my preps as conservative as possible, I started to research caries detection tools.
Prior to my research, I formed some basic criteria for what I wanted in a caries detection tool:
1. It had to actually evaluate the enamel. (This seems like common sense!)
2. It had to work on any tooth surface.
3. It had to be effective more than 2–3 mm beyond the surface.
4. It had to offer definitive, quantitative results.
The Canary System was the only caries detection tool that met these basic criteria.
By using photothermal and luminescent response to pulsing laser light, the Canary System generates a number called a Canary Number. The Canary Number is a specific, quantitative measure that tells you the status of the enamel—i.e., healthy, partially decalcified, or active caries requiring a restoration. This is much more sensitive than a conventional x-ray or tactile exam.
For the preventive part of your practice, the beauty of this is that you can work to recalcify partially decalcified areas, or at least stop the progression of the decalcification and have a way to measure the success of your efforts. For the restorative part of your practice, early detection means more conservative cavity preps. For the management part of your practice, the process gets patients engaged in their care. Patients love both "trying to heal the areas" and "saving as much tooth as possible." By the way, the Canary System works very well with kids!
By using the integrated intraoral camera to take photos and the Canary Cloud for storage, you can show patients exactly what you see and save the results for future appointments. Patients love this.
Our Canary System resides in hygiene. We scan a quadrant at each recall visit, then rotate the quadrants scanned at successive appointments (e.g., upper right during one visit, upper left during the next, and so on). I have found this approach to be quite successful for both the patient and the office.
Case report
As previously mentioned, I routinely do Canary scans of rotating quadrants, focusing on nonrestored occlusal and interproximal surfaces. At this particular appointment it was the lower-left quadrant's turn to be scanned. Teeth Nos. 18 and 19 are restored, so Nos. 20, 21, and 22 were scanned occlusally and interproximally. No. 20 clinically appeared to be normal, and the bitewing was unremarkable.
The distal-interproximal Canary Number, however, was 37, so I knew there was active caries. After the distal was opened, caries was discovered and conservatively removed, and the tooth was restored.
The bottom line
Pros: The Canary System evaluates the actual enamel, works on all tooth surfaces, and provides quantifiable results. It can be incorporated into your hygiene protocol with minimal effort.
Con: As with any new technology, there is a learning curve, but it is worthwhile.
The Canary System has been a positive addition to my practice. Early detection has allowed me to provide better patient care, and keeping track of the Canary Numbers has made my patients more engaged with their care. All in all, the Canary System is a winner for the office and a winner for our patients.
---
Editor's note: This article first appeared in Pearls for Your Practice: The Product Navigator.Click here to subscribe. Click here to submit a products article for consideration.
---
Kenyon Glor, DDS, FICOI, graduated from the Indiana University School of Dentistry. He has been in general practice for 30 years and has spent the last 28 in Wellington, Ohio. He is a Misch Implant Institute grad and a Dawson Academy grad. Dr. Glor trained in IV conscious sedation at Miami Valley Hospital in Dayton, Ohio. Dr. Glor can be reached through his website at drglor.com.
---
For the most current dental headlines, click here.

---