KaVo launches Electromatic series of electric systems
Kavo has announced the launch of Electromatic, a new series of electric systems designed to make the transition to electric handpieces easier for dentists.
Sep 12th, 2017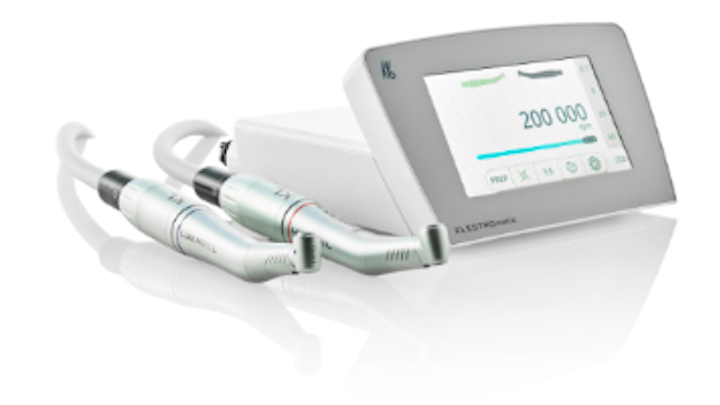 KAVO HAS ANNOUNCED THE LAUNCH OF ELECTROMATIC, a new series of electric systems designed to make the transition to electric handpieces easier for dentists. Electromatic features constant torque, controlled speed, quiet operation, and increased versatility.
The Electromatic motor system delivers constant speed and torque, allowing precise preparations at the defined speed. The speed on the control system display can be adjusted for a wide range of indications. In combination with Kavo electric handpieces, Kavo electric systems provide stable control from 2 to 200,000 rpm for efficient and precise work. Electromatic also features an intuitive user interface. Its simple design and clear picture indications are designed to make the switch to electrics stress-free.
Three distinct options—Electromatic, Electromatic Plus, and Electromatic Premium—are available:
Electromatic is designed for clinicians entering into the world of electric handpieces. This simple system allows speed to be controlled with the foot control, similar to an air-driven high-speed handpiece. This pairs with the Comfortdrive 200XDR high-speed handpiece, which now has an increased speed range for some low-speed applications.


Electromatic Plus is designed for all high-speed and low-speed applications. It features all the benefits of the Electromatic with programmable speed settings. An easy-to-read LCD display and multiple mounting options offer visibility and access to adjust the motor-speed settings.


Electromatic Premium is an all-in-one device featuring a color touch screen for intuitive handling and integrated endo function. This device is available with one or two motors for workflow efficiency, so there is no need to change attachments to switch from high-speed to low-speed. The preprogrammed file systems make it easy to plan or customize your endodontic protocol.
To make the installation process easier, Kavo is allowing dentists to upgrade their existing delivery unit within minutes. The plug-and-play system connects to standard air tubing and automatically adjusts to the air pressure of the existing dental unit. The manufacturer is also attuned to ergonomic considerations: the Electromatic system can be installed in many positions for optimal integration with the treatment unit.
"We know that switching to Kavo electrics will help dentists to improve their efficiency, provide better patient care, and increase their confidence in handling complicated cases," said Adam Hoffman, senior marketing manager for Kavo Kerr. "Kavo electric systems combine state-of-the-art handpieces, a lightweight motor, and the new Electromatic control system to provide an optimal electric solution for your practice."
For more information about Kavo Electromatic, visit kavo.com or call (888) 275-5286.
---
For the most current dental product articles, click here.

---
For the most current dental headlines, click here.

---