New virtual reality platform may aid in patient relaxation during dental procedures
A virtual reality platform introduced by Northpass Interactive, called Bella VR, may aid in patient relaxation during dental procedures.
May 8th, 2018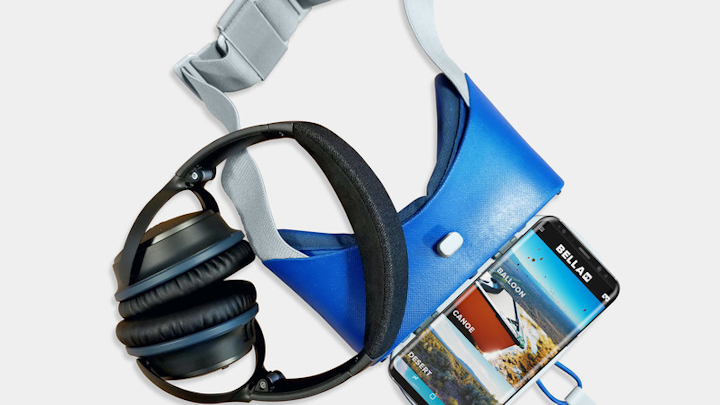 Northpass Immersive has introduced Bella VR, an intuitive virtual reality platform that helps patients reduce pain and anxiety by escaping with virtual experiences. It is the first and only virtual reality platform in the health-care space to use gaze-based navigation.
Weighing in at less than one pound, Bella is compact and lightweight, unlike many other virtual reality headsets and goggles on the market. With no wires and no controller, Bella (which consists of three parts, including a Samsung phone) is simple to strap on and easy to use. Patients can choose from multiple experiences, including a canoe trip, a hot-air balloon ride over New Mexico, a scenic trip at Banff National Park in the Canadian Rockies, and a live quartet concert. Coming soon is Find Fiona, an interactive game where patients search for a bouncing baby elephant who shows up in a variety of fun and playful scenes.
Bella VR offers several firsts for virtual reality in a health-care setting:
Gaze-based navigation—While many virtual reality devices operate via controller, Bella is controlled entirely by the user's gaze. The patient simply looks at the experience they want. "We were determined to eliminate the controller because if you hit a wrong button and you can't see the remote, it causes lots of problems and frustrations," said Northpass Immersive cofounder and president Reid Bangert.
Auto-horizon adjust—Many virtual reality users complain that they can't use the device while lying down. Bella solves this problem by calibrating and adjusting the unit's horizon to match the patient's current angle. "This is a huge breakthrough," said Bangert. "If you are sitting at a 45-degree angle without the auto-horizon adjust, you have to look down to be level in the experience. If you are flat on your back, you'd have to look completely down your body to get the full experience. We wanted patients to be able to relax completely."
"It leaves almost zero footprint and can be used in a matter of seconds, without frustration, an important factor in the busy health-care environment," said Bangert.
With a specialized, nonporous coating, Bella is easy to clean. "We talked extensively with medical professionals who told us that the padding on the interior of other [virtual reality] platforms is so soft that it is difficult to sanitize. Bella can be cleaned using only a Sani-Wipe and is quickly ready to use again," said Bangert.
"The integration of interactivity, visibility, and seamlessness—that's what we set out to develop—and we did it," said Bangert, adding that the development team sought feedback from local hospital administrators and medical professionals.
Multiple studies have suggested that virtual reality can help patients cope with pain and anxiety in a wide range of clinical settings. This includes a University of Washington study that found immersive virtual reality is an effective nonpharmacologic pain reduction technique in the pediatric burn population and a University of Hartford study that concluded that virtual reality distraction may be a "useful tool for clinicians who work with a variety of pain problems."
Bella VR is a platform that benefits patients from ages nine to 90. Bella can be used in English, Spanish, and multiple other languages. Subtitles in 15 different languages are currently available.