'Pearls' Enhanced: Interview with Goby CEO Ben Goldberg on the company's new electric toothbrush
The new Goby electric toothbrush offers premium oral care an affordable price. Learn more in this interview with Goby CEO Ben Goldberg by Dr. Joshua Austin.

Nov 7th, 2017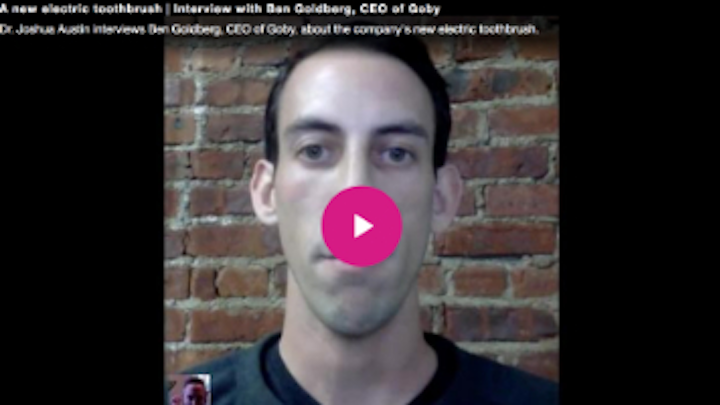 Dental startup Goby has set out to make premium dental care more affordable. In this interview, Joshua Austin, DDS, MAGD, Facetimes with Goby CEO Ben Goldberg to learn more about the company's innovative electric toothbrushes.
Watch the video below to find out more!
---
More on Goby
Product review: Goby electric toothbrush | By Dr. Pamela Maragliano-Muniz
More enhanced Pearls
A curing light shield that orbits to protect your eyes (VIDEO)
How to take professional dental photos using your smartphone (VIDEO)
The highest caries risk I've ever seen: A case for 3M Ketac Universal glass ionomer restorative
---
Joshua Austin, DDS, FAGD, is an editorial director for Pearls for Your Practice: The Product Navigator, an e-newsletter from DentistryIQ and Dental Economics. He also writes the Pearls for Your Practice column in Dental Economics. After graduating from the University of Texas Health Science Center Dental School, Dr. Austin associated for several years. In October 2009, he opened a solo general practice in a suburban area of San Antonio, Texas. Dr. Austin is involved in all levels of organized dentistry and can be reached at jaustindds@icloud.com.
---
For the most current dental product articles, click here.

---
For the most current dental headlines, click here.

---