New Product [Highlight]
3M ESPE Lava™ now offers more options
Jul 1st, 2005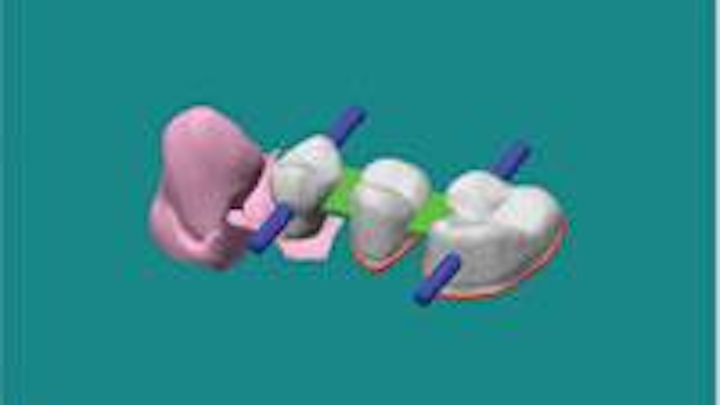 3M ESPE Lava ™ software upgrade
null
3M ESPE Lava™ now offers more options
3M ESPE's Lava Crowns and Bridges System now features an upgraded software program - LavaSystem 3.0 Software - designed to offer the flexibility that comes with a wider range of indications, in addition to delivering increases in production and efficiency. Now dentists have more flexibility when using Lava crowns and bridges, including single crowns, two- and four-unit bridges with multiple abutments, splinted crowns (up to four units), and cantilever bridges (except single abutment) from pre-sintered zirconia blanks. Additionally, cement and expansion gap designs can now be digitally customized for each unit as each abutment is individually adjustable, delivering better visual control and resulting in further improvements to the finished restoration.
Lava crowns and bridges are available to all dentists and their labs through Authorized Lava Milling Centers throughout the United States. For a list of milling centers, visit www.3MESPE.com/lava. For more information, call (800) 634-2249.
AlgiNot™ - cost-effective, reliable alternative
Kerr introduces new AlgiNot impression material, offering quick set time, multiple automix delivery systems, and a pleasant, peppermint scent. AlgiNot delivers excellent detail, dimensional stability, and a smooth, consistent flow. Messy powder and hand mixing are eliminated. Introductory kits and refills are available in 50 ml cartridges and Volume™ foil bags. Neat and convenient AlgiNot saves a significant amount of time, allowing practices to accommodate more patients.
For more information, visit KerrDental.com or call (800) KERR-123.
Strauss Diamond adds the Magic Touch kit
Strauss has added a new porcelain adjustment kit to its lineup, called the Magic Touch. This kit features eight different shapes selected by dentists to satisfy the most common adjustment needs. The kit contains diamonds with a special new grit which allows fast adjustment similar to a coarse grit - without risk of chipping the porcelain - leaving a very fine finish without scratches. The Magic Touch kit has demonstrated excellent results on all types of ceramic and zirconia crowns and bridges, including Procad® and Vita® ceramic crowns, as well as Lava™ crowns and bridges. For the first time, dentists are able to trim porcelain as easily as composite. To obtain optimal results, Strauss suggests working with these burs using a light touch due to their extreme cutting efficiency.
For more information, call (800) 982-9641 or visit www.strauss-co.com.
TempoSIL® - the peelable temporary cement
Coltène/Whaledent Inc. introduces TempoSIL, an addition-cured, silicon-based, zinc oxide temporary cement with Silane for optimal retention and superior marginal integrity. This formula produces a firm, elastic temporary cement that can be easily peeled off the tissue and out of the restoration. Clean-ups are effortless. The convenient automix syringe with oral tip applicator provides for fast, instrument-free application. TempoSIL may also be dispensed on a mixing pad and hand mixed for 20 seconds, if desired.
For more details, call your dental dealer, (800) 221-3046, or visit www.coltenewhaledent.com.
New GripLite™ S6 instrument line
Miltex Inc. announces the release of its new hygiene instrument line, GripLite S6. The new line uses the same ergonomic grip as the GripLite resin instruments, but employs a hollow #6 size stainless steel handle, hence the name S6. Designed with the hygienist in mind, GripLite S6 instruments feature a soft, comfortable grip coordinated on a hollow #6 stainless steel handle making them one of the lightest and most ergonomic hygiene instruments in the world. The ultra-lightweight, large-diameter handle helps reduce hand and wrist fatigue while providing excellent tactile feel. GripLite S6 instruments have an anti-roll feature which prevents rolling when placed on trays. The color-coded grips identify each instrument family while color-coded rings allow for instrument personalization.
For more details, an in-office demonstration, or to order, call your dental dealer, call Miltex at (866) 854-8300, e-mail customerservice@miltex.com, or visit www.miltex.com.
Free CD featuring Cathy Jameson
CareCredit® is offering a new educational audio CD titled, "The Psychology of Winning Financial Communications" featuring Cathy Jameson, Ph.D., president and CEO of Jameson Management, Inc. Dr. Jameson is a highly respected consultant and author who has been a featured speaker at major dental meetings including the ADA and the World Dental Congress. In her audio program, she discusses the psychology of money and how it affects the doctor, team, and patients, and fee presentation. With her extensive hands-on experience, she provides insight into effective communications that help optimize treatment acceptance by understanding and appealing to patients' true motivators - as well as how to avoid the three most dreaded words from patients.
For more information, call CareCredit at (800) 300-3046 ext. 4519 (new enrollment), or (800) 839-9078 (if already enrolled).
New Henry Schein Quick Wipes
Henry Schein's new Quick Wipes use a nonallergenic cleansing solution to sanitize without the need for soap or water. The durable, premoistened towelette allows skin to dry in seconds as it cleanses and moisturizes. Each Quick Wipe is saturated in an aloe, lanolin, and alcohol formula to gently cleanse and leave the skin with a refreshing scent. The 9-inch x 5½-inch soft towelettes are available in 150-piece, easy-dispensing containers. The conveniently packaged, re-sealable container allows the Quick Wipes to retain the cleaning liquid, and is ideal for use in the office, home, or car. For more information, call (800) 372-4346 or visit www.sullivanschein.com.
Children's book alleviates fears
One of the top 10 fears for children is a visit to the dentist. Children are afraid of the strange-looking tools, the big, uninviting chair, the bright lights, and an inability to control the situation. According to Judith Dember-Paige, RDH, and author of "Smile Wide Look Inside: Nicole's Trip to the Dental Office," preparing children for a dental visit is a crucial step in alleviating their fears. Dember-Paige offers gentle support in her book that takes children step-by-step through a dental visit and helps them prepare for it by describing, in simple terms, the process of having their teeth cleaned and examined. Young children, and their parents, too, will benefit from this story that effectively relieves the fear and anxiety of an impending dental visit. Hardcover ISBN: 0-9754008-0-0. It is available from ABCDEPress.com, or contact the author at (914) 243-0463 or e-mail jdpaigerdh@aol.com.
First gum conditioner with coenzyme Q10
The role of coenzyme Q10 in physiologic response to the attacks of bacteria and viruses is well known to medical science. Coenzyme Q10 is found in every cell in the body, however, aging, stress, poor diet, and infections affect the body's ability to provide adequate amounts. Thus, many chronic conditions persist despite regular professional care.
Now, coenzyme Q10 is available in an all-natural topical gum supplement called PerioQ, developed by Dr. Subhash Gupta. Patented PerioQ is an easy-to-use gel that is applied directly to gingival tissue. PerioQ has been proven to suppress harmful enzymes, boost immune response, speed healing time, reduce pocket depth and tighten gums, fight bad breath, and improve many other factors associated with periodontal disease. PerioQ is available in three pleasant flavors, and works with no side effects or complications.
For more information, call (978) 466-8927, e-mail drsubhashgupta@aol.com, or visit www.perioq.com or www.periopower.com.
Fitted nitrile gloves "fit like a glove"
Crosstex offers the only fitted left and right nitrile gloves in dentistry. They are fitted to optimize comfort and never squeeze the wearer's muscles, nerves, or blood supply. The gloves are made with flexible, textured nitrile to reduce skin reactions and give maximum permeation and chemical protection. They are processed to remove irritating accelerators, and are protein-free and powder-free. In addition, these gloves feature an interior polymer coating that aids donning.
Visit www.crosstex.com to learn more about powder, elasticity, and glove additives. For questions, call (888) Crosstex (276-7783).
Dispense composites easily with COMPO-PEN™
Stop wasting time and money replacing your plastic composite placement guns. Crafted from high grade, acid-resistant stainless steel, the new COMPO-PEN is designed for easy extrusion of all pre-filled composite compules, including highly viscous composites, which reduces operator hand and finger fatigue. The COMPO-PEN features a unique locking mechanism to prevent inadvertent dislodging of the compule, and a thumb-controlled dispenser allowing for smooth and effortless extrusion while helping to maintain control of the compule tip. Easy to load and unload, the unit-dose tip of the COMPO-PEN is effortlessly rotated to the desired direction for easy access.
For more information or to order, call CLINICIAN'S CHOICE® at (800) 265-3444 or visit www.clinicianschoice.com.
MCC Equipment introduces traverse motion
MCC Equipment in-troduces the Elite Series Patient Chair with Traverse, which enables up to 10 inches of horizontal movement. The exclusive traverse feature allows clinicians to move the patient chair smoothly front to back to allow better positioning. This capability is useful when using intraoral cameras, digital X-ray and other equipment, or for difficult procedures. It features a thin, lumbar-supported back to accommodate different patient sizes, and a double-articulating headrest permits proper head positioning. Two-position programming with auto-exit saves time, and a 30-degree swivel allows more flexible patient access. A foot control provides easy, aseptic operation of all chair functions, including traverse. Drop-down/lift-up arm rests enable easy entry and exit.
The chair is warranted for five years from date of invoice. Options include touch-pad controls, Ultraleather™ upholstery in plush or standard finish (Naugahyde® fabric upholstery in a wide range of colors is standard), and Comfor-pedic™ foam cushion.
For more information, call (888) 582-1514 or visit www.mccequipment.com.
"Spanish for Dental Professionals"
This handbook and CD have been designed to help dentists, dental hygienists, and others communicate with Spanish-speaking patients. Intended for novice learners as well as those who need to polish their Spanish, Paso a Paso, or "Step by Step," can be used in emergency situations or as a source of phrases to make routine visits more comfortable. It focuses on learning, practicing, and speaking both standard and colloquial Spanish for an office setting.
The CD presents dialogues in which Latino patients interact with health professionals. Like the book, the CD will be useful in workshops, work-site training, and individual learning. Its structure permits work-site training of an hour a day for six weeks.
Spanish for Dental Professionals is available at bookstores or directly from the University of New Mexico Press. To order, call (800) 249-7737 or visit www.unmpress.com.
Hygenic® Flexi Dam® nonlatex dental dam
Coltène/Whaledent Inc. announces the availability of Hygenic Flexi Dam nonlatex dental dam in the popular nonreflective teal green color. This new color complements the Hygenic Flexi Dam purple color that has been marketed for the past four years.
The same highly regarded features such as an elastic elongation nine times its original length remain in the new dental dam. Its high elasticity means that it has an extreme resistance to tearing and resistance to puncture from bur and instrument contact. In addition, the clinician is assured of a tight fit around the preparation for moisture control and effective isolation. In fact, a smaller punch hole than is used with a latex dam is recommended for an absolute, tight fit. Flexi Dam is powder-free, odorless, and available in a 6 inch x 6 inch size.
For more information, call your dental dealer or (800) 221-3046 ext. 8998, or visit www.coltenewhaledent.com.
Kodak adds online backup and recovery service
Kodak's Dental Systems Group has added a web-enabled, secure offsite backup and recovery service to the services it currently offers to dental professionals. The KODAK Online Backup and Recovery Service enables scheduled or continuous data transfers to address all four aspects of data protection - data backup, offsite storage, archiving, and data recovery. The service will be added to Kodak's full suite of electronic services, which provide opportunities for dental practices to leverage the efficiencies and patient care capabilities of Kodak's practice-management software solutions.
This new service will be available for use with KODAK SOFTDENT and PRACTICEWORKS software for general dentists, KODAK ORTHOTRAC software for orthodontists, and KODAK WINOMS CS software for oral and maxillofacial surgeons.
To find out how Kodak can provide cost-effective data protection and disaster recovery for your business, visit www.kodak.com/dental or call (800) 944-6365.
Ansell's latest educational module
Ansell Healthcare announces the availability of a new self-study educational module for health care professionals. "Understanding the Hazards of Glove Powder" addresses staff, patient, and health care economic issues relative to the wide range of adverse reactions associated with glove powder. The self-study module, which is available at no charge, has been developed for use by professionals who are responsible for or involved in hand barrier-protection activities, including educating personnel, establishing organizational policies and procedures, maintaining regulatory compliance, and managing employee health and infection-control services.
For more information, call Ansell Healthcare Education Services at (800) 952-9916 ext. 7277, or visit www.ansellhealthcare.com.
Tired of not producing enough perio?
The McKenzie Company announces its new, fully updated hygiene book for the dental office - "Enhance Your Hygiene Department." Are your hygienists producing at least 33 percent of their total production in periodontal services? Are the majority of your patients on six-month recalls? Many hygienists perform way below the industry standards. Why? Because they lack disease-assessment skills or performance skills, and because they don't know how to tell the patient they have been treating every six months that they have developed gum disease. This updated version serves as a "how to" manual that will help you to establish a protocol for your hygienist to implement new strategies, formulas, and techniques for developing an ultra-successful hygiene department. Cost is $47. To order, visit www.mckenziemgmt.com or call (877) 777-6151.
CAESY Printables introduced
CAESY Education Systems announces CAESY Printables, a new product for CAESY's DVD Update and Support Plan members. Dentists and staff members can use the software to create printable versions of any of CAESY's more than 200 multimedia presentations to give patients to take home. Each one- to two-page CAESY Printable comes with full-color photos and is available with either English or Spanish text. The program comes on CD-ROM, and can be quickly and easily installed on one or more computers in the office. Single or multiple copies can be printed out and branded with the practice's name if desired.
After covering the diagnoses, procedures, and alternatives of their suggested treatment, dentists can use CAESY Printables to create a document that will strengthen their recommendations. Patients will appreciate being able to take the information home to share with other decision makers. For more information, visit www.caesy.com.
Lares laser training CD-ROM expanded
Lares Research has expanded and improved the multimedia CD-ROM that provides the classroom portion of its training program. The CD-ROM includes graphics, live patient video and audio to give clinicians a thorough and realistic introduction to performing procedures with a Lares laser. The program provides seven CE credits.
It is a comprehensive package that covers clinical training, treatment planning, insurance billing, and marketing. Business issues are included to assure maximum return on investment. The CD-ROM format allows clinicians to learn at their own pace, on their own schedule, in their own office or home. It also provides an easy way to train partners, associates, and staff. This assures that the entire team gets the same information and follows the same procedures.
The program includes the multimedia CD-ROM, in-office training, and consultation provided by a Lares laser-experienced clinician. Follow-up support is provided by phone or e-mail to answer questions at no charge. For more information, call (800) 347-3289 or visit www.laresdental.com.
ASI's microscope chair and stool
The innovative design of this chair back can better facilitate the use of a microscope during treatment procedures. The thin back design eliminates the traditional headrest, and instead utilizes a neck pillow to support the patient's head while allowing close and unobstructed access for the dentist. The chair features touch controls on the backrest as well as the foot control to allow fingertip adjustments while looking under the scope. The chair features an electromechanical movement that provides better incremental positioning over hydraulic designs. Use in combination with ASI's microscope doctor's stool (described below) and advanced endodontic delivery system.
null