Message in a Bottle Mailbag: Intraoral scanner for implants, veneers with Lava Esthetic
Joshua Austin, DDS, MAGD, responds to a question about using an intraoral scanner for implants and whether 3M's Lava Esthetic is a good choice for veneers.
Nov 7th, 2017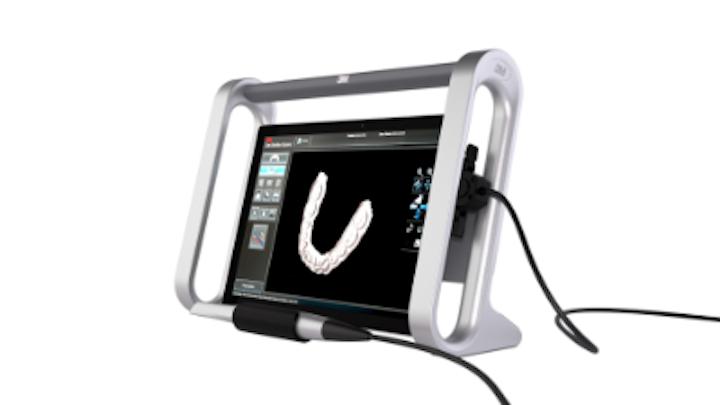 THE MESSAGE IN A BOTTLE MAILBAG is a monthly feature of the e-newsletter, Pearls for Your Practice: The Product Navigator. Each month, Editorial Director Joshua Austin, DDS, MAGD, answers reader-submitted questions to help you navigate your dental product decisions (and more!).
This month, he responds to a question about using an intraoral scanner for implants and whether 3M's Lava Esthetic is a good choice for veneers.
---
Question
Adam from Florida writes: I know you love intraoral scanning. Are you using a scanner for implants too?
Answer
Thanks for writing in, Adam! Yes, I love my intraoral scanner. Your question is a pretty broad one, though, so I will do my best to answer it from a few different perspectives.
First off, we should throw out using a scanner for any full-arch application. The consensus seems to be that we just aren't there yet from an accuracy perspective for, say, an All-on-4 or other full-arch implant restoration. So, when talking about implants with a digital scanner, we are talking about restoration of 1–3 teeth with implants.
For the typical single-unit posterior implant, I almost always use my scanner (3M Mobile True Definition Scanner). To do this, you will need a scan body that fits the implant. You will need to get with your lab to find out which scan bodies they prefer. Many of the implant companies make their own scan bodies. My lab's software does really well with Glidewell Direct's scan bodies. They make scan bodies for pretty much all the main implant systems. Scan bodies can run anywhere between $15 and $50.
My scanner has direct workflows with 3i and Straumann. For instance, with Straumann, all you need to do is work with a Straumann CARES–certified laboratory and scan with a Straumann scan body. Straumann teams with 3M to print a novel model that has space for an analog to fit in, with a little window so that the lab can be sure that the analog is fully seated into the model. It's a pretty nifty little system.
The lab then uses that model to produce whatever type of implant restoration you need. I have been using a lot of screw-retained full-contour zirconia crowns, and they have been working out nicely. I use screw-retained when I can because of the retrievability and because it eliminates the problem of cement, which can lead to peri-implantitis and implant failure. I have even done a few three-unit posterior-implant-supported bridges digitally, and they have turned out nicely as well! Talk to your lab and see what preferences they have, and talk to your scanner support folks. It can be done and it should be fairly simple!
---
Question
Wayne from Arizona asks: Have you done any veneers with Lava Esthetic?
Answer
Good question, Wayne. I have not. Lava Esthetic is full-contour zirconia, and I have yet to venture into the world of zirconia veneers.
3M's website shows veneers as a suggested application of Lava Esthetic. I have talked to some of their science folks, and they say that the bond strength is high enough to be able to do it. One of my esthetics mentors from dental school, Dr. Nasser Barghi, has done a ton of them. He shows some really gorgeous veneer cases he has done with zirconia. That said, I have yet to do veneers on a patient that I thought needed that kind of strength that I was willing to sacrifice bond strength for.
I think we are fast approaching a point where zirconia veneers will become more commonplace; it's just a hard bridge for me to cross right now. It's nice to know that huge companies like 3M are standing behind that application, and I know that they will have suggested protocols and procedures to successfully do it. I feel better about that than I would if some fly-by-night company came out with a zirconia they were claiming was indicated for veneers. If anyone has any cases of zirconia veneers they have done, I would love to see them. Send them on over to pearlmail@pennwell.com!
---
Editor's note: Do you have a question for Dr. Austin? Is there a product you'd like to see him review? Or would you like to submit your own Pearl? Send an email to pearlmail@pennwell.com. You might just see it in the e-newsletter, Pearls for Your Practice: The Product Navigator! If you're not a Product Navigator subscriber, click here to sign up.
---
More reading
How to reliably bond zirconia: A case study with 3M's Lava Esthetic
Is long-term use of loupes unhealthy?
Can curing light exposure cause vision problems?
---
Joshua Austin, DDS, MAGD, is an editorial director for Pearls for Your Practice: The Product Navigator, an e-newsletter from DentistryIQ and Dental Economics. He also writes the Pearls for Your Practice column in Dental Economics. After graduating from the University of Texas Health Science Center Dental School, Dr. Austin associated for several years. In October 2009, he opened a solo general practice in a suburban area of San Antonio, Texas. Dr. Austin is involved in all levels of organized dentistry and can be reached at jaustindds@icloud.com.
---
For the most current dental product articles, click here.

---
For the most current dental headlines, click here.

---