Henry Schein introduces three new Acclean dental products and a new curing light meter
Products focus on orthodontics and ease in the dental office

May 8th, 2013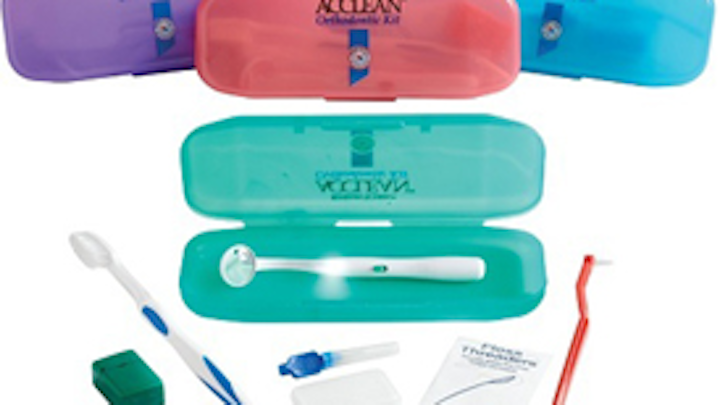 Henry Schein introduces new Acclean® Orthodontic Kit With Lighted Mirror, which comes prepacked in a clear, colorful plastic carrying case. The patient kit contains a lighted angle mirror, dual-head toothbrush, ortho wax, end-tufted brush, waxed dental floss, floss threader, and interdental brush. This deluxe kit provides orthodontic patients with what they need to maintain a healthy smile.

RELATED ARTICLE:Henry Schein named as one of FORTUNE's Largest 300 Corporations in America
Henry Schein introduces new line of double-ended Acclean® orthodontic toothbrushes with an interdental brush that removes debris between braces, teeth, and hard-to-reach areas. The V-shaped, oval-trimmed brush head provides better access to posterior teeth with the help of soft, easy-to-hold handle grips. The rounded, diamond-polished bristles made of soft DuPont Tynex natural filament offer gentle, effective cleaning around bands, wires, brackets, implants, and gingivae. Acclean Orthodontic toothbrushes come in assorted colors and are available in a 12 ct. box.
RELATED ARTICLE:Henry Schein supports OSAP campaign
Also from Henry Schein -- the new Acclean Kid's Flosser, designed for easy use by children to help promote healthy oral hygiene habits for kids. The new Kid's Flossers feature sea creature characters and are ergonomically designed for easy handling and reach for back teeth. The floss slides comfortably between teeth to help remove plaque and debris. Acclean Kid's Flossers come in many colorful designs in a box containing 48 packages with three in each.

RELATED ARTICLE:New FireFly Kids' Flossers easy to use
The Maxima® Curing Light Meter for use with both LED and halogen curing lights is also new from Henry Schein. Compact and easy to use, this instantaneous digital display measures curing intensity and light-guide temperature. The temperature feature provides an overheating safeguard and comes with 3 AAA batteries and a one-year warranty.

For more information about any of these four new products, contact Henry Schein Dental at 800-372-4346 or visit www.henryscheindental.com.