Your diagnosis, please! The case of the unknown oral pathology
This case report from Dr. Stacey Simmons is an excellent example of what to consider when faced with unknown pathology — whether in soft tissue or bone. We never know for sure what a lesion is until we follow protocol to obtain a definitive diagnosis.
Apr 22nd, 2014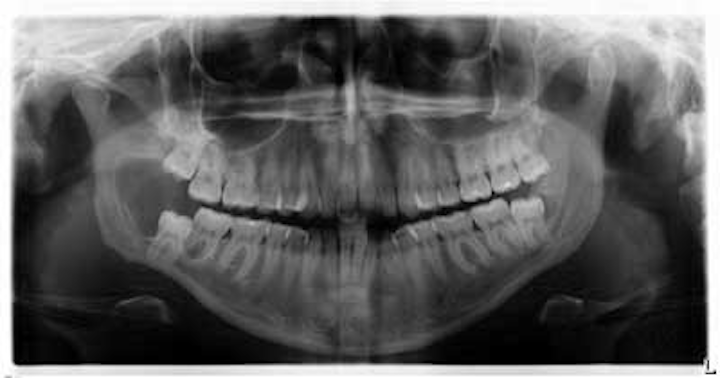 A 29-year-old female presents to the office with a chief complaint of pain in the right side of her jaw that has progressively been getting worse over the course of the last two to three months. Her health history is noncontributory and she has fairly decent home care, as demonstrated by her lack of past dental needs.

RELATED READING |Inflammation of the gingiva: The other reasons besides the obvious
Clinical examination revealed inflamed tissue circa partially erupted No. 32 extending up to the distal of No. 2. The area intraorally was tender to palpation, but unremarkable extraorally. A panoramic X-ray was taken and a large radiolucent lesion was noted to extend from the distal of No. 1 to the distal of No. 32. A significant portion of bone destruction in the mandible was also observed. In addition, a radiolucency was seen distal to the crown on No. 17.
The patient was sent to surgery for enucleation and curettage of the lesion. Differential diagnoses included: unicystic ameloblastoma, odontogenic myxoma, and dentigerous cyst.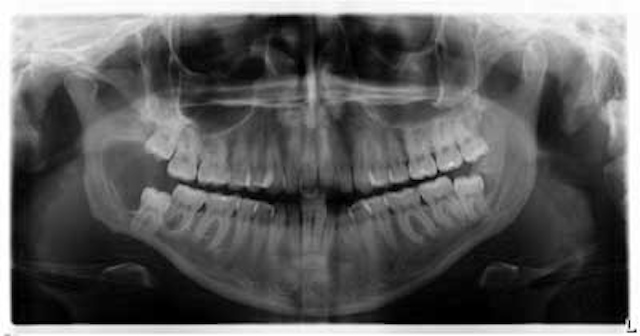 Prepan
Let's examine and review each of the differentials.
1. Unicystic ameloblastoma
Benign neoplasm from residual epithelial components of tooth development
Slow growing, locally aggressive, and can cause large facial deformities. Oftentimes will occur in a dentigerous cyst relationship
Radiographically, lesions appear unilocular, well demarcated with a tooth present with in and around the radiolucency
Removed via enucleation or marginal (block) resection
2. Odontogenic myxoma
Aggressive intraosseous lesion, derived from embryonic connective tissue
Primarily found in the premolar/molar areas of the mandible and distributed equally in the maxilla
The slow, often painless growth and swelling will oftentimes displace teeth and not resorb the roots
Radiographically appearances frequently consist of a "soap bubble" or "honeycomb" pattern
Oftentimes will resemble an ameloblastoma
Removed via local curettage or block resection
3. Dentigerous cyst
Odontogenic cyst that surrounds the crown of an impacted tooth
Oftentimes asymptomatic, but if large or inflamed, can produce swelling and pain
Radiographically appears as a well-circumscribed radiolucency surrounding the crown of the tooth, oftentimes displacing it and adjacent teeth
Removed via surgical enucleation; has a low recurrence rate
Ameloblastoma, mucoepidermoid carcinoma, and squamous cell carcinoma — different epithelial neoplasms that can arise in dentigerous cysts
Given the aforementioned differentials and their relationships, it is important to understand the full potential of these lesions. They are destructive and can be life threatening, especially if malignancy has occurred. Therefore, treatment and a definitive diagnosis must be rendered and obtained as soon as possible, as was the case for the patient described herein.
Our main concern was the extent of destruction — fracture potential and permanent paresthesia was extremely high. Following surgery, the patient was placed on a liquid diet for six to eight weeks. The specimen was sent to pathology. Diagnosis: dentigerous cyst. Follow-up over the course of the last year has proved to be promising — the bone has filled in, the patient has regained some feeling on the lower right side of her jaw and, thus far, there have been no recurrent or metastatic lesions observed. We are monitoring No. 17 and plan to remove it and the associated radiolucency when the bone has healed sufficiently in the right mandible.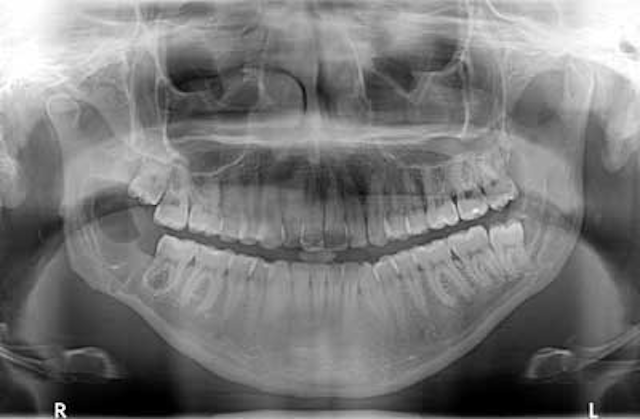 Postpan: Postsurgical radiograph of No. 32 and associated cyst removal
Being astute and thorough with our clinical and radiographic examinations is vital to providing a comprehensive care approach when rendering care to our patients! The variability of intraoral and radiographic lesions demand that we be in tune to what "normal" and "not normal" pathology are. It is not unusual for the most benign looking lesion to be diagnosed as oral cancer of some kind! Finally, use all available resources — pictures (taken at one-, two-, and three-week intervals), radiographs, and clear documentation for reference and if needed, referral.

ALSO BY DR. STACEY SIMMONS |Quick tips on how to be a better clinical provider within all disciplines of dentistry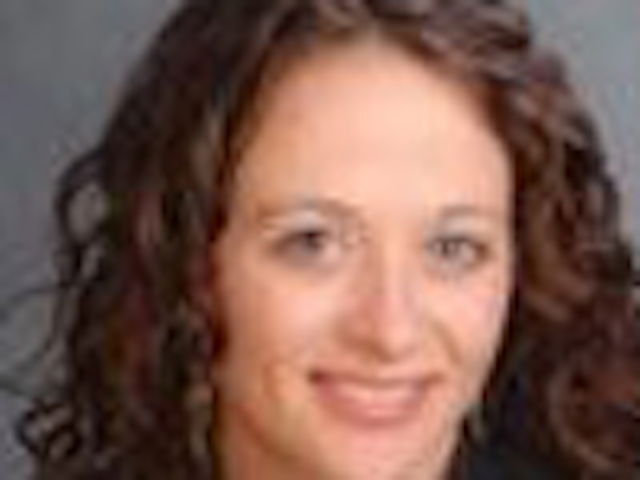 Dr. Stacey Simmons grew up in Hamilton, Mont. She did part of her undergraduate work at Purdue University and then received her bachelor's degree in exercise physiology from the University of Utah. After applying to both medical and dental school, she decided that dentistry was her career of choice. She received her DDS degree from Marquette University School of Dentistry in Milwaukee, Wisc., in 2004. In private practice, she focuses her care on prosthodontics and cosmetic dentistry. She is a guest lecturer in the Anatomy and Physiology Department at the University of Montana. Outside the office, she trains for triathlons and spends time with her family. You may contact Dr. Simmons by email at ssimmonsdds@gmail.com.

Reference
Sapp JP, Eversole LR, Wysocki GP. "Contemporary Oral and Maxillofacial Pathology." 1997. Mosby.