What does the tooth fairy do with all those teeth?
Smithsonian video provides answers during Pediatric Dental Health Month
Feb 12th, 2013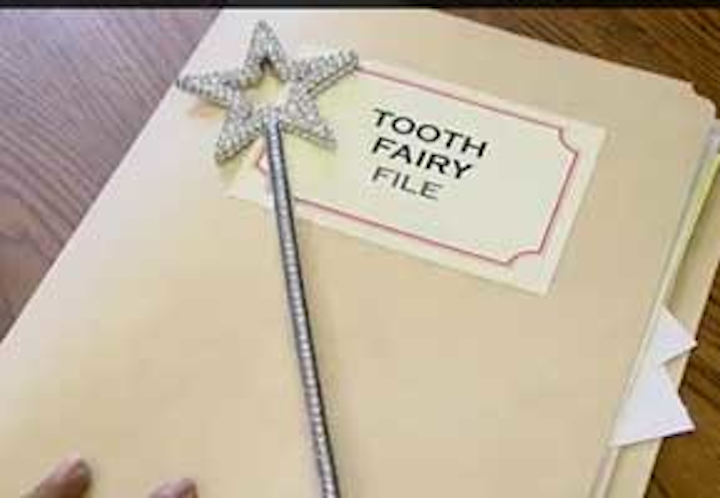 The Smithsonian's National Museum of American History unveiled a YouTube video that finally answers the age-old question, "What does the tooth fairy do with all of those teeth?" The Tooth Fairy File is a "mockumentary" aimed at parents and caregivers of young children to explain to believers what actually happens to all the teeth. Through the video, at youtube.com/SmithsonianAmHistory, and accompanying blog posts and historic information, the museum seeks to attract and inspire visitors 6 to 8 years of age.

"The goal of the project is to introduce children to historical artifacts and museums and to encourage children and their adults to come to the Smithsonian," said John Gray, director of the museum.

RELATED VIDEO: How you can join America's Tooth Fairy
RELATED ARTICLE: Leaders Unite for Children's Oral Health
February is National Children's Dental Health Month and the museum has joined with the American Academy of Pediatric Dentistry, a recognized authority on children's oral health, to reach dentists, parents, and caregivers of children about the tooth fairy at the Smithsonian, along with history of dental health.

"We are thrilled to collaborate with the museum as the 'tooth fairy' provides a platform and opportunity for children, parents, and caregivers to discuss good oral health practices," said Dr. Joel H. Berg, AAPD president. "Seeing a baby tooth fall out at the right time is a rite of passage and measure of success in maintaining overall oral health."

"Wacky but believable" is how Medical History Curator Katherine Ott, executive producer of the video, describes the mockumentary.
The Tooth Fairy File features Gray and curators as well as security guards, public program staff, and children from the Smithsonian Early Enrichment Center, who serve as guides on a behind-the-scenes tour of the museum's photo history, archives, music, sports, and entertainment storage rooms, as well as other on-site locations not typically seen by the public. Clues appear in the form of a variety of objects in the museum's collection, including a 1930s WPA puppet, examples of 19th century photography, mid-20th century sheet music, a tooth key from the early 1800s, and the museum's extensive coin collection. The video also references Ratoncito Pérez, the South and Central American version of the tooth fairy.

This story of mysterious happenings at the museum leads viewers to discover the object that unites all of the clues — a fairy's cache of teeth hidden in the ceiling of a display case, confirming to children that the museum is indeed where the tooth fairy deposits the teeth she collects. The teeth are actually artificial and date from the mid-20th century and are part of the Smithsonian's dental collection. The cache of teeth will be on display in one of the Artifact Walls on the first floor beginning Feb. 12.