Dentists can expect good things from cloud-based dental lab software
There is help out there to improve the dentist-lab relationship! It's easy-to-use software that allows dental practices to track lab orders and much more.

Aug 6th, 2014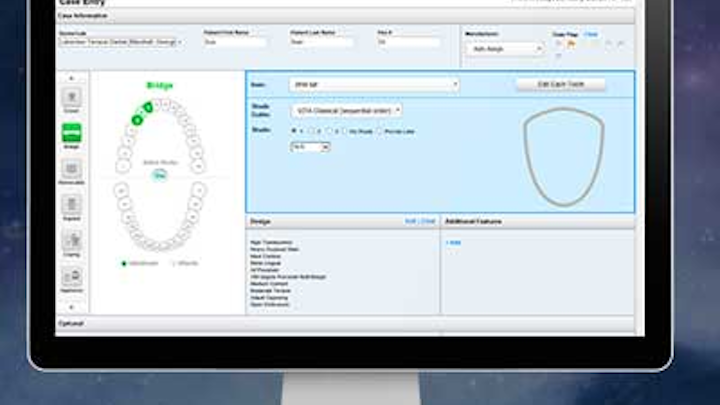 All dentists dread the following scenario ­– the patient is sitting in the chair waiting to get a new crown and the crown is still at the dental lab. Nobody from the lab has called, and your office manager is on the phone with the lab loudly complaining – again – that the case didn't arrive when promised. The patient will certainly be upset when told she'll have to rearrange work and childcare and come back another day.
It's easy to wonder if this lab problem will ever be solved. Actually, a solution already exists – dental lab-provided online software with client portals that dental offices can use for case management. Dental labs with an eye to the future – and a keen awareness of good customer service – are beginning to provide online client portals, and these are already helping dentists save time and money. While the bottom line is important, client portals can also create happier patients and smoother-running back offices.
The basic premise of cloud-based client portals for dentists is to provide real-time case updates and tracking information. Using an encrypted browser connection, dental offices can review records for all cases sent to the lab. Scheduling calendars allow dentists to know when cases are returned (and they help avoid the missing case problem), and shipment tracking links provide location information for cases being delivered by couriers such as UPS and FedEx. Dental offices can also enter cases directly into the client portal and print out slips to send along with case impressions, models, and more. Just the case tracking information alone is enough to encourage client portal use by dental offices, but there are other benefits besides supply chain updates.
Client portals can also dramatically upgrade the quality of communication between dentists and labs. With file sharing, case tracking and HIPAA-compliant messaging, it's easier to communicate across a range of contact channels. Although the phone remains indispensable, many time-consuming tasks such as case tracking can be transferred to the client portals to give dental office staff more time for other tasks. Communication about complex cases is also significantly easier if both dentists and the lab can look at the same image or case record at the same time to resolve questions or issues. Client portals also provide important communication tools, such as allowing dentists to update detailed design preferences so cases are consistently completed.
Client portals can save time by providing dental offices access to invoices and statements for viewing and printing. My company, LabStar Software, is currently the only cloud-based lab software that allows dentists to pay invoices directly on their client portals. We have integrated with Wepay, a payment processor, so that dentists can enter credit card information and pay invoices at their convenience. We chose Wepay as our processing partner because unlike traditional financial services companies (and we contacted nearly 20 such companies), Wepay focuses on outstanding service and cutting-edge technology. The result is fast and easy credit card payments. Paying on the client portal also has the added benefit of immediately updating invoices from "pending" to "paid" the instant Wepay processes a payment.
Because client portals for lab software is a relatively new phenomenon, not all dental labs understand how they can help their dentists, so dentists should encourage their labs to research what's available. Alternatively, dental offices can also explain why they'd like a client portal – better communication, ease-of-mind about when cases will arrive, fewer phone calls to the lab, less tension in the back office with fewer missed deadlines, and easy invoice and payment management. In other words, client portals help build trust and long-term relationships.
Jeffrey Noles is the CEO of LabStar Dental Lab Software. Jeff has spent over 20 years establishing and growing technology businesses. Before LabStar software, Jeff founded and operated a dental laboratory in Los Angeles where he used web-based supply chain technology to connect with overseas manufacturers. Visit labstar.com for more information.