Exploring choices in the dental assisting profession: Academic options (Part 3 of 4)
This series from 28-year dental assisting veteran Natalie Kaweckyj, BA, LDA, will help guide dental assistants on the many choices available to them within the dental assisting profession.
Jul 17th, 2019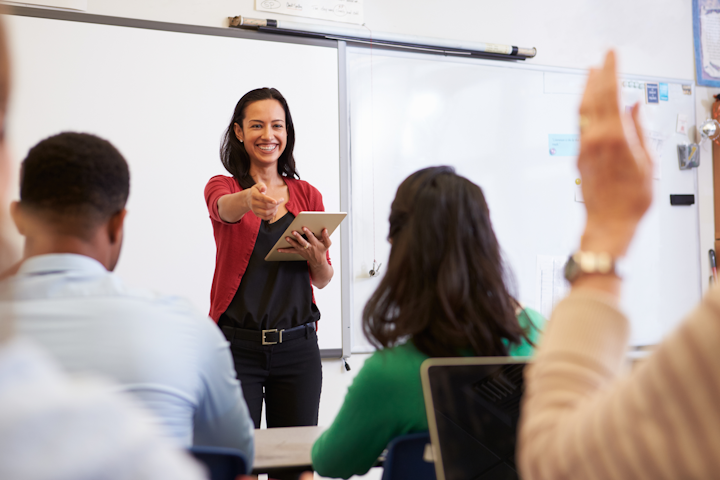 There comes a time in everyone's career when they know they need a change, and dental assisting offers so many options with so many wonderful opportunities. Previously, I explored options within clinical and administrative dental assisting. This time I will discuss some academic options.
In March 2005, my father passed away and my life turned upside down. I no longer felt the passion for dental assisting in the practice where I worked, even though I was doing what I truly enjoyed—administrative work! Later that year, an opportunity through my network of colleagues came my way and forced me to decide between a lucrative paying job with perfect hours (four days a week), or stepping outside of my comfort zone and taking a significant pay cut to teach dental assisting.
 I chose to broaden my horizons and accepted a full-time position in teaching. I was fortunate that I had my CDA certification through the Dental Assisting National Board Inc. (DANB) and my bachelor's degree, which are requirements to teach in my state's dental assisting programs.
 In some states, little or no training is required to become a dental assistant, whereas other states require graduation from a CODA-accredited program in order for assistants to practice the full scope of dental assisting.
 The different types of programs
 There are many different types of dental assisting programs in the United States. One of the issues we as a profession are facing is a shortage of qualified dental assistants worldwide. Educational standards vary greatly from state to state and there is currently no mandatory standardized education for dental assistants like there is for other dental team members.
Some dental assisting programs are accredited through individual state Departments of Education or other bodies of accreditation. Accrediting agencies issue these accreditations. Accrediting agencies are organizations made up of educational professionals. They:
• establish operating standards for educational or professional institutions and programs,
• determine if a school meets those standards, and
• publicly announce their findings through the issuance of accreditations. 
 Dental assistants who receive their formal education through academic programs at community colleges, vocational schools, technical institutes, universities, or dental schools attend programs that are accredited by CODA, the Commission on Dental Accreditation. Although the majority of academic dental assisting programs take nine to 11 months to complete, some schools offer accelerated training, part-time education programs, or training via distance education.
The programs have rigid standards that must be met satisfactorily in order to maintain program accreditation. There are currently close to 270 dental assisting programs nationwide that are accredited through CODA. Graduates are eligible to sit for DANB's certification exams.
 Those who have been trained on the job or have graduated from non-CODA-accredited programs are eligible to take the DANB certification exam after they have completed two years of full-time dental assisting work experience. Some states also recognize successful completion of components of the CDA examination, such as the radiation health and safety examination or the infection control examination, for licensing and regulatory purposes. State regulations vary, and some states offer registration or licensure in addition to this national certification program.
 Options as an educator
Dental assisting instructors have a wide variety of subjects they can teach. With increasing technology, the curriculum adapts to meet the needs of the profession. Some enjoy the hands-on aspect of conducting laboratory requirements or clinic rotations, while others prefer strictly the classroom portion and guiding students toward a strong foundation in dental assisting.
Faculty members can advance and become dental assisting program coordinators. This position may involve a shift from classroom to administration position and overseeing the program planning. I found this aspect to be extremely rewarding, and I enjoyed being a resource for students and faculty alike.
 Benefits to the career dental assistant
The benefits of teaching dental assistants vary from one instructor to the next. I loved sharing my passion for the profession. I was able to incorporate my 12 years of experience into classroom discussions, citing examples of what not to do and interjecting humor into otherwise dry curriculum topics. I had the opportunity to teach all aspects of the CODA-accredited curriculum, with my favorites being radiology and dental science. (My biology degree was extremely helpful here!) I will never forget the day I was lecturing on the step up/down transformers of the radiology tube head when a lightbulb went off and I finally understood that section of radiology, which had always been a conundrum for me. 
One of the largest gains I received from teaching was developing my love for public speaking and organizing courses and articles. To this day I use my educator skills to adapt to a variety of learning styles. One of my proudest moments was becoming employed in an organization where many of my former students practiced. We periodically reminisced about things that happened during the program a decade ago. 
Although I'm no longer affiliated with an educational institution, I still work with a variety of dental team students who rotate through our practice. We are all educators whether or not we are outside of the op. We teach each other as well as the patients we serve. It's one of the things that is truly rewarding about being a dental assistant—the ability to educate someone without coming across as preachy. 
Graduates of dental assisting have a variety of job opportunities in general dentistry settings or in specialty areas. The profession is one of the fastest growing occupations in the US, and the Bureau of Labor Statistics reports that the number of dental assistant positions is set to grow 25% nationally between 2012 and 2022, which is higher than the average for job growth. With the anticipated increase, passionate educators will be needed to shape the future of our profession. If you need some one-on-one guidance or coaching or just want to chat, feel free to reach out to me. I love, love, love helping fellow dental assistants! Email me at nkaweckyj@gmail.com.
 These are just a few options available to dental assistants who want to stay in the dental assisting profession academically without going back to the op. In my next article I will explore other career options within the dental assisting profession that you may not have considered. Thank you for all each and every one of you do every day! 
READ MS. KAWECKYJ'S PREVIOUS ARTICLES IN THE SERIES
Part 1: Clinical options
Part 2: Administrative options
Natalie Kaweckyj, BA, LDA, CDA, RF, CDPMA, COA, COMSA, CPFDA, CRFDA, MADAA, is a senior moderator of the Dental Peeps Network and a past president of the ADAA.