October is National Dental Hygiene Month, National Breast Cancer Awareness Month
With the pages of the calendar having turned to October, FOCUS Editorial Director Maria Perno Goldie, RDH, MS, talks about two upcoming celebrations that will be recognized—National Dental Hygiene Month and National Breast Cancer Awareness Month.
Oct 4th, 2013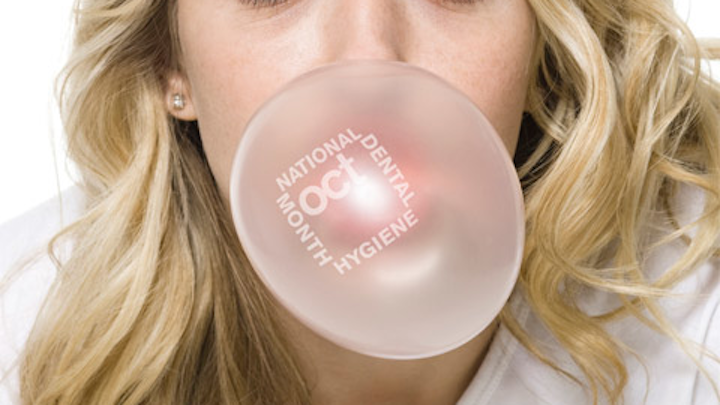 (1) The American Dental Hygienists' Association (ADHA) and the Wm. Wrigley Jr. Company proudly announce their fourth annual collaboration for October's National Dental Hygiene Month (NDHM).(2) National Dental Hygiene Month, with the theme "Brush. Floss. Rinse. Chew.", showcases the commitment of ADHA and Wrigley, the makers of Orbit® sugar-free gum, to improving the nation's oral health. This year's National Dental Hygiene Month will feature a national radio media tour highlighting the importance of proper dental hygiene with ADHA President Denise Bowers, RDH, PhD. In addition, the Wm. Wrigley Jr. Company Foundation, in partnership with the ADHA Institute for Oral Health (IOH), is offering community service grants of $2,500 and $5,000 to applicants pursuing projects intended to improve their community's oral health. The application deadline is November 1, 2013. More information can be found on the ADHA IOH website.(3)
Also, October is National Breast Cancer Awareness Month (NBCAM).(4) It is a collaboration of national public service organizations, professional medical associations, and government agencies working together to promote breast cancer awareness, share information on the disease, and provide greater access to services.


When, where and how often women should get mammograms has been a source of misunderstanding for quite some time. To clear confusion, reduce unnecessary breast cancer deaths and help women avoid extensive treatment for undetected advanced cancers, the Mammography Saves Lives™ (MSL) coalition has launched a new series of TV and radio public service announcements (PSAs) to empower women, 40-and-older, to take charge of their health by getting an annual mammogram at a mammography center near them.(5)


In the same vein, Genentech's Perjeta won Food and Drug Administration (FDA) accelerated approval with a new approach to breast cancer, for a specific type of breast cancer patient. The FDA, for the first time, approved a prior-to-surgery drug based on a different measure of its effectiveness, called pathological complete response.(6)

Perjeta, in combination with cancer drug Herceptin and the chemotherapy agent docetaxel, was recommended earlier this month by a panel of experts for pre-surgery, or neoadjuvant, treatment of women with HER2-positive, early-stage breast cancer. Genentech has estimated that about 15,000 women with HER2-positive, early-stage breast cancer could receive neoadjuvant treatment with Perjeta each year.

HER2-positive breast cancer is an aggressive form of the disease with high recurrence and death rates. It affects about one in five people with breast cancer. It is caused by a gene mutation that causes the body to create excess HER2 protein that promotes the growth of cancer cells.

Enjoy this newsletter and October!!
References
1. http://www.adha.org/resources-docs/2013_NDHM_Poster_11x17.pdf.
2. http://www.adha.org/national-dental-hygiene-month.
3. http://www.adha.org/ioh/.
4. http://www.nbcam.org/.
5. http://digitalnewsrelease.com/sites/default/files/documents/2013%20MSL%20News%20Release.pdf.
6. http://www.bizjournals.com/sanfrancisco/blog/biotech/2013/09/breast-cancer-genentech-perjeta-pcr.html.

Sincerely,
Maria Perno Goldie, RDH, MS

To read previous RDH eVillage FOCUS introductions by Maria Perno Goldie, go to introductions.

To read more about breast cancer awareness, click here.