Case study: Formerly drug-addicted patient with rampant decay
David, 26, has had a hard life, and his teeth show it. This dental hygiene case study covers the story of a patient with drug use-related dental decay.

Jan 5th, 2017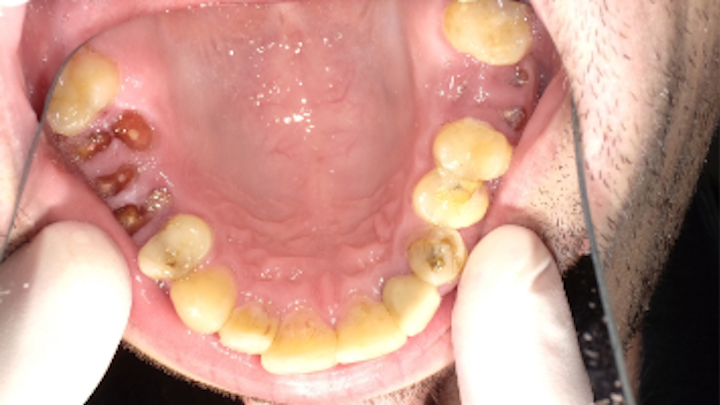 Please let me introduce you to David (name changed). He first came to see me in August 2016, which was his first dental visit in about four years. David is a very pleasant 26-year-old who has lived a rough life. He emigrated with his family from Russia when he was a child and then was raised by a single mother, living in poverty. He had dabbled with a dangerous lifestyle for a few years, and was heavily into drugs for nearly a year prior to seeing me. His drugs of choice were methamphetamine and heroin; he used heavily until events made him ready to change his life.
Six months ago, he had moved to the area to attend a faith-based rehabilitation facility and has been sober and helping others who are struggling with the demons of addiction. He has drastically changed his life and devoted himself to counseling other at-risk youth in the same rehab facility that saved his life.
David was very open and forthcoming about his previous lifestyle and addiction. He expressed his desire to again be able to unselfconsciously smile and painlessly eat. His health history showed no concerns other than the previous drug use; he did not take medications or have any known allergies.
One month after dental hygiene treatment. Note Class-V decay on maxillary left posterior teeth due to drug use.
David paid cash and was on a limited income, so he chose to deal with the biggest problems first. We completed a comprehensive exam with x-rays and full probing. Rampant decay was noted as a result of drug use. Maxillary teeth Nos. 3, 13, and 14 all had had previous root canal therapies, but were decayed to the bone levels with only retained root tips present; no abscesses were present. Teeth Nos. 3, 13, and 14 all have hopeless prognoses and are planned for extraction, and implants will be done when the patient is ready. Nos. 8, 9, and10 were repaired at the initial visit as decay was close to the nerve space and causing pain. The images in this article were taken after anterior fillings were completed.
Direct view one month after hygiene treatment and restorations placed teeth Nos. 7, 8, 9.
No. 11 had an existing large fractured filling with a post present; a crown was needed for support as it was for No. 12. For the remaining posterior teeth, he had generalized Class-V decay. The mandibular arch was not in much better shape, with generalized Class-V decay on all posterior teeth as evidenced in intraoral images. Teeth Nos. 19, 30, and 31 exhibited decay into the nerve of the teeth and were abscessed. All were planned for root canals, build-ups, and crowns to restore function and eliminate the infections.
Maxillary arch occlusal view. Root tips are planned for extraction and implants for Nos. 3, 13, 14.
Among a mouthful of concerns, it was recommended we address the need for hygiene care. David presented to me with 2 mm to 4 mm pocket depths and generalized bleeding. Not surprising considering his history, David had moderate calculus deposits. In addition, his plaque index was over 40% with bleeding on probing. His tissue was red and boggy with scattered rolled borders. At the first hygiene visit, we completed a debridement, reviewed home-care instructions, and discussed the possible need for scaling and root planing at his reevaluation and fine scale visit in one month.
Mandibular arch occlusal view. Extensive interproximal decay on Nos. 18, 19, 30, 31. Crowns recommended on Nos. 18, 19, 30, 31. Image is prior to root canal treatment on Nos. 19 and 30 due to decay into nerve space.
David was very responsive and motivated to do whatever was necessary to preserve and improve his oral health. He explained he has a difficult time flossing so I suggested some alternatives for interproximal cleaning. I sent David home with a bag of goodies including a toothbrush, string floss, chlorhexidine rinse, floss picks, interproximal brushes, a coupon for savings on a Waterpik, and more! I have found the key is to find a home-care product the patient likes and is willing to use. I asked him to try all the items and find what he likes best.
When David returned for his next hygiene visit a month later, I was pleasantly surprised at his drastic improvement in home care, and in turn, the great improvement in the bleeding and plaque index. His gingival tissue was now pink and mostly firm in areas. We completed the fine scale and all pockets showed improvement to 3 mm or less.
READ MORE | The oral effects of vaping: Patient education
I scheduled him for a six-month recall visit and will continue to monitor his care and progress. The rampant decay has created areas of hypersensitivity that are often harder to keep clean at home. Intraoral images were taken at the one-month fine scale visit. For the next six weeks, David scheduled and came to his dental visits as his budget allowed to continue restoring his smile and function, never once complaining about anything.
The good nature and spirit of David inspired me to ask my dentist to treat David off the clock, essentially donating my time to someone who is giving back to others. Our office enjoyed David's spirit and ability to not only turn his life around, but to dedicate his energy to helping others.
With the agreement of the dentist, we decided as a group that we would provide dental care to David at no charge on a series of days off from normal clinical hours. In my years of practice, I have never met someone as grateful as when I called him and offered the plan of action. Hearing him cry over the phone and thank me repeatedly choked me up as well. I spoke with our sales representative at Henry Schein about reduced-cost or free products for David and he was more than happy to participate, thus helping us with everything from composite to the porcelain blocks to fabricate the crowns.
A few short weeks later, we spent hours restoring the lower left quadrant, which he stated was the most painful, with No. 18 crown, No. 19 root canal, build-up, and crown, No. 20 Class-V composite, and No. 21 Class-V composite. Looking in the mirror, he was emotional when he realized he has an area where you can no longer see the gumline decay when he smiles and that he has solid and strong teeth. Next on the plan is to spend time to restore the lower right quadrant, which we are scheduled to do soon. As you can see from the images, David has a long treatment plan ahead, and by the end he will be like family around the office.
After our marathon lower-left quadrant day, David told us that he realizes that complete strangers can care. David is our work in progress and during the season of giving we all find a little satisfaction in giving back to another and changing his self-esteem and life.
---
Editor's note: This article first appeared in RDH eVillage. Click here to subscribe.
---
For the most current dental headlines, click here.

---
Jamie Collins, RDH, CDA, resides in Idaho with her husband, Cory, and their four children. She currently works as a full-time hygienist as well as an educator at the College of Western Idaho. In addition, she acts as a content expert and contributor in multiple upcoming textbooks. She can be contacted at jamiecollins.rdh@gmail.com.