DE's Recall Visit (video)—The DDSO concept with Dr. Brady Frank
In this Recall Visit video, Dr. Brady Frank explains his concept of a DDSO, and what creating one can mean for a dentist who want to grow his or her practice. DDSOs are also beneficial for the associates that the dentist brings into the practice.

Feb 7th, 2018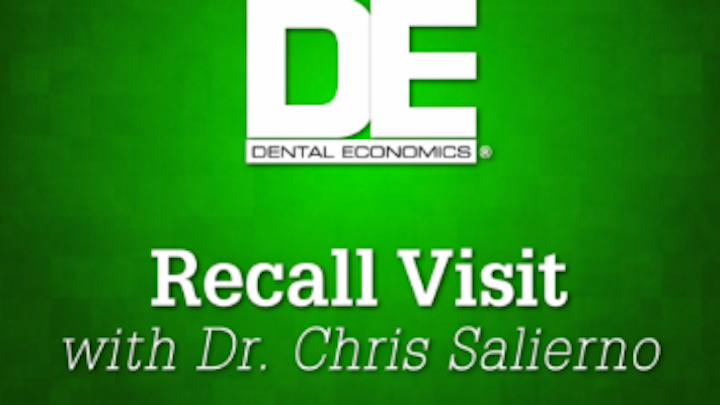 This article originally appeared in the Principles of Practice Management e-newsletter. Subscribe to this informative twice monthly practice management ENL here.
A DDSO is simply taking some of the best principles that DSOs use, bringing them into the private practice environment, and using those principles for expansion in multi-doctor and multi-location groups. A DDSO is a dentist-owned DSO, which means the dentist sequesters off the management component of the practice from the clinical component of the practice and makes these both into LLCs.
This is how Brady Frank, DDS, explains his DDSO concept in this DE Recall Visit video, as well as in his series of articles, "The DDSO," in Dental Economics.
DDSO organizations are big news for associate dentists, Dr. Frank says. Ninety-percent of dentists eventually want to own their own practices, but only 6% to 8% are able to do this when they graduate from dental school. In his own practices, Dr. Brady has found that taking in associates and making them owners in the DDSO has worked well. It's a trial partnership that has advantages for everyone involved.
Watch the video here to learn about the successes of Dr. Frank's DDSO ventures, and how you can apply those successes to your practice. He discusses the nuts and bolts of DDSOs in further detail in his series of articles the October, November, and December 2017 issues of Dental Economics.
Watch the latest DE's Recall Visit video here.
Read the DE articles here:
The DDSO: Dentist-owned private group models
The DDSO: Equity harvesting and value-added practice acquisition opportunities
The DDSO: Vertical companies and the transition to freedom
RECENT RECALL VISIT VIDEOS
Narrow-diameter implants with Dr. Adam Koppelman
Dr. Diwakar Kinra has forgotten more about endo than I'll ever know
Paying selling dentist who stays on
Watch more DE Recall Visits on YouTube here.
---
For the most current practice management headlines, click here.

---
---
For the most current dental headlines, click here.

---