Thursday Troubleshooter: Is there a dental code to reduce new-patient FMX fee?
Some new patients arrive in dental offices with recently taken full mouth x-rays from their previous dentist. Is there a code so the new patient won't be charged for the full FMX fee?

Aug 3rd, 2017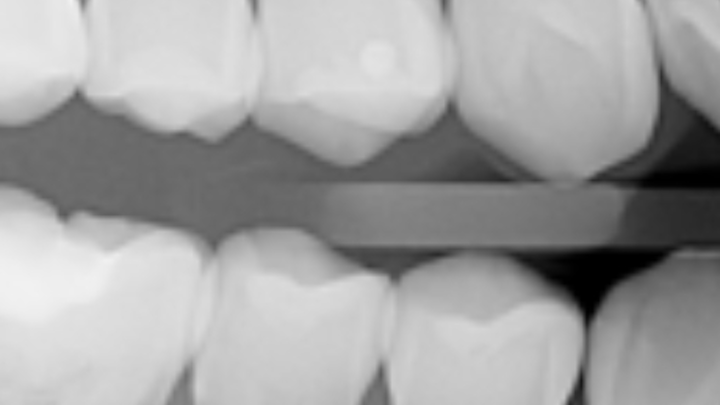 Nearly everyone has problems and concerns on the job, and sometimes you're just too close to a situation to solve something yourself. Share your concerns with Team Troubleshooter, and the experts will examine the issues and provide guidance. Send questions to megk@pennwell.com.
_________________________________________________________________________________________________________________

QUESTION: IS THERE AN ACTUAL CODE for a full-mouth series of x-rays (FMX) when a new patient has been seen and bitewing x-rays (BWX) have been taken recently, therefore, the person won't be charged for the full FMX fee?
ANSWER FROM PATTI DIGANGI, RDH, BS, author of DentalCodeology:
The selection of radiographic images can sometimes change depending on patient conditions, which appears to be the case here. It seems on a first new patient visit, only D0274 bitewing, four radiographic images appeared to be necessary. When the patient returned, it was determined the rest of the D0210 intraoral full series radiographic images were needed. Knowing the specific code's nomenclature/name is the first best step to understanding.
The second step is understanding the D0274 description, which reads, "A radiographic survey of the whole mouth, which usually consists of 14 to 22 periapical and posterior bitewing images intended to display the crowns and roots of all teeth, periapical areas, and alveolar bone."
This means the bitewings are part of the full series. From a coding and documentation perspective, there are two separate dates of service. Each encounter should be listed for accuracy. For the second date when the full series is documented, a note should be added to the patient record with the date of the bitewings.
The question then becomes about submission. The bitewings were charged out on the first date. On the second date the fee should be appropriately adjusted. In Box 35 Remarks of the 2012 ADA claim form, it should be noted that the bitewing images taken on 11/22/3333 date and the fee have been adjusted accordingly. This will keep the documentation accurate.
The question that arises is why were only bitewings taken on an initial new patient appointment? The normal procedure in many practices is to have general protocols for taking radiographic images. Though protocols are helpful, patient care should be individualized based on risk assessment.
The American Dental Association (ADA) and Food and Drug Administration (FDA) 2012 Dental Radiographic Examinations: Recommendations for Patient Selection And Limiting Radiation Exposure can provide guidance. The recommendations are subject to clinical judgment and may not apply to every patient. They are to be used by dentists only after reviewing the patient's health history and completing a clinical examination. In other words, automatically taking specific images without evaluating the patient presenting consideration is not supported by the guidelines. It's time to turn off our automatic pilots.
The new D4346 code, scaling in the presence of generalized moderate or severe gingival inflammation, full mouth, after oral evaluation, should also be considered when assessing radiographic needs for both new patients and patients of record.
One part of the D4346 descriptor says we need to determine the absence of periodontitis. This can only be determined with a full perio chart and current radiographs. This code requires the dentist to perform the evaluation before care, as noted by the underlined section. At that point, the dentist can also order the most appropriate radiographic images. Think of how often new patients present with inflammation.
Should every patient automatically have a full series of radiographic images? No, because one size does not fit all. Individualized patient care should be based on risk assessment and clinical judgement. The ADA/FDA guidelines and the new D4346 code provide reasons why it's probably time to reconsider our practice radiographic protocols.
RECENT TROUBLESHOOTERS
Can dental practice pay assistants and not hygienists?
Dentist won't confront patients who refuse x-rays
Dental assistants should not be performing some functions
Don't be shy! If YOU have a tough issue in your dental office that you would like addressed, send it to megk@pennwell.com for the experts to answer. Remember, you'll be helping others who share the same issue. Responses will come from various dental consultants, as well as other experts in the areas of human resources, coding, front office management, and more. These folks will assist dental professionals with their various issues on DentistryIQ because they're very familiar with the tough challenges day-to-day practice can bring.

All inquiries will be answered anonymously each Thursday here on DIQ.
---
For the most current practice management headlines, click here.

---
---
For the most current dental headlines, click here.

---