What's the insurance attitude in your dental practice?
It's no secret that dental insurance is tough for most dental practices to deal with. There are some ways your dental practice can immediately figure out whether accepting insurance is good for your practice, or not.
Jun 7th, 2017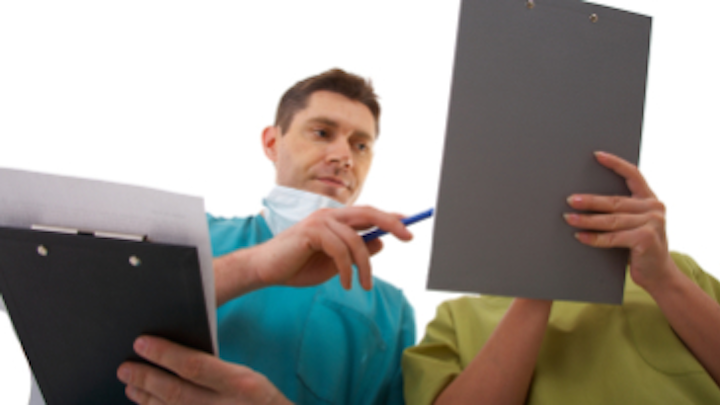 It's no secret that dental insurance is tough for most dental practices to deal with. There are some ways your dental practice can immediately figure out whether accepting insurance is good for your practice, or not.
Dental insurance is both a gift and a hindrance. The gift is increased awareness of dental care, and the hindrance is the hassle of working in the insurance environment of rejections, conformity, and dictation of their ethics over yours. It is ultimately the dentist's attitude that determines the culture of his or her practice. A recent survey revealed that the most stressful issue in practice is dealing with insurance.(1)
Since the early 1970s, dental insurance has grown in numbers and strength. It is here to stay. Patients perceive it as a real bonus when it's offered at their work, yet most are not aware of the low level of care their company has selected for employees. So, it's up to dentists and their teams to create value in patients' minds for the longevity and usefulness of their teeth because most dental insurances barely cover the present minimum standard of care.
Being a contracted provider is a choice. Even if your practice becomes completely fee-for-service, you and your team will be involved with dental insurance companies, providing billing with evidence and jumping through their hoops. To contemplate not being a contracted provider is a numbers game, aside from the ethics.
In your community, are there one or two primary insurance companies used for the majority of your patients? This cannot be a guess. You can find out by doing an 80/20 spreadsheet about your patients for the last 12 months. List their names, insurance companies, and how much treatment they completed. Some dental software will do this for you, and others you'll need to do by hand, but the information is very valuable. We want patients who spent the most money with your office to be at the top of your list. When you reach 80% of your 12-month gross, it will be about 20% of your patients.
Closely examine your 80/20 spreadsheet because this helps to answer your insurance questions. If the majority of your large cases were not involved with insurance, this means you and your team are having cases accepted without the "insurance close." It also means you and your team are mastering sales skills and offering premium patient care.
If the majority of your top 20% of cases are involved with insurance, there are several things you and your team need to examine before considering not being a provider. One thing to examine is your thinking and commitment to insurance. Perhaps you and your team are frustrated with insurance, yet in speaking with patients you might be unknowingly catering to their insurance mentality. Is one of the questions you ask when new patients call, "Do you have insurance?" Or, do team members or you state, "Your insurance will cover . . ." If this is happening, you have an insurance culture. Is that where you want to be?
Another big consideration is learning sales skills that do not mention insurance or a specific treatment. Sales skills are more focused on emotions, the values of patients, and their dreams and desires. Record some of your actual sales conversations to see what you're saying. Do you talk about crowns, implants, and procedures? You should be talking about what the treatment will do for patients, and how it will meet their dental goals.
Here are some more steps you can take. Examine all of the insurance collections for which you are a provider. Determine with which insurances or PPOs you have the least activity. Find out if this is somehow connected to other companies that you cannot afford to drop. Reexamine this every six months and take the appropriate actions from what your numbers tell you.
Another idea is to have clinical team members take care of insurance at the time of service, which should make it easier to be an insurance provider. Instead of having one person at the front desk be your "insurance coordinator," have each treatment area collect. I know this might sound outrageous, but the practices who do this love it. For example, hygienists collect and schedule at the end of treatment and submit an insurance form. (They might need assistance for more complex treatments.)
Insurance does not have to have a stranglehold on your practice. You decide, based on the study of your numbers, how to make insurance work better for you and your patients.
---
For the most current practice management headlines, click here.

---
---
For the most current dental headlines, click here.

---
Bill Blatchford, DDS, and Christine Blatchford, DMD, are America's premier dental business coaches. They are committed to helping dentists develop private practice success through their 14-month coaching program. Making more net, increasing time away, and bringing more joy are the results for doctors who take part in the Blatchford program. Their latest book, "Bringing Your 'A' Game 2.0," is available at blatchford.com or by calling (888) 977-4600.
REFERENCE
1. Duncan T. 5 insurance actions you can take now for a smooth 2016. Dental Products Report website. http://www.dentalproductsreport.com/dental/article/5-insurance-actions-you-can-take-now-smooth-2016. Published December 28, 2015. Accessed June 5, 2017.