Survey pinpoints top 10 dental coding pain points (with infographic)
Dental coding can wreak havoc on a practice's collections. Why is something rejected? How many times must the same claim be submitted? The results of this survey will help help, and let you feel like you aren't alone.

Feb 19th, 2018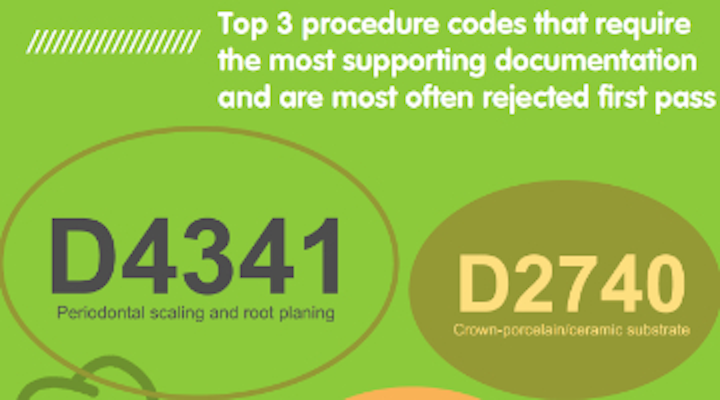 It's no secret that dental coding causes headaches in so many practices. It turns out that many practices share some of the same woes when it comes to coding, as revealed by a recent survey conducted by NEA Powered by Vyne.
___________________________________________________________________________________________________________________________________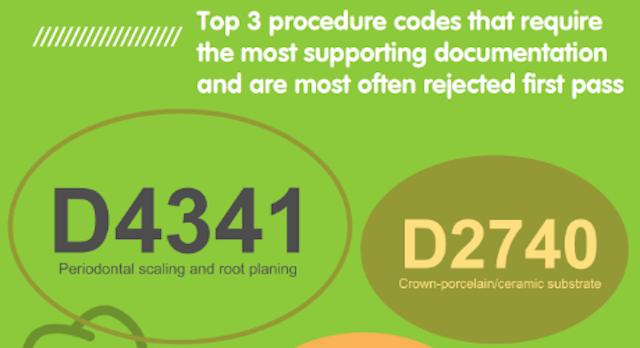 (Click on the image to view the entire infographic)

NEA, a provider of solutions for electronic submission of supporting documentation and claims attachments to dental practices, announced the results of its recent study conducted to determine dental practice pain points and the most pressing issues practices face with claims management.
Among key data points surveyed, the study revealed the most troublesome CDT procedure codes—those requiring the most supporting documentation for adjudication and those most often rejected at first pass.
The August 2017 survey identified D4341, D2740, and D2950 as the top three codes requiring the most supporting documentation for adjudication, and the claims most often rejected by payers after first submission.
Descriptions of the codes include:
• D4341: Periodontal scaling and root planing, per quadrant, is described as involving "instrumentation of the crown and root surfaces of the teeth to remove plaque and calculus from these surfaces."
• D2740: Crown-porcelain/ceramic substrate
• D2950: Core buildup, including any pins when required
Code D4341 is causing trouble for practices because more dentists and hygienists are using periodontal scaling and root planing as treatments to help patients control periodontal disease. Unfortunately, according to survey respondents, many practices are experiencing insurance benefit issues relating to the claim number. While most indemnity carriers cover D4341, restrictions and requirements for payment are abundant.
Supporting claims documentation
More than 40% of respondents said that, on average, 10% to 25% of their claims require supporting documentation or attachments, while 36% said that between 26% and 50% of their claims require additional documentation.
Practice pain points
NEA asked what practices' greatest pain points were in regard to dealing with insurance. While the responses varied, there was significant feedback suggesting there are more than a few issues troubling even the best of practices. Ten most commonly reported issues emerged. In no particular order, they include:
• Claims processing delays
• Following up on claims not paid/rejected claims—Rejections cause slow turnaround payments.
• Verifying eligibility—Verifying coverages prior to procedures, then being told the procedure is not covered after the practice received verification that it is.
• Payers claim they did not receive documents that were sent.
• Reimbursement levels are lower than originally expected.
• Rejections/requests for additional information
• Long hold times—Caller cannot get a person on the phone, the person gets the payer's automated customer support systems.
• Coordination of benefits
• Dental insurance downgrades
• Medical billing for dental—There are challenges of CDT versus CPT coding. What gets billed medical versus dental?
Security
One area of encouragement regards data security efforts taken by practice administrators. Fifty percent of respondents said they use secure email in their practices to communicate with referring or other dental specialists. This is especially important given the enormous security concerns regarding the potential for breach of health information in electronic communications.
An area of concern did arise, however. About 20% of respondents said that they still use standard (non-secure) email for communications, which is an obvious compliance risk for their practice and the data they manage.
Why a survey?
"NEA reaches out to our client base annually for their feedback on topics related to their biggest challenges in managing and growing their businesses, as well as what types of technology they're using to help solve their most pressing issues," said Robert Patrick, president of dental at NEA. "The recent survey focused on coding challenges as they related to claim attachments specifically."
"As we took a deeper dive into the dental claim attachment market, looking at what types of specialties could benefit from automating their processes with electronic claim attachment tools like FastAttach, we discovered that specific data about what claim codes were causing the most disruption simply did not exist," he continued. "That led us down the path of asking our clients for their feedback as to which codes required the most attachments, how long reimbursements were taking, whether they were seeing more medical claims, and more."
"We look forward to continuing to gather important information like this every year in hopes that it will help the industry better understand the needs of dental practices across the US," Patrick concluded.
NEA offers the FastAttach solution for secure electronic document submission, having exchanged hundreds of millions of claims attachments between dental practices and payers since the product's inception. NEA also ensures that payers are able to request additional information, and dental caregivers can immediately respond to a request by providing additional patient information by using a suite of capture methods, including virtual print, screen import, scanned images, file import, and more.
View the entire survey infographic by clicking here or on the survey image above.
---
For the most current practice management headlines, click here.

---
---
For the most current dental headlines, click here.

---