Major steps to successful internet marketing for dentists (with infographic)
It's important for dentists to have a well-designed website in order to attract patients. A huge percentage of people today are online searching for health-care providers. Make sure your dental practice stands out online
Dec 19th, 2016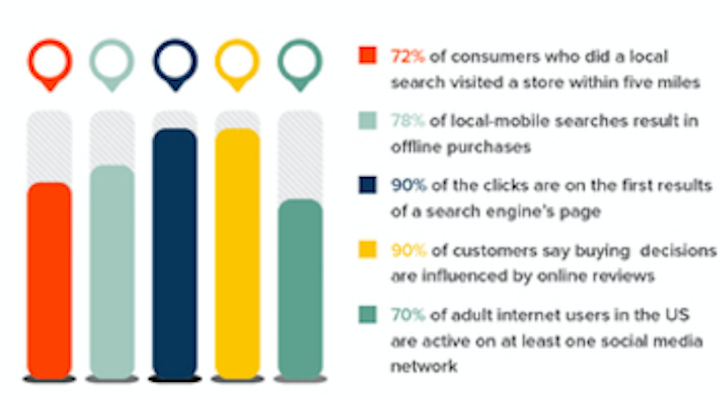 Here are some interesting facts that dentists should be aware of: 80% of the leads that are not referrals for dental practices come from search engines such as Google and Bing. Additionally, 90% of customer buying decisions are influenced by online reviews, and 72% of consumers who search for a local business visit one within five miles.
RELATED ARTICLE:Google update showcases reviews from third party sites. How does this affect dentists?

Keeping these numbers in mind, it only makes sense for dental practices to make sure they're visible online. What are some strategies that should be implemented in order to have an online presence? First, your dental practice must have a website. A website is your online impression, and it needs to be impressive and mobile friendly. In addition, a well-planned local search engine optimization (SEO) is needed in order for your website to show in local search results. Let's not forget about your online reviews that help build your reputation.
Review this infographic provided by My Digital Dentistry to learn more about the steps your dental practice should take to develop a successful internet marketing strategy, bring in more qualified clients, and watch your bottom line grow.
RELATED ARTICLE:What dentists need to know for constantly changing SEO landscape

Click here or on the photo below to access an infographic that will outline the details.
---
For the most current practice management headlines, click here.

---
---
For the most current dental headlines, click here.

---