Dental practice design profile: Alamo Heights Dental
What sets Alamo Heights Dental in San Antonio apart from the average dental practice? Let the photos and the doctors' words explain it to you.

Jul 20th, 2018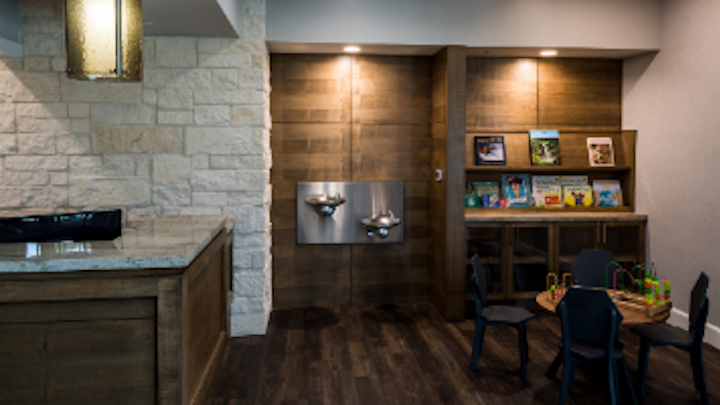 DE's Design Studio Profile
Alamo Heights Dental, San Antonio, Texas
Founders: Dirk P. DeKoch, DDS, John M. DeKoch, DDS, and Susie R. DeKoch, DDS
Designer/Architect: Fazio Architects
Square footage: 6,450
Number of operatories: 12
Year founded or redesigned: 2017
Chair/cabinet manufacturer: Pelton Crane
Sterilization manufacturer: Midmark
Important technologies: Radiology and high efficiency sterilization
Lending institution: Live Oak Bank
Practice vision
The Alamo Heights Dental business model is based on providing exceptional care in an exceptional environment, which starts with earning and maintaining patients' trust while treating them with dignity and respect. Like many practices, ours is in an area in which several dentists provide high-quality dental work, so while we strive to provide the finest care available, we think what really sets our office apart is not so much how we treat teeth, but how we treat people. Our goal is to "Make everyone feel important." To achieve that, we have created an environment that makes an emphatic statement that both high-quality treatment and patient comfort are of utmost importance.
One of our consultants, Mark Tholen, DDS, MBA, said, "You cannot control that your facility makes a statement about your practice; it always does. What you can control is what that statement is." We took that advice to heart as we designed our new building with a focus on patient comfort and efficiency. We wanted a delicate balance of a calming, relaxed feel, while still maintaining the clean uncluttered clinical look in treatment areas.
We were advised that people are more relaxed in well-lit areas, and an office with lots of windows and strategic lighting will make patients feel less threatened. We incorporated vast areas of glass so that patients are aware of what awaits them on the other side of doors and walls, and every room has a large window that is both calming and distracting from the procedures being performed.
Our reception area feels more like a lobby of a resort hotel than it does a dental office. In our efforts to personalize the new office, we included interesting touches, such as some ceilings covered with beautifully-aged 100-year-old wood recycled from our family ranch, as well as interior walls covered in limestone indigenous to this part of the state. Beautiful and calming art hangs on the walls of our office, with most pieces having some connection to notable areas of our personal lives. These accents are consistent with our personal, relationship-based priorities.
Each of the treatment rooms has gently massaging chairs that face floor-to-ceiling windows with beautiful views, accented with spa-like wallpaper, tiles, and wood finishes. We are overwhelmed with how often we hear patients say how calm and relaxing the new office feels. We hear comments such as, "I feel like I'm at the spa," or "I'm not leaving this massage chair and this view." It is amazing that despite the number of patients we see in a day, the office atmosphere remains quiet and tranquil.
One of the strategies used to make the design more efficient and patient-friendly was to have a separate, dedicated radiology area with one panoramic and two intraoral and x-ray machines. We have a dedicated staff member in charge of taking all radiographs before hygiene appointments, allowing more efficient use of the hygienists' and doctors' time. For cases where we need more radiographs taken after a patient is seated, we have two Nomad units readily available so the patient doesn't have to move back to the radiology area.
Our Gendex sensors consistently provide very nice digital intraoral radiographs, and a new state-of-the-art Vatech panoramic x-ray machine produces incredible digital images, including extraoral bitewings for those patients with large tori. This new or updated technology has improved our diagnostic abilities while greatly reducing radiation exposure to our patients. We also have a separate wall-mounted x-ray machine in our surgical suite that aids in treating sedated patients.
Another strategy for efficiency was to have all of our rooms be identical in size and equipment. This allows the four hygienists or three doctors to perform any procedure in any room. This is a marvelous efficiency as we do not need to move patients from room to room to provide "same-day service," which they greatly appreciate.
We're thrilled with the results of the investment of time, energy, and finances in our new building. Our practice is thriving and the response from the community has been as we dreamed it would be. So we encourage anyone thinking of updating their practice by taking advantage of the newest technology to go ahead and take the next step.
The bottom line, though, is that the latest technology is wonderful and efficient, but without the personal touch of caring and competent people it's just a collection of toys. In the hands of dedicated and caring professionals, it's amazing what we can accomplish. That's what we at Alamo Heights Dental do every day. It is truly a wonderful time to be in the dental profession!
This article originally appeared in the Principles of Practice Management e-newsletter. Subscribe to this informative twice monthly practice management ENL here.
---
For the most current practice management headlines, click here.

---
---
For the most current dental headlines, click here.

---