Survey reveals Americans view dental care as 'nice to have'; Would repair their cars over their teeth
Dentists still have work to do to get through to their fellow Americans. A recent survey reveals that Americans view dental care not as a necessity but as 'nice to have,' despite the fact that they understand the consequences of poor dental care.

Apr 15th, 2015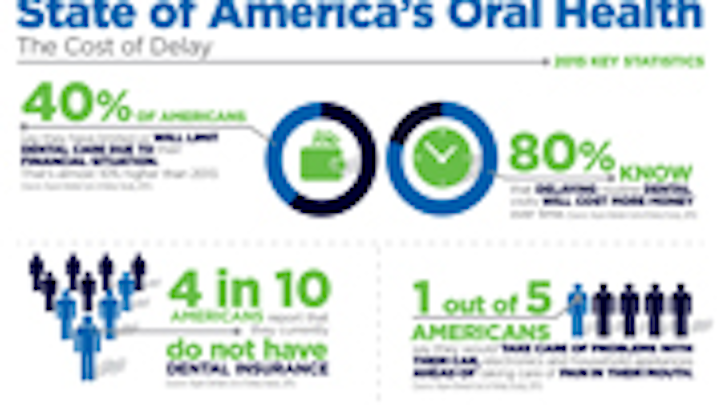 A recent survey of more than 1,000 adults conducted by ORC International and commissioned by Aspen Dental unveiled that oral health in America is more of a "nice to have" rather than a "must do."

Nearly two in five American adults (39%) say they have limited or plan to limit dental care due to their financial situation, a number that has increased by nearly 8% during the last two years. However, 80% recognize that postponing or delaying routine visits will cost them more money in the long run. More than half of survey respondents (53%) consider routine dental visits for exams and cleanings something that is "nice to have" that can be delayed.
And the clincher? Nearly one in five respondents (17%) would fix problems with their car, electronics, and household appliances ahead of addressing pain in their mouth.
"For millions of Americans, life is made up of hard financial choices, and unfortunately, dental care has become discretionary," said Dr. Schatzie Vincent, director of clinical support and community giving at Aspen Dental Management, Inc. "The dentists and teams at Aspen Dental-branded practices believe that everyone deserves a healthy mouth, and they are committed to breaking down barriers that have kept people from getting the dental care they need."
To bridge this health gap, on April 8 Aspen Dental kicked off its Healthy Mouth Movement with a tour of the MouthMobile, a fully-equipped dental office on wheels that delivers free dental care and oral health education to people across the nation. In its inaugural year, the Healthy Mouth Movement served close to 3,000 patients by nearly 2,000 team members from Aspen Dental-branded practices worth more than $1 million in free dental care.
This year the Healthy Mouth Movement will focus its efforts on veterans. The MouthMobile will travel to communities throughout the U.S. in partnership with local veterans' organizations, and participating Aspen Dental-branded practices will open for one day for free care for veterans later this year.
The results of the recent survey are shown in the following infographic.
OTHER INTERESTING INFOGRAPHICS: Is your dental practice losing money? Find out why in this infographic
How to get new patients from your dental practice website: With infographic