5 reasons I went digital and got dental practice management software 30 years ago
It's easy to take dental practice management software for granted these days. This dentist recalls why it's been so good for his practice, and why he went digital 30 years ago and has never looked back.

Nov 18th, 2014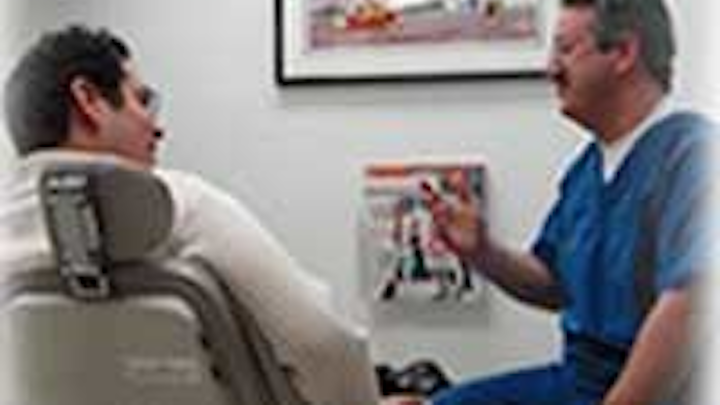 Nowadays, the notion of a dental practice "going digital" seems about as archaic as the bow drill and dental key. Almost every practice has "gone digital," so much so that we take for granted how far technology has come, and the root business challenges that caused dental practices to go digital in the first place.
Every now and then, it's important to step back and remember where you came from and where you hope to go, and to assess the tools that can help you get there. Here are five reasons I went digital 30 years ago, and how the dental practice management software I chose still guides much of my business today.
Reason 1: Grow your patient base, not your floor space
When I purchased my first practice management system in the mid-1980s, I had no idea the integral role it would play in growing my practice into what it is today. At the beginning of my career, I wore my expanding bookcases and filing cabinets filled with new patient charts as badges of my success. However, I quickly figured out that all of those filing cabinets took up precious space, and I was spending a lot of time and money hand writing charts and organizing them into folders.
Faced with having to either expand my office square footage or pay for expensive storage space, I started to look for ways to end my paper charting. I eventually purchased my first computer, which allowed me to buy a practice management system, avoid hand writing, and eliminate the need to hire another employee – so it was a wise investment in my eyes.
It was at that time that I truly began to go digital. We started slowly by scanning in all of our active patient charts, and we eventually scanned in our entire patient database. Now, I can't even think about how much time and floor space we wasted with those paper charts.
Reason 2: Simplify your daily tasks
When I purchased Eaglesoft Practice Management System from Patterson Dental in 1995, they were able to transfer all of the information over from my first practice management system. This software was, for the first time, organized in a way that I could understand it and view it at the touch of a button. A practice management system made tasks and patient charting much less manual, and it allowed my office to concentrate on our patients instead of our software.
Now, practice management software makes everything easy. I can access my files from anywhere with an Internet connection, I never lose an X-ray, and the overall organization and simplification it brings to my practice ensures that my business operates efficiently and smoothly.
Reason 3: Improve the patient experience
Spending more time getting to know my patients is an important part of my responsibility as a doctor, and practice management software allows me the time to focus more on patient interaction and engagement. The ability to pull up X-rays, videos, and images chairside makes it incredibly easy to discuss issues with patients. We can have a more open discussion, and we walk through potential treatment options right then and there.
Before I had this practice management software capability, explaining a dental issue and the proposed treatment to patients was challenging. When patients were not able to see exactly what I could see, it made it hard for them to comprehend exactly why a treatment was needed. When a patient can view X-rays, video, and images of his or her tooth, that visual perspective makes case acceptance much easier.
Reason 4: Increased profitability
In 1996, when I was offered clinical software and support, it opened my eyes to the expanded opportunities that being digital would afford my office. My practice management system makes daily back office tasks easy and seamless, which allows me to see more patients and focus on growing my business.
The front office software also lowers my overhead expenses, and cuts back on time and staff needed for tasks such as billing and accounting. Since everything runs automatically in the background, I never have to worry about who has time to take care of these tasks, and I can keep down my staffing level because of it. It also helps that my practice management software seamlessly integrates with other software systems, such as credit card processing and patient education software.
Reason 5: A built-in partner
You can spend a considerable amount of money on a practice management system and software, but inevitably you will need training or troubleshooting from the experts. Without practice management software and the support team behind it, my dental practice would not be the success it is today. Support is by far what I emphasize the most when discussing with other practices what to look for in a successful dental practice management system, and it is the reason I have stuck with my practice management software for so many years.
Any time I have a question, my support team is there to troubleshoot, answer questions, and walk me through a solution. That relationship and the people behind the product are just as important to me as the product itself.
While many of us take going digital for granted, it never hurts to remember the role that new technology has played in helping us as dental professionals grow our businesses. While the innovations over the last 30 years seem vast, I can only imagine and look forward to what new technology and dental practice management systems can help us achieve in the next 30 years.
Dr. Gerald Lande is a 1984 graduate of the Indiana University School of Dentistry. Upon graduation he opened Lande Cosmetic, Implant, and Family Dentistry in Carmel, Indiana, and has been in private practice for 30 years. Dr. Lande is a member of numerous professional organizations, including ADA, IDA, IDDS, CDS, ICOI, AAID, and the AACD, and he currently serves as the president of the local alumni chapter of Alpha Omega International Dental Fraternity.