Thinking of selling your dental practice? 4 things you should know
Selling a dental practice is a big task, so it's important to prepare both financially and mentally. Here are four things dentists should know when they get ready to sell their practices that will make their transitions easier.

Jan 16th, 2018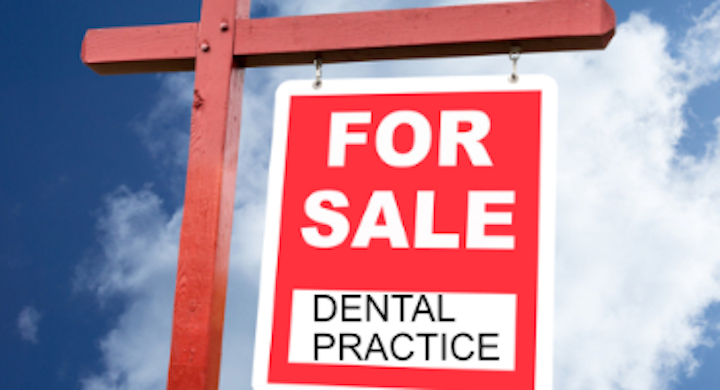 IF YOU OWN YOUR OWN DENTAL PRACTICE, YOU'VE JOINED THE RANKS OF NEARLY 30 MILLION OTHER SMALL BUSINESS OWNERS ACROSS THE COUNTRY. According to a recent census bureau report, small businesses represent over 99% of all employer firms in the US, half the workforce, and 60% of the net new jobs. Like other small business owners, you have a host of responsibilities, many of which transcend the day-to-day obligations that go with being a dentist, including formulating a budget, managing staff, and attracting new patients.

Ideally, everything will culminate with a nice prize when it comes time sell your practice. Like many dentists, your business is your most valuable asset, representing your retirement nest egg or a significant portion of it. This type of liquidity event has massive financial ramifications.
Here are four key considerations that you as a dental practice owner should be thinking about as you begin to mull a sale of your business:
1. Start early
Selling a dental practice doesn't happen overnight. It's a process that typically takes years and often hinges on firming up the financial plan of the owners. For most, the fundamental questions are "Can I afford to do this?" and "When can I do this?" A quick review of individual retirement, investment, and cash accounts will lead to the answer for many. For others, it's not a question of if, because they have the assets. At the same time, they may have to scale back their current lifestyle by downsizing their home, selling a vacation property, or relinquishing a country club membership.
2. Have realistic expectations about what your practice is worth
Like other business owners, dentists often have an inflated view of how the market will value their practices. For instance, they may assume that a buyer will give them three to five times earnings before interest, taxes, depreciation and amortization (EBITDA), which traditionally has been what privately held small businesses could expect in a sale. But it's not always that simple. Consider the dentist who is between 55- and 65-years-old and on the brink of retirement, who likely has patients who are a part of the same demographic. To be blunt, older patients are depreciating assets. That means there could be a sizable gap between the paper worth of the practice and what a buyer is willing to pay for it. This is one of the main reasons that dental practice owners should not be too reliant on a potential liquidity event to fund their retirement.
3. Keep essential equipment and facilities up to date
A good blueprint for maximizing value is to build a turnkey operation that allows a new owner to step in without having to incur any significant capital expenses. What this means is that sellers should not provide would-be acquirers any openings during sale negotiations to claim that vital equipment and facilities are outmoded, which would give them a chance to come in with a low-ball offer. But practice owners should know that it's not necessary to spend extravagantly to make a lot of wholesale changes all at once. Once a timeline for a sale is established, owners should simply make incremental improvements to keep important hard assets current.
4. A sale doesn't always mark the end of the road
Practice owners may be asked to stay on temporarily after a sale has been executed, even if only in a part-time role. This arrangement is somewhat common for many businesses to ensure continuity, but particularly for owners of professional services firms such as dental practices. This is because perhaps the biggest source of concern for prospective buyers is that existing patients will disappear when ownership changes. Any reductions would diminish the value of a buyer's newly acquired asset. Therefore, sellers should anticipate less up-front, and this will be offset by incentives that reward owners for acting as a bridge with patients.
Mark Palmerino is a partner at CCR Wealth Management, a Boston-area-based wealth management firm that specializes in serving dental practice owners.
---
For the most current practice management headlines, click here.

---
---
For the most current dental headlines, click here.

---