DE's Recall Visit (video)—Common HR issues, with Tim Twigg
Dentists do not learn how to handle their staff issues in dental school. That's why HR experts are here to help. Dr. Chris Salierno asks Tim  Twigg to explain some of the most common issues that dentists face.

Feb 22nd, 2018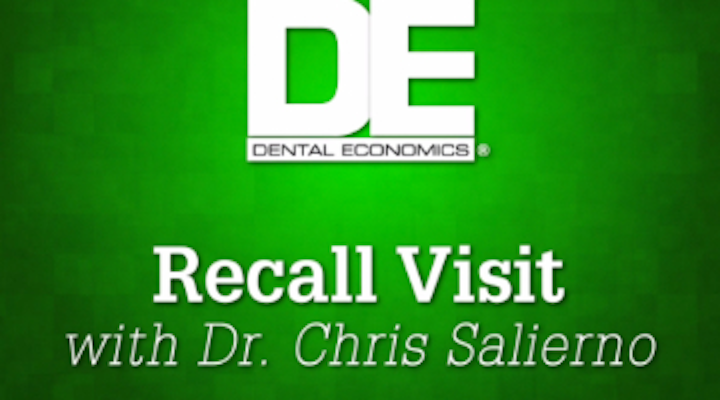 This article originally appeared in the Principles of Practice Management e-newsletter. Subscribe to this informative twice monthly practice management ENL here.
This installment of DE's Recall Visit video discusses the most common headaches dentists face when it comes to managing their teams. Dr. Chris Salierno chats with Tim Twigg, who writes the Staff Issues column in Dental Economics with Rebecca Boartfield, and asks him what he hears most often from dentists when it comes to human resources issues.
Twigg says the answer to this shifts with the economy. Currently, since the market is improving, the labor pool is tightening. One of the struggles/questions dentists have is, "How do we engage and motivate our existing staff people, and develop their talents in order to retain people?" Another question is, "How do we manage people over time?" Twigg notes that this is not addressed in dental school. He says that communication is a huge key to successful people management.
Watch what other ideas Twigg shares for helping dentists successfully manage their existing team members in light of today's shrinking market of candidates.

Tim Twigg will present at the third annual Principles of Practice Management conference July 12 and 13 in Indianapolis. Also, watch for Twigg and Boartfield's column, Human Resources Questions for Dentists, in the Principles of Practice Management newsletter every second Tuesday, and in every other issue of Dental Economics magazine.
__________________________________________________________________________________________________________________________________________
PAST DE'S RECALL VISIT VIDEOS
Dr. Tom Snyder: Paying selling dentist who stays on
Dr. Diwakar Kinra has forgotten more about endo than I'll ever know
The DDSO concept with Dr. Brady Frank
Watch more DE Recall Visits on YouTube here.
---
For the most current practice management headlines, click here.

---
---
For the most current dental headlines, click here.

---