Product review: Waterpik Complete Care 7.0 electric toothbrush and water flosser
Amy Richardson, RDH, reviews the Waterpik Complete Care 7.0 electric toothbrush and water flosser.
Sep 18th, 2017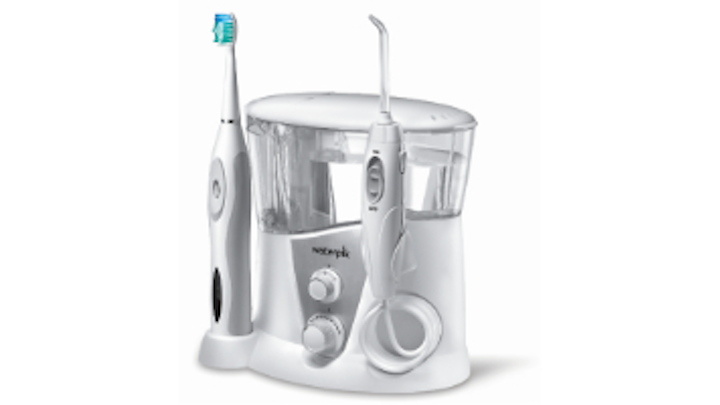 FINDING ALTERNATIVES TO MANUAL FLOSSING IS A MUST THESE DAYS, as many patients are in search of an easier answer for their interproximal care. Water flossers are an essential tool for teaching daily plaque removal to patients who have restricted mobility or large hands, or who don't like to put their hands in their mouth.
Do you find yourself recommending an electric toothbrush and a water flosser to some of your patients? Unfortunately, the conversation can quickly turn to cost, with the patient asking, "Which one should I buy if I only buy one?" instead of focusing on the care that is needed. Cost can deter our patients from fully investing in their oral health.
Also, the power-based tools we recommend can reduce counter space, which can be a hassle for our patients. If there is anything I have learned while working as a dental hygienist, it's that inconvenience can cause compliance to decline drastically.
The Waterpik Complete Care 7.0 is an all-in-one toothbrush and water-flossing system. One of the most attractive qualities of this system is how the charging stations are all connected in one stand, so only one outlet is necessary. That means no more hunting underneath your sink for your long-lost toothbrush charger. This all-in-one feature also minimizes the amount of countertop space it requires, making it more aesthetically appealing. Its price point may also be less than purchasing a water flosser and an electric toothbrush separately.
The water flossing feature of this product offers a 1–10 pressure control dial to adjust the flow. It also comes with an assortment of tips—for deeper pockets, braces, and even implants. I particularly love the tip that has small toothbrush-like bristles for patients with braces. The combination of bristles and water pressure seems to dislodge plaque and food particles that get trapped around the brackets.
The electric toothbrush comes with qualities similar to others in the market, such as quad-pacer brushing and a two-minute timer. It also features low and high speed settings. This toothbrush is more efficient at removing plaque than a manual toothbrush. I am looking forward to the next edition.
Overall, the Waterpik Complete Care 7.0 is a wonderful tool to aid our patients in improving their oral health. This product is conveniently designed for patients seeking both a water flosser and an electric toothbrush. The all-in-one features can help our patients save money and time when moving forward with their hygiene regimens.
---
Editor's note: This article first appeared in Pearls for Your Practice: The Product Navigator.Click here to subscribe. Click here to submit a products article for consideration.
---
Amy Richardson, RDH, practices in Austin, Texas. She received her RDH from Blinn College and is currently working on a bachelor's degree in psychology at the the University of Texas at Austin. When she is not working or studying, she enjoys hiking in the hill country and playing outside with her husband and dog.
---
For the most current dental product articles, click here.

---
For the most current dental headlines, click here.

---