New Products
Mar 1st, 2012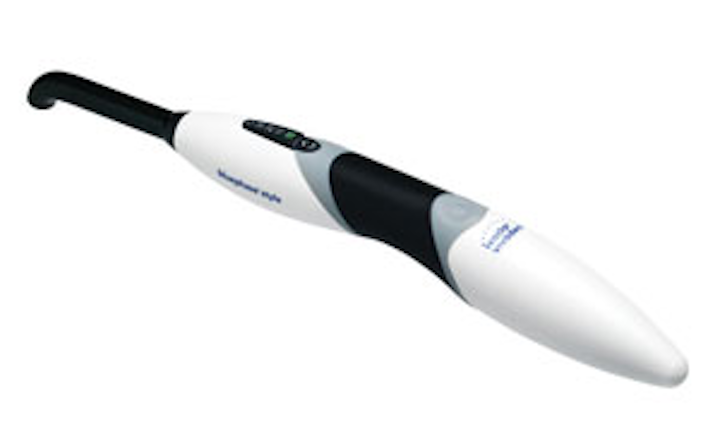 Ivoclar Vivadent introduces bluephase® style, the newest edition to the bluephase family of curing lights. bluephase style is an ergonomic, high-power, cordless LED curing light. Its light weight and balanced design reduces the strain exerted on the hand and arm while curing. A newly designed light probe allows for convenient access in hard-to-reach posterior areas. In addition, bluephase style's inductive charging system makes issues related to battery contacts a thing of the past. For more information, visit www.ivoclarvivadent.com,/.
.

DENTSPLY Tulsa Dental Specialties has introduced a new rotary endodontic file. Vortex Blue uses a new and proprietary method of processing of NiTi wire that results in a blue titanium oxide layer. Vortex Blue offers an advancement in cyclic fatigue, the leading cause of file separation, with a minimum 65% improvement as compared to M-Wire NiTi and a minimum 99% improvement as compared to standard NiTi (maximum results up to 353% better). Vortex Blue rotary files are available in packs of six in .04 and .06 tapers, and in sizes 15 through 50. For more information, visit www.tulsadentalspecialties.com.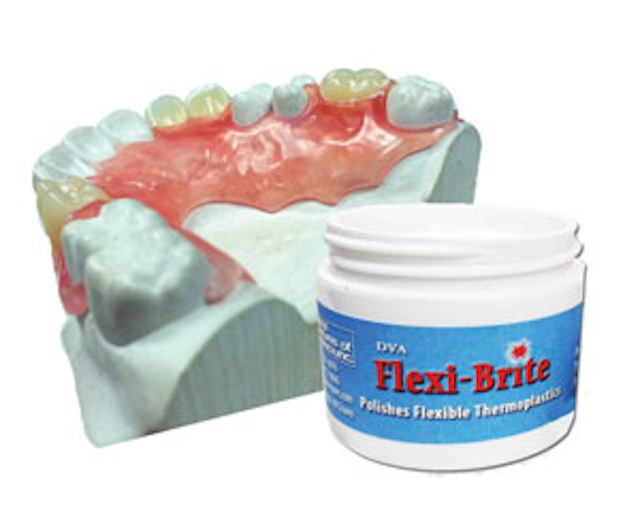 Dental Ventures of America has introduced Flexi-Brite, which represents a high-shine medium for all types of thermoplastic materials. Flexi-Brite polishes flexible partials twice as bright in a fraction of the time typically required. Flexi-Brite's creamy consistency is clean, easy to work with, and requires no special technique to attain desired results. Flexi-Brite is available in jars containing 80 grams. Free samples are available upon request. For more information, visit www.dentalventures.com.
New Clean Ups from Flow Dental make taking care of phosphor plates quick, easy, and affordable. Clean Ups help clean, protect, and prolong the life of PSP plates. Clean Ups are individually wrapped towelettes that remove fingerprints, dirt, smudges, and artifacts. Just tear open a packet, wipe down the plates, and discard. Clean Ups are packaged 50 wipes per box, and cost less than $1 each. To order a box, or for a free sample, visit www.FlowDental.com.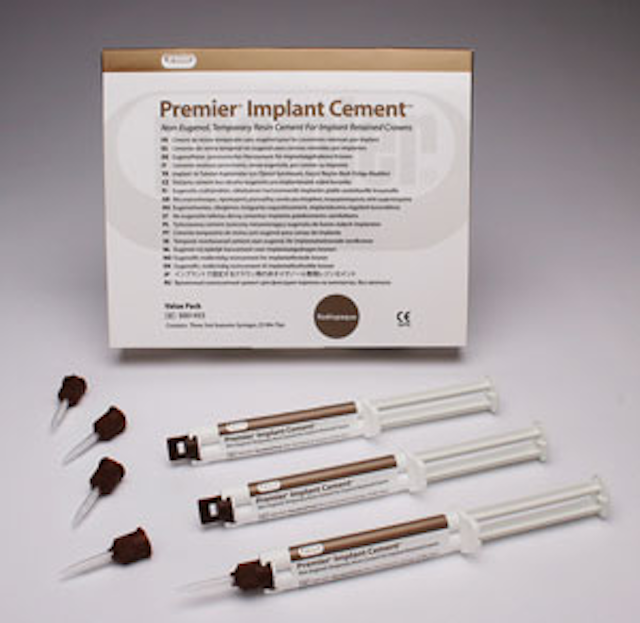 Premier Dental Products Company is expanding the offering of Premier Implant Cement to include a New Value Pack. The new packaging configuration was designed to provide a significant savings and a convenient ordering quantity for the growing number of dentists who prefer using Premier Implant Cement. Premier Implant Cement is a non-eugenol resin cement designed for implant-retained crowns and is suitable for temporary cementation of provisional restorations where long-term or increased retention is desired. Made from a tough elastomeric resin, Premier Implant Cement provides secure retention and an excellent marginal seal. Satisfaction is guaranteed by Premier. For more information, visit www.premusa.com.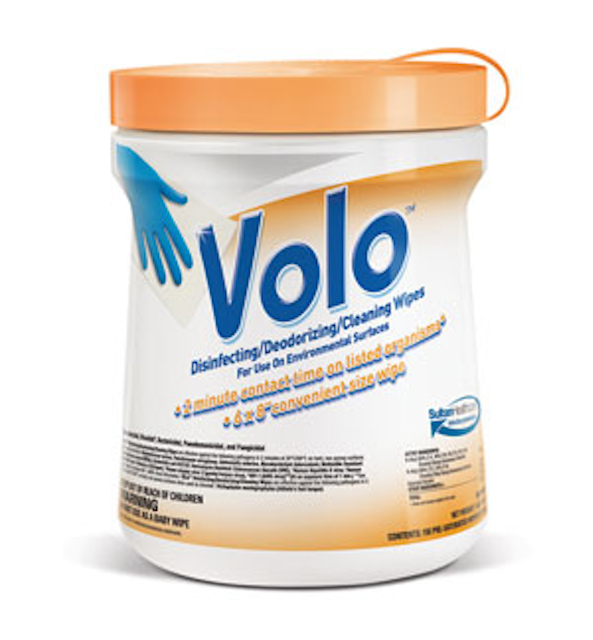 Sultan Healthcare introduces VOLO Disinfecting/Deodorizing/Cleaning Wipes that help decontaminate hard, nonporous surfaces in the dental office. VOLO wipes are an EPA-registered intermediate level disinfectant available only through a dental dealer, not retail stores. While most wipes sold in the dental market are sized smaller at 6 x 6.75 inches, VOLO wipes are 6 x 8 inches and sized to fit the human hand. The larger design aids in preventing cross contamination by helping to ensure the gloved hand does not contact the disinfected surface. For more information, visit www.VOLOWIPES.com.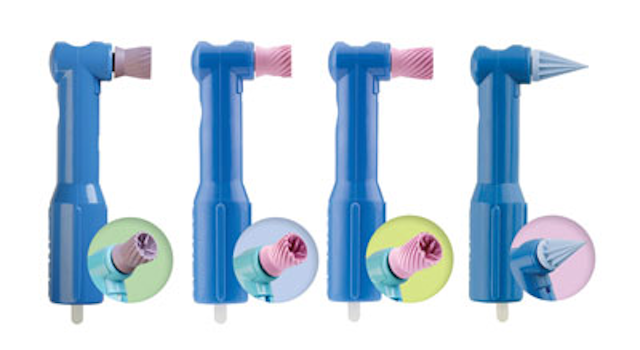 Young Dental recently introduced its new Elite Series. This line is made up of four prophy cups — two new additions, the new Elite Flex and Elite Extend Flex, which join the Elite Original and the Pointed Polisher. According to the Young Dental, the unique inner and outer ridges of these new cups provide tremendous interproximal stain removal and exceptional splatter control. The new Elite Flex and Elite Extend Flex are also 25 percent softer and more flexible than the Elite Original cup. This enhanced softness is optimal for improved cup flare and flexibility around the contours of the teeth. While still providing the flare and flexibility, the Elite Extend Flex is 19 percent longer than the Elite Flex—ideal for clinicians who prefer to work with a longer prophy cup. For more information, visit www.youngdental.com.

J. Morita has expanded the TwinPower Turbine® product line with the new mini Ultra Series. The TwinPower Turbine Ultra Series offers excellent cutting ability with smooth, chatter-free revolutions. A compact head design allows for exceptional posterior access and offers improved views with a mirror or microscope. Although they are "mini" handpieces, clinician reviews have noted this series is powerful enough for everyday tooth preparation. This product line includes the new UltraM and UltraE. The UltraM is the smallest of the two with a head height of just 10.6 mm and 18 watts of power. Its unique head design accepts standard burs up to 20 mm in length. The slightly larger UltraE is 12.7 mm tall and offers 20 watts of power with standard burs. For more information, visit www.morita.com/usa/twinpower.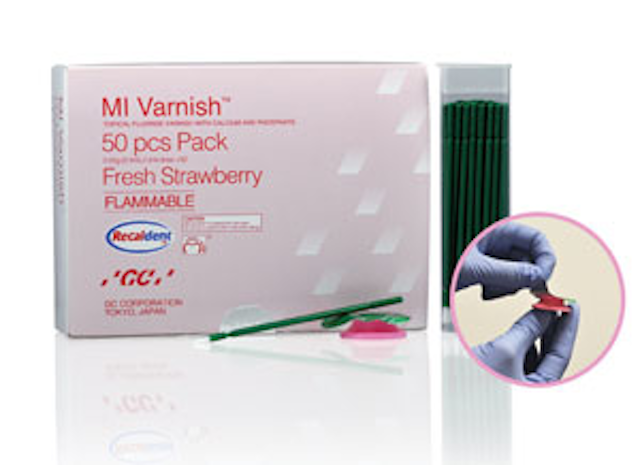 GC America Inc. has launched MI Varnish™, a 5% sodium fluoride varnish with RECALDENT™ (CPP-ACP). MI Varnish is unique compared to all the other fluoride varnishes; MI Varnish with RECALDENT (CPP-ACP) brings bio-available calcium, phosphate and fluoride to the tooth surface releasing high levels of fluoride — working in concert with the sodium fluoride (NaF) in the MI Varnish is a wiser clinical choice for patients. MI Paste and MI Paste Plus (900 ppm fluoride), are one-of-a-kind products that restore minerals and enrich saliva. RECALDENT (CPP-ACP), is a special milk-derived protein that strengthens teeth by releasing calcium, phosphate and fluoride. MI Varnish is a new addition to the RECALDENT (CPPACP) family. Fresh Strawberry flavor is appealing to both adults and children. For more information, visit www.gcamerica.com.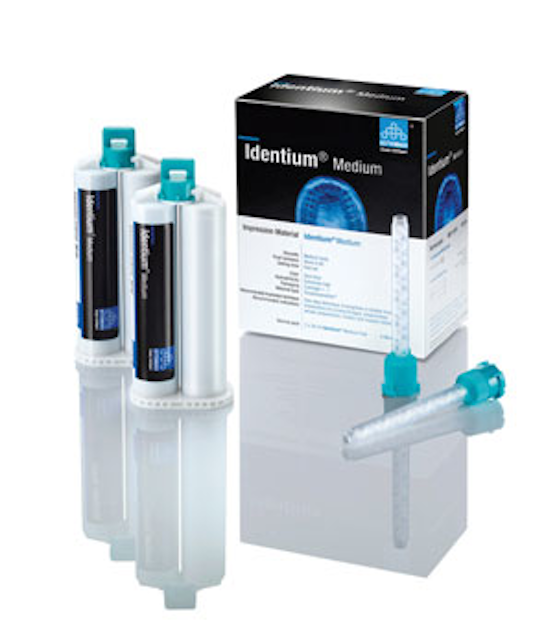 Kettenbach LP has introduced an impression material that combines the best features of both A-silicone and polyether materials, now in 1:1 cartridges. Identium®, a Vinylsiloxanether® (VSXE®) impression material, is an entirely new chemistry, developed for the one-step impression technique for many different clinical procedures. Providing excellent resilience, Identium provides an accurate impression in the narrowest of spaces, even in a moist sulcus and with the lowest achievable contact angle. Identium provides an optimal base for the identical transfer of a clinical case onto the working model because of its extreme hydrophilic properties and excellent flowability. Kettenbach LP offers Identium in three different viscosities — medium, heavy and light — and in regular and fast sets. For more information, visit www.kettenbachusa.com.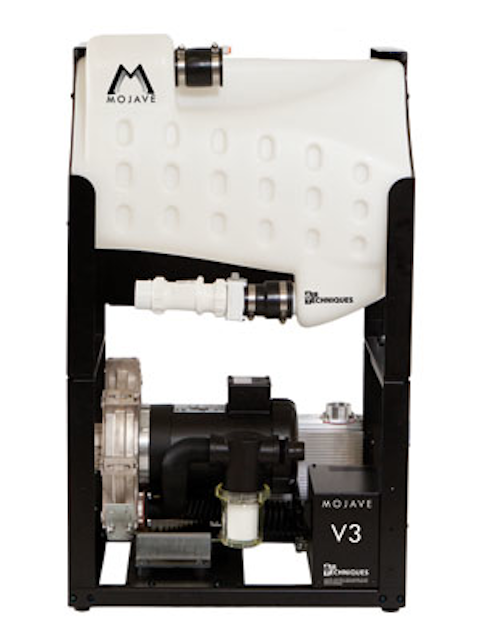 Air Techniques, Inc., has launched a new dry vacuum system — Mojave™. Mojave is available in two standard models, V3 and V5, that can each be stacked to meet the demands of dental offices of any size while virtually eliminating downtime through redundancy. Mojave is compact, energy-efficient, and saves utility costs for the dental office by virtue of needing no oil or water to create vacuum and maintain high flow rates. At the heart of Mojave is a single stage regenerative pump that is controlled by a variable frequency drive. Besides maintaining high flow rates, this technology allows the pump to speed up or slow down to exactly meet the vacuum demand of any dental office. For more information, visit www.airtechniques.com.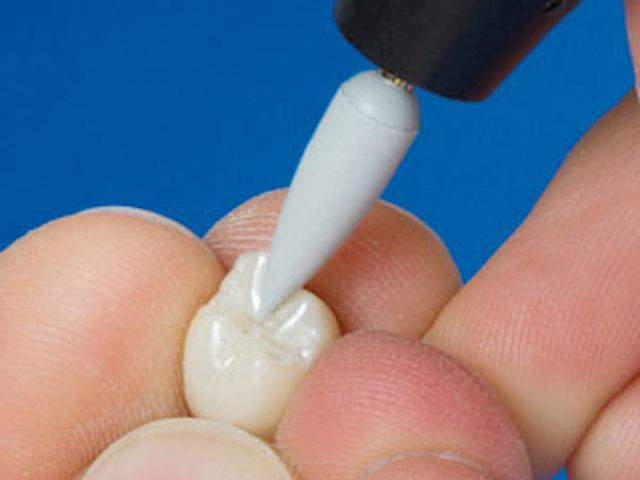 To meet the unique preliminary and final polishing requirements of high-strength ceramic materials, KOMET ZR Flash Polishers™ have been developed to smooth, polish, and impart a high shine when applied to restorations fabricated of zirconium oxide, aluminum oxide, lithium disilicate, and pressed ceramics. Incorporating interspersed diamonds for consistently reliable performance, the polishers produce outstanding results in two steps, each of which can be easily identified by the color of the ZR Flash Polishers and the original KOMET ZR-Polishers: Blue for smoothing and pre-polishing and light gray for high-shine final polishing. Available in styles, sizes, and shapes designed specifically for intraoral applications, KOMET ZR-Flash Polishers for chairside use include two flame-shaped versions (each available in blue and light gray) as well as a cup configuration (also offered in blue and light-gray versions). For more information, visit www.komet-usa.com.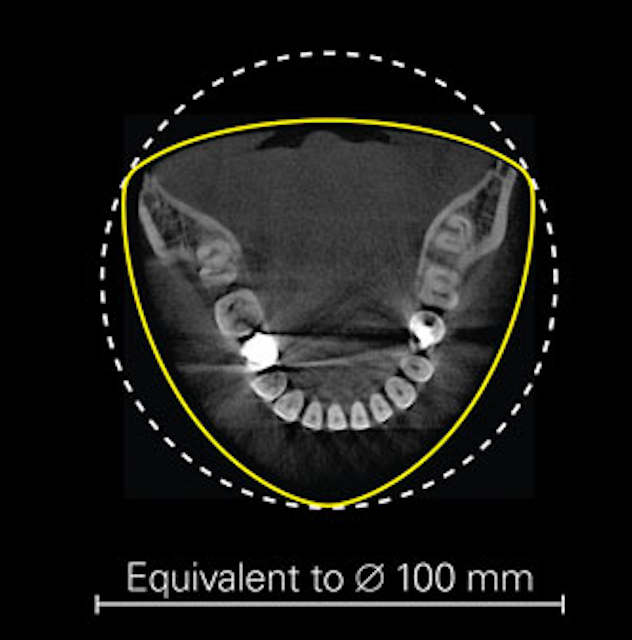 Veraviewepocs 3D R100 is the latest addition to J. Morita's 3D product line. This unit's completely unique 3D Reuleaux Full Arch FOV (field of view) abandons the typical cylinder with a new convex triangle shape. By more closely matching the natural dental arch form, this groundbreaking FOV reduces dosage by excluding areas outside the region of interest and allows a complete scan of the maxilla and/or the mandible. Featuring i-Dixel 2.0 3D imaging software, this unit offers full TDO Practice Management Software integration, as well as certified compatibility with several popular third-party imaging software programs with a DICOM export function. With a total of six fields of view from 40 x 40 mm up to 100 x 80 mm, 3D R100 is ideal for implantology, as well as being suitable for periodontology, orthodontics, endodontics, oral surgery, and general dentistry. For more information, visit www.morita.com/usa/R100.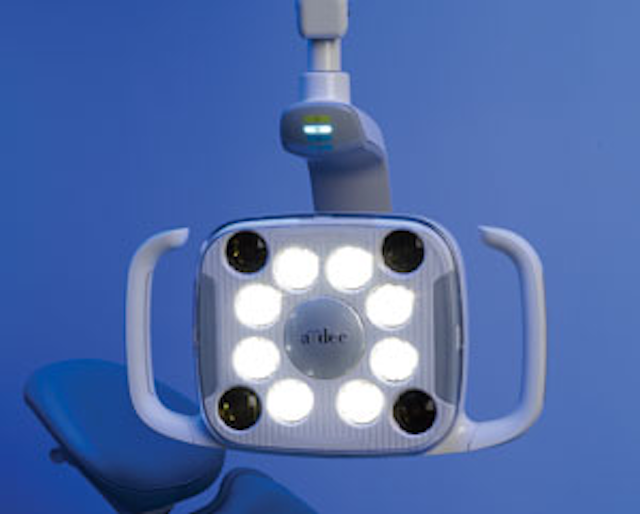 The new A-dec LED dental operatory light is now available to doctors around the world. A-dec's advanced light emitting diode (LED) technology has been optically engineered specifically for dentists and the dental operatory. The new offering features multiple intensity levels, cure-safe mode, low cost of ownership, and intuitive ergonomics. Adjustable intensity levels of 15,000 lux, 25,000 lux, and 30,000 lux at 5,000K are able to flood the oral cavity with a consistently neutral white light for true-to-life tones, which help practitioners diagnose clearly. The light's cure-safe mode emits a brilliant yellow light at 25,000 lux, enabling the dental team to work effectively without curing photo-initiated resins. For more information, visit www.a-dec.com.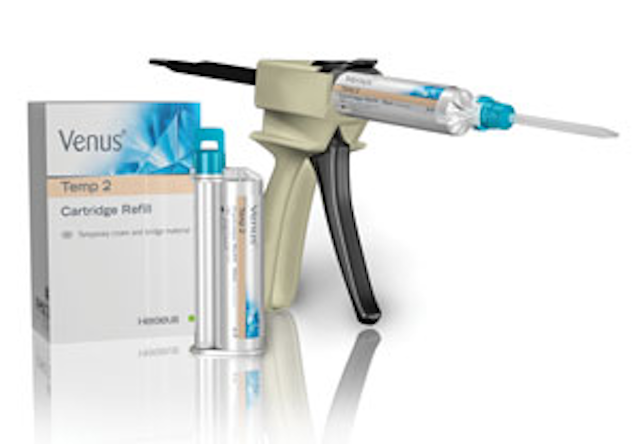 Venus Temp 2 from Heraeus Kulzer is a 10:1 auto-mix, two component bis-acrylic provisional material used to create provisionals such as temporary crowns and bridges, inlays, onlays, veneers, and long-term temporaries. The resulting provisionals deliver a combination of esthetics and strength that is remarkably comparable to that of a final restoration. Venus Temp 2 provisionals exhibit excellent polishability and luster, as well as high flexural strength, very low shrinkage and a very low oxygen inhibition layer. The exceptional esthetic values and strength of Venus Temp 2 ensure a level of accuracy and reliability that will meet or exceed the expectations of both dentists and patients. For more information, visit www.heraeusdentalusa.com.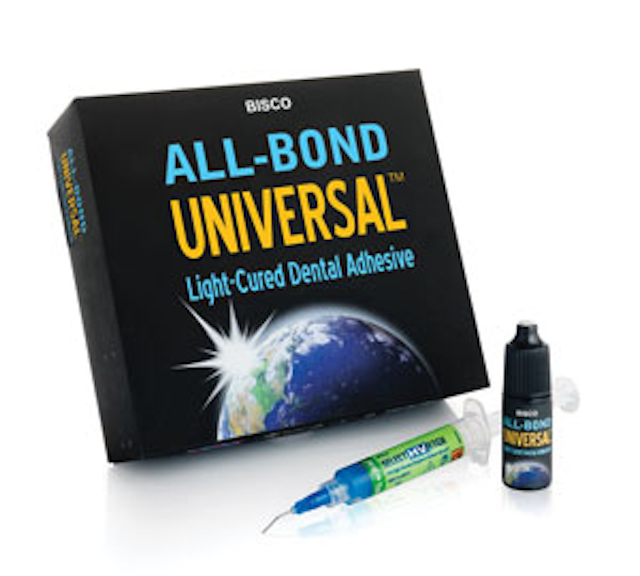 BISCO announces the release of ALL-BOND UNIVERSAL™, a one-bottle adhesive for total-, self-, and selective-etch techniques. ALL-BOND UNIVERSAL offers single-bottle priming and bonding for direct and indirect indications as well as desensitization/sealing of the tooth, intra-oral repair, and as a protective varnish for glass ionomer fillings. ALL-BOND UNIVERSAL bonds to all surfaces including enamel, dentin, metal, zirconia, alumnia, porcelain (silica-based), lithium disilicate, and composite. It has been designed to work with light-cured, self-cured, and dual-cured composite materials without an additional activator. For more information, visit www.bisco.com.