Proper patient hand-off leads to increased treatment acceptance in your dental practice
Denise Ciardello could not believe what she witnessed while consulting with dental practices. Staff members forget the importance of team communication and patient hand-off. Things do not run smoothly as a result.

Feb 2nd, 2017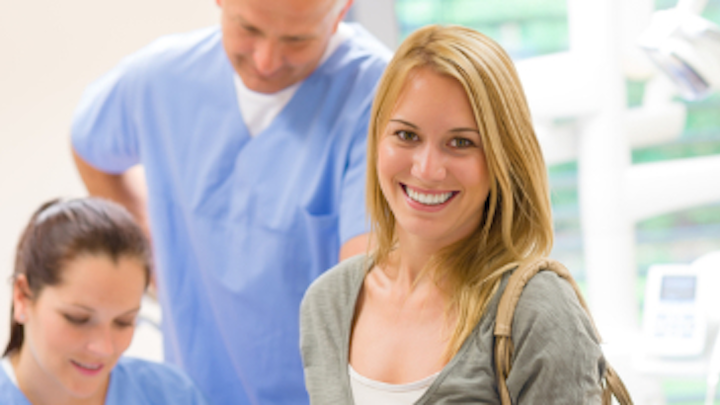 Denise Ciardello could not believe what she witnessed while consulting with dental practices. Staff members forget the importance of team communication and patient hand-off. Things do not run smoothly as a result.
It's always amazes me how much I learn when I hang out in any dental office for the day. The daily operations reveal the good, the bad, and the ugly, not to mention the rise and fall of well-known efficient systems.
One of the main concerns we hear as consultants is how to get patients to accept recommended treatment. We start by recommending a laser focus on proper handoff between the clinical and administrative teams. We cover this in great detail during the time that we spend with an office staff because we feel this is the area where teams tend to get lax. This one little hand-off can mean the difference between acceptance or not.
RELATED READING: The dental patient hand off – don't drop the ball

It just so happens this exact tendency to become lax occurred recently in an office that has worked with us for a while now. I almost felt like I was getting punked as I observed their verbiage and lack of attention to detail. I could not believe what I was seeing. It was a running comedy of errors.

Here are some lapses that occurred. See if you find the stumbles.
1. Cheryl, the hygienist, walked Debbie, the patient, to the front desk and informed Barbara, the front office manager, that they were finished. Debbie was scheduled for her next cleaning, and Cheryl told Debbie goodbye. Barbara told Debbie that their records indicated that insurance would pay for today's visit. They said goodbye and Debbie left. A few minutes later, Debbie came back in and asked Barbara about the crown that Dr. Molar said she needed. Barbara looked in the computer and saw nothing in the treatment plan. Barbara excused herself, found Cheryl (who was now working with her next patient), and asked about Debbie's crown. Cheryl exclaimed, "Oh! I forgot to put that in the computer." Debbie was eventually scheduled for the crown.
2. Next, Dottie, also a hygienist, brought Mr. Johnson up for check-out and informed Barbara that he was finished for today. However, Dr. Molar found a few areas and Mr. Johnson needed to come back. Dottie also let Barbara know that there were two extra PAs taken. Dottie said goodbye to Mr. Johnson. Barbara immediately called Dottie back to ask, "Is there a charge for the PAs? How much time does the Dr. Molar need for the next appointment?" I would like to clarify that this is not a new team. In fact, they have worked together for at least five years, so I was amazed and confused as I listened to them. But I was totally thrown over the edge with this final encounter.
3. Things started off well as the assistant escorted the patient to the front desk. We often see patients wander up to the front desk looking bewildered and puzzled, so I was pleased that all patients had an escort. Monica, the assistant, and Becky, the patient, were laughing and chatting as they approached the front desk. As soon as the conversation ended, Monica said goodbye to Becky and turned to walk away. Becky looked at Barbara and asked, "Do you need anything from me?" Barbara looked at her computer and began the check-out process. Her first question to Becky? "And what is your name?" (Awkward!) Becky replied and Barbara asked, "What did you have done today?" (Really?) It was a very unpleasant encounter.
There are many reasons why a proper hand-off is important when concluding a patient's appointment. It allows the clinical team to:
• Let the admin team know the patient's name. It is very impersonal when a patient is asked his or her name.
• Let the admin team know what was done today. It should be in the computer, however, it also keeps everyone on the same page.
• Let the admin team (and the patient) know what the next step is. Again, it should be in the computer. However, it reinforces the need for any treatment to the patient to hear the treatment again. This is an overview of what needs to be done and for how long.
• Let the patient know that he or she will be coming back to the office, even if it's for the patient's next cleaning.
Here is a list of questions that should never have to be asked because they should all be covered in the hand-off process.
• Where's the chart? (If the office is still using paper charts.)
• What's your name?
• What was done?
• What's the fee?
• Does the doctor need to see you again?
• What does the doctor need to do next?
• Is there a fee for today's work?
• How much time is needed?
• When do you need to come back?
• How much time do you need between appointments?
• Which doctor will be doing the treatment? (If there is more than one doctor.)
ALSO BY DENISE CIARDELLO
What is a proper hand-off?
Keep your dental practice thriving with recall
---
For the most current office manager headlines, click here.

---
---
For the most current dental headlines, click here.

---
Denise Ciardello is the cofounder of Global Team Solutions (GTS), a practice management consulting firm. Denise is also a professional speaker and published author who brings experience, insight, creativity, and a sense of humor into her consulting. Her industry distinctions include serving as president of the Academy of Dental Management Consultants, and membership in the National Speakers Association, Toastmasters International, and Directory of Dental Speakers. Reach her at denise@GTSgurus.com.