The Aspen Dental commercials that started a ruckus
Recent ads from Aspen Dental have caused quite a stir among dentists, who view the ads as disparaging toward dentists who don't practice with Aspen. Have you seen the ads? What's your opinion?

Oct 23rd, 2017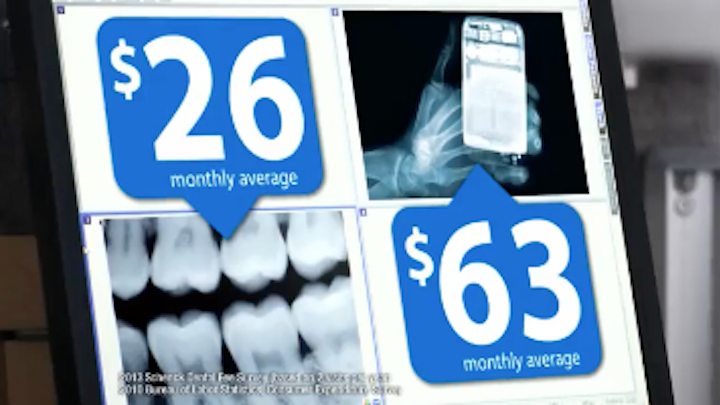 This article originally appeared in the Principles of Practice Management e-newsletter. Subscribe to this informative twice monthly practice management ENL here.
In case you've missed it, there's been a BATTLE WAGING IN THE OPED SECTION OF ADA NEWS over the past few months. Dr. Matthew Messina wrote a letter on August 21 titled, "They should know better," in which he gave voice to growing concerns about a series of television ads produced by Aspen Dental. He admonished Aspen for violating the ADA Code provision regarding speaking ill of other dentists. On September 18, Dr. Gerald Spencer expressed in the letter, "My view on Aspen ads," that Dr. Messina's comments didn't go far enough. On October 2, Dr. Arwinder Judge, Chief Clinical Officer at Aspen Dental, published the "Aspen dental response."
At this point you should watch some of the commercial campaign and form your own opinion. I believe the spots "Bank" and "Elevator" are appropriate examples. Dr. Judge states that these commercials were created as a reaction to ". . . [t]he patient perception that dentistry is expensive . . ." and he cites stories from The Washington Post and Buzzfeed to support this. Dr. Judge could have also cited research from the ADA's Health Policy Institute that reached the same conclusion in 2014—Americans think that dentistry costs too much. So we're all agreed on that.
The point of contention seems to be how we can turn around that patient perception. Dr. Judge and Aspen Dental created commercials that try to appeal to patients by using some humor, and that's fine. However, Drs. Messina and Spencer believe that a line was crossed. Appealing to patients who think dentistry is too expensive isn't wrong in and of itself. What's wrong is making that appeal at the expense of dentists who don't work for Aspen Dental.
Just look at the exchange in the "Elevator" spot. A woman trapped in an elevator says, "Come quick or a dentist is going to overcharge us." The dentist replies, "I get it, but Aspen Dental is making things easier with 20% off dentures, so you're never stuck overpaying." This a pretty clear example of disparaging other members of the profession, which Dr. Messina is correct in identifying as a violation of the ADA Code.
What I would like to add to this debate is that the commercial is also contributing to the negative patient perception that prompted Aspen to create the commercials in the first place. The Washington Post, Buzzfeed, and many Americans believe dentistry is too expensive. That is a worthwhile discussion that deserves our attention. But if you're looking to contribute to that debate with a television ad, then look no further than this commercial from the Wisconsin Dental Association. The WDA attempts to educate patients that their perception of dentistry being too expensive is just that, a perception. Dental care can be very affordable when you place it in a more appropriate context.
I applaud Aspen Dental's efforts to provide affordable dentistry and their noble charities that offer free care to those most in need. I appreciate that they seek to change the belief that oral health is unaffordable. I hope that their future marketing efforts can elevate our profession while still meeting their goals.
Please read on below to see what Dr. Arwinder Judge had to say when I asked if he would like to respond to the feedback regarding the Aspen commercials.
Cheers,
Chris
RESPONSE FROM DR. ARWINDER JUDGE OF ASPEN DENTAL

Dear Chris,
Thank you for the opportunity to respond to your article. We really appreciate your willingness to hear our point of view and perspective on this issue.
As I said in my response to ADA News, there is a widely-held perception among consumers that dentistry is too expensive. And while I appreciate the efforts of the ADA and groups like the Wisconsin Dental Association (whose ad you cited in your article) to put the cost of dental care into context, we need to be honest about the fact that this traditional dentistry message doesn't always resonate with patients.
In an ideal world, straightforward advertising that educates consumers about the cost of care and the importance of taking care of one's teeth would be sufficient to motivate every patient to seek regular, preventive dental care.
But research and our experience indicate that this approach just isn't working.
In reality, far too many Americans aren't seeking regular, preventive care. Often, these patients are delaying until they're in pain or experiencing a dental emergency, at which time the clinical solutions are more complicated, and carry a higher cost. The ADA's own research shows that more than 150 million Americans did not visit a dentist last year, and our research shows that at least 25% of Aspen Dental patients have not seen a dentist in more than five years.
Breaking down barriers for patients who have delayed care, are in pain, and face real functional (cost and access) and emotional (fear and shame) barriers to care presents us with a tough choice. Our deep consumer research shows that using traditional dentistry and oral health messaging does not work, and contributes to the perception that dental professionals are tone-deaf to these patients' needs. In fact, this research shows that the best way to convince these patients to pick up the phone and make an appointment to be seen for the care they need is to acknowledge their truths and concerns head-on in advertising. But, doing this pushes the norms of the dental industry, and has clearly ruffled the feathers of some.
Our advertising is not intended to disparage our traditional private practice colleagues. Instead, it is our best, bold step in trying something new to actually move the needle on convincing patients who need care to take a step toward receiving it. We believe our first responsibility is to patients. As an industry, we believe our collective energy is better spent on finding new ways to break through and help patients get the care they need rather than debating each other on whether or not some dentists have hurt other dentists' feelings.
While we are committed to evolving our approach as we learn new insights and hear directly from patients, it's clear to us and to the dentists whose practices we support that Aspen Dental is filling an unmet need.
It's why our scheduling center receives 10,000 new patient phone calls a day. It's why Aspen Dental practices collectively see 25,000 new patients each week. And it's the reason that a new Aspen Dental location opens every five days.
As a longtime member of the ADA, I believe that the ADA can and should play a role in breaking down barriers to care for patients, and that a strong ADA is in the best interest of both the dental profession and the patients we serve. I also believe that the ADA and its members—whether they're affiliated with a DSO or a traditional private practice—must find common ground and work together. There is so much to do together to address our nation's oral health crisis.
Thank you again for the opportunity to respond.
Best,
Dr. Arwinder Judge
Chief Clinical Officer
Aspen Dental Management, Inc.

RECENT EDITORIALS BY DR. SALIERNO
From 'The DUMB Files:' Ignoring patient experiences
Is there a DSO bubble?
Here's what you thought about LinkedIn for dentists
---
For the most current practice management headlines, click here.

---
---
For the most current dental headlines, click here.

---